Why Rent an Electric Scissor Lift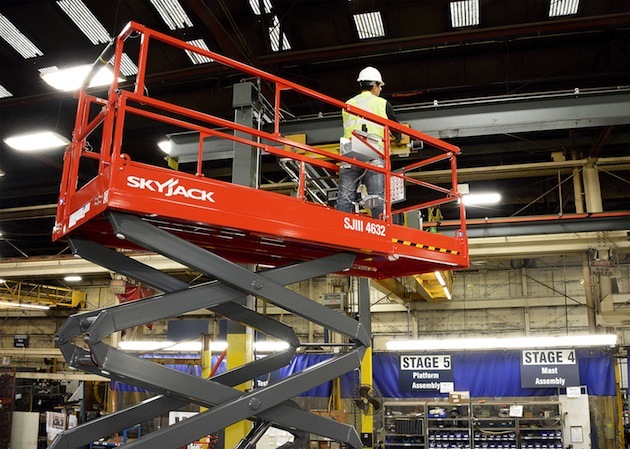 Renting heavy equipment gives your crew the power to take jobs to the next level. When you need extra height at a job site or an elevated work surface for a project, an electric scissor lift is the ideal candidate. That's not all these machines can do, though. Find out why you should rent an electric scissor lift for your next job.
Access the Newest Technology
Electric scissor lifts may seem simple, but these machines do more than you might think. If you buy a lift, however, you might not get access to all the bells and whistles. Buying on a budget might mean that you purchase a used model or that you opt for a pared-down lift.
When you rent, you'll get a model with the newest technology. After all, the newest models tend to run the smoothest and need the least maintenance, making them the easiest to rent. From advanced controls to long battery life to user-friendly operation, you can look forward to getting a high-tech lift when you rent.
Reach New Heights
One of the biggest perks of a scissor lift is its ability to extend dozens of feet vertically. Smaller models can reach about 12 feet high, while larger models can extend to 50 feet or more.
Before you rent, make sure you know the heights you need to reach. You'll want to rent a lift that can do the job, but you might not want a model that can reach much higher. In addition to higher costs, larger machines often have wider footprints. If you're dealing with tight spaces or limited room, smaller scissor lifts are often better.
Tackle Hard-to-Reach Indoor Jobs
You can rent all kinds of lifts for your job site, but electric scissor lifts are best for tackling indoor jobs. These machines run best on smooth, flat surfaces with minimal grade. Since most run on rechargeable batteries, they don't produce emissions. That makes these models ideal for indoor use.
Need a scissor lift that can handle inclines or outdoor conditions? Consider a rough-terrain scissor lift instead.
Do Elevated Work Safely
Sure, ladders can help you do some jobs that require height. However, ladders don't always provide safe work surfaces. Electric scissor lifts offer ample space for your crew and any supplies or materials. These machines also have railings to prevent accidents and keep your crew safe.
Get a Convenient Mobile Work Platform
No matter the size of your job site, there's a good chance your crew will need to change locations frequently to get the job done. If you're relying on ladders for height, you'll need to move work platforms and shift work surfaces frequently.
When you rely on an electric scissor lift, you can move your work platform into place in seconds. These machines move quickly, offering convenient mobile work platforms for your crew.
Try Before You Buy
If you're taking on bigger projects every year or branching out into a new specialty area, you might want to buy an electric scissor lift down the road. Fortunately, you don't have to jump into ownership before your business is ready.
When you rent heavy equipment, you can effectively try before you buy. Not sure what size lift you need? Can't decide on accessories or add-ons? Want to experience the difference between an electric scissor lift and a rough-terrain model? Renting gives you the chance to try out equipment with no pressure to buy.
At the close of the rental period, you'll simply return the lift. If you find that your crew can't do the job without a scissor lift, you can extend the rental, sign a new agreement, or try out another model to find what works.
Get Equipment When You Need It
Buying equipment rarely happens instantly. Even if the dealer has the scissor lift you want, you may not be able to buy it right away. You may need to secure financing, arrange transportation, or add accessories before putting the machine to work.
When you opt to rent, you can get the lift you need right away. You don't have to wait for paperwork, secure insurance, or work out logistics. In many cases, you can rent a scissor lift and start using it the same day. In most other cases, you can get next-day delivery or arrange to start the rental when it works best for your crew.
Need a lift at your job site right away? You don't have to wait to rent an electric scissor lift. Contact BigRentz today to learn more about equipment models and find the ideal rental in your area.
---