Construction insurance can help mitigate risks that arise from construction projects. Potential risks in the construction industry include injuries, equipment damage, project delays, or design issues. An insurance policy may be required in order to comply with state laws or local regulations, and not having one may prevent contractors from receiving a license or working on certain construction projects.
There are 12 types of construction insurance policies, which you can often bundle to meet your needs. In this post, we cover the types of construction insurance available, the differences between them, and which might be best for your business.
What Is Construction Insurance?
Construction insurance is a specialized type of insurance designed to protect contractors and other businesses from financial losses due to physical damage, unexpected events, accidents, and other liabilities during the construction process. The factors that affect the kind of insurance policy and amount of coverage you need can include the following:
The type and value of equipment/tools you use
The duration of coverage you need
The amount of coverage you need
How many employees you have
How risky your industry is
The size of the jobs you work on
Business and insurance history
Types of Insurance for Construction Companies
Construction insurance is available in a variety of types, detailed below.
1. General Liability Insurance
General liability insurance is a coverage option that provides protection from claims for bodily injury, personal injury, property damage, and other liabilities that can arise during business operations. Most types of businesses require general liability coverage. Without general liability, or business liability, insurance, business owners would have to pay out of pocket for certain claims.
General liability insurance is beneficial for all businesses and scenarios including general contractors, subcontractors, homebuilders, and developers, to name a few. For example, homebuilders can benefit from general liability coverage if an accident or damage occurs during construction or once the project is finished.
2. Builders Risk Insurance
Builders risk insurance is a policy that provides property coverage during construction to protect against risks like damage, theft, and vandalism. It's also known as course of construction insurance (COC). A builders risk policy provides first-party coverage, which protects the policyholder's assets from loss or damage. In contrast, it does not provide third-party coverage to protect others when the policyholder is responsible for damage or harm.
Business owners or general contractors will purchase a builders risk insurance policy to cover projects being worked on, including structures under construction. Whether at a construction site or in/on a building, coverage may include the following, depending on your specific policy:
Weather damage
Fire damage
Vandalism
Theft
Tools and materials in transit for short-term or long-term projects
Builders risk insurance suits a number of businesses and scenarios, including general contractors, property owners and developers, homebuilders, and subcontractors. For instance, property developers could use this type of insurance policy to cover the property until it's completed and ready for occupancy.
3. Commercial Auto Insurance
Commercial auto insurance is a type of coverage that provides business vehicles with protection for accidents, damages, and other liabilities arising from work-related driving. While commercial insurance protects vehicles used for business, it typically doesn't cover heavy equipment like tractors or forklifts.
Depending on your policy, coverage may include the following:
Lawsuits
Property damage
Medical bills
Other expenses that arise from an accident
Damage caused by weather or vandalism
Vehicle theft
Because commercial insurance only covers business-owned vehicles, employees who use their personal cars for business errands may need additional coverage.
Commercial auto insurance policies can help construction businesses and professions such as general contractors, construction managers, subcontractors, and commercial construction projects. For instance, construction managers would benefit from commercial auto insurance if they send employees from place to place for a job or drive vehicles to oversee project activities on a construction site.
4. Errors and Omissions Insurance
Errors and omissions insurance (E&O) offers financial protection against claims resulting from mistakes or failures to deliver on professional services promised. Also known as professional liability insurance, E&O insurance can be useful for contractors, designers, and consultants.
Depending on your insurance provider and specific policy, errors and omissions insurance can  cover legal costs, such as attorney fees, court costs, lawsuit settlements, and more from unsatisfied clients due to the following types of claims:
Work mistakes and oversights
Undelivered services
Missed deadlines
Accusations of negligence
Errors and omissions insurance suits a variety of construction-related businesses and professions, including architects, engineers, construction managers, and design-build firms. For example, design-build firms would benefit from having this protection for the designs and features they provide within construction projects.
5. Inland Marine Insurance
Inland marine insurance, also known as a floater policy or equipment floater insurance, is a broad type of coverage that protects movable property that you rent or own. These policies can cover products, materials, and equipment—not exclusively rental equipment—while it is transported over land or stored temporarily at a work site or warehouse.
Depending on your policy, coverage may include the following:
Buildings and structures during new renovations
HVAC and kitchen cabinets
Property moved on a truck
Tools and equipment stored at a job site
Inland marine coverage can be an add-on to your commercial insurance policy or a separate policy. This type of insurance may be a good fit if you move rentals between multiple jobsites, and it works well if you rent different kinds of equipment regularly and don't want to get short-term insurance each time.
Similarly, contractors equipment insurance is a type of inland marine insurance that safeguards construction machinery, equipment, and tools from risks including theft, damage, or accidents during construction. This type of policy covers commercial construction operations that own valuable mobile equipment used in contracting, installation, erection, repair, and moving operations or projects.
Depending on your policy, coverage may include theft, accidents, and damage caused by vandalism, fire, floods, and more. Contractors insurance may cover the following types of mobile or portable equipment:
Bulldozers
Loaders
Graders
Excavators
Backhoes
Forklifts
Pavers
Compressors
Pumps
Cables
Inland marine insurance works best for businesses that work with mobile equipment, materials, and tools. Construction-related professions that would benefit from this insurance include contractors, builders and developers, construction equipment rental companies, and heavy equipment operators. For instance, businesses that rent out construction equipment can use this insurance to cover the machines when they're transported to and from customers or to and from jobsites.
6. Short-Term Rental Insurance
Short-term rental insurance is a coverage option for equipment, tools, or machinery that is rented on a temporary basis and protects against damage or loss during that rental period.
Short-term insurance policies typically cover a few days to several months—for example, anywhere from one week to six months, and are beneficial for short-term rental needs, such as if you're renting heavy equipment for your construction project.
This type of policy may be the best choice for you if you rent equipment infrequently and are only using the equipment on one jobsite.
Coverage may include the following, depending on your policy:
Collisions
Falling objects
Fire
Flood
Tip-overs
Theft
Vandalism
Short-term rental insurance would be beneficial to businesses or individuals who rent out construction equipment for short time periods, such as general contractors, subcontractors, heavy equipment operators, and project managers. For example, project managers who oversee construction projects may need short-term rental equipment to accommodate their project needs.

Explore Equipment Rentals
7. Subcontractor Default Insurance
Subcontractor default insurance (SDI) is a policy that protects against financial loss caused by a subcontractor failing to perform their job on the construction project. It is used by general contractors to cover all of the subcontractors on a project or for a specific timeframe to cover any direct or indirect costs related to a subcontractor defaulting on the project.
Traditionally, contractors have relied on performance bonds to protect against subcontractor default. Performance bonds involve the contractor, subcontractor, and surety company. The surety company checks subcontractors before providing coverage. If the subcontractor qualifies, the surety takes on the risk if they fail.
On the other hand, subcontractor default insurance involves just the general contractor and insurer. The contractor buys SDI to ensure their subcontractors' performance and manage their risk. One policy covers all subcontractors.
Coverage may include the following, depending on your policy:
Both direct and indirect costs caused by a default of performance of subcontractor(s).
Subcontractor default insurance would be best for general contractors, construction managers, project owners, and developers. For instance, a developer who has multiple subcontractors working on a project may want to safeguard against any potential delays that could arise from subcontractor defaults.
8. Wrap-Up Insurance (OCIP/CCIP)
Wrap-up insurance is a consolidated policy covering liability and potentially workers' comp for multiple parties involved in a construction project. With an owner-controlled insurance package (OCIP), the owner of the construction project sponsors the policy and pays for the coverage. With a contractor-controlled insurance package (CCIP), the general contractor hired to work on the project sponsors the policy and pays for the coverage.
Coverage is similar to a commercial general liability policy (such as property damage and bodily injury), but it is project-specific and covers everyone on that project. You may be able to add professional liability insurance for professionals like architects and engineers, but it may not be necessary if they already have their own E&O insurance.
When a contractor rather than the owner of the project buys the policy, the coverage may be more limited than if the owner purchases and administers the plan:
Coverage for everyone working on the project
Less chance for litigation
Whether OCIP or CCIP, wrap-up insurance is meant for multi-million dollar projects — regardless of how big or small they may be. For OCIP, this insurance will cover multiple people within a construction project and is best suited for project owners, public entities, large developers, and complex construction projects. For CCIP, the insurance is best for general contractors, construction managers, large-scale commercial builders, and high-risk construction projects.
9. Commercial Property Insurance
Commercial property insurance is a type of policy that protects physical structures, materials, and equipment used during business operations. It covers buildings, tools, and equipment at your designated address from damage, theft, and lost income claims.
Depending on your policy, coverage may protect your company's assets from the following:
Fire
Explosions
Burst pipes
Storms
Theft
Vandalism
You typically have to add hazards, such as earthquakes and floods, to your policy since those may not be covered by standard commercial property insurance.
Commercial property insurance is necessary for various businesses and professions, including general contractors, subcontractors, construction companies, and developers. For instance, construction companies would benefit from this type of insurance because of the various construction activities and assets that would need to be protected within the building/business.
10. Pollution Liability Insurance
Commonly known as environmental insurance, pollution liability insurance protects companies against unexpected releases of pollutants that may not be covered by standard insurance policies. Pollution insurance can cover claims for losses and damages arising from contaminated sites, including harm to individuals, property, and the environment.
Depending on your policy, coverage may include the following:
Harm or damage from the policyholder's actions
Personal injury
Property damage
Clean-up costs for removing harmful substances and restoration
Costs for legal representation
Pollution-causing disasters, like fire or explosions
Pollution liability insurance is relevant for businesses that could produce environmental damage, such as site preparation contractors, demolition contractors, junkyards, and auto shops. For example, site preparation contractors could produce excessive amounts of pollution while clearing land to prepare for construction sites.
11. Workers' Compensation Insurance
Often called workers' comp, workers' compensation insurance helps cover medical expenses and a portion of lost wages if an employee is injured or gets sick on the job. This coverage can also include rehabilitation services, temporary or permanent disability, and death benefits for surviving family members.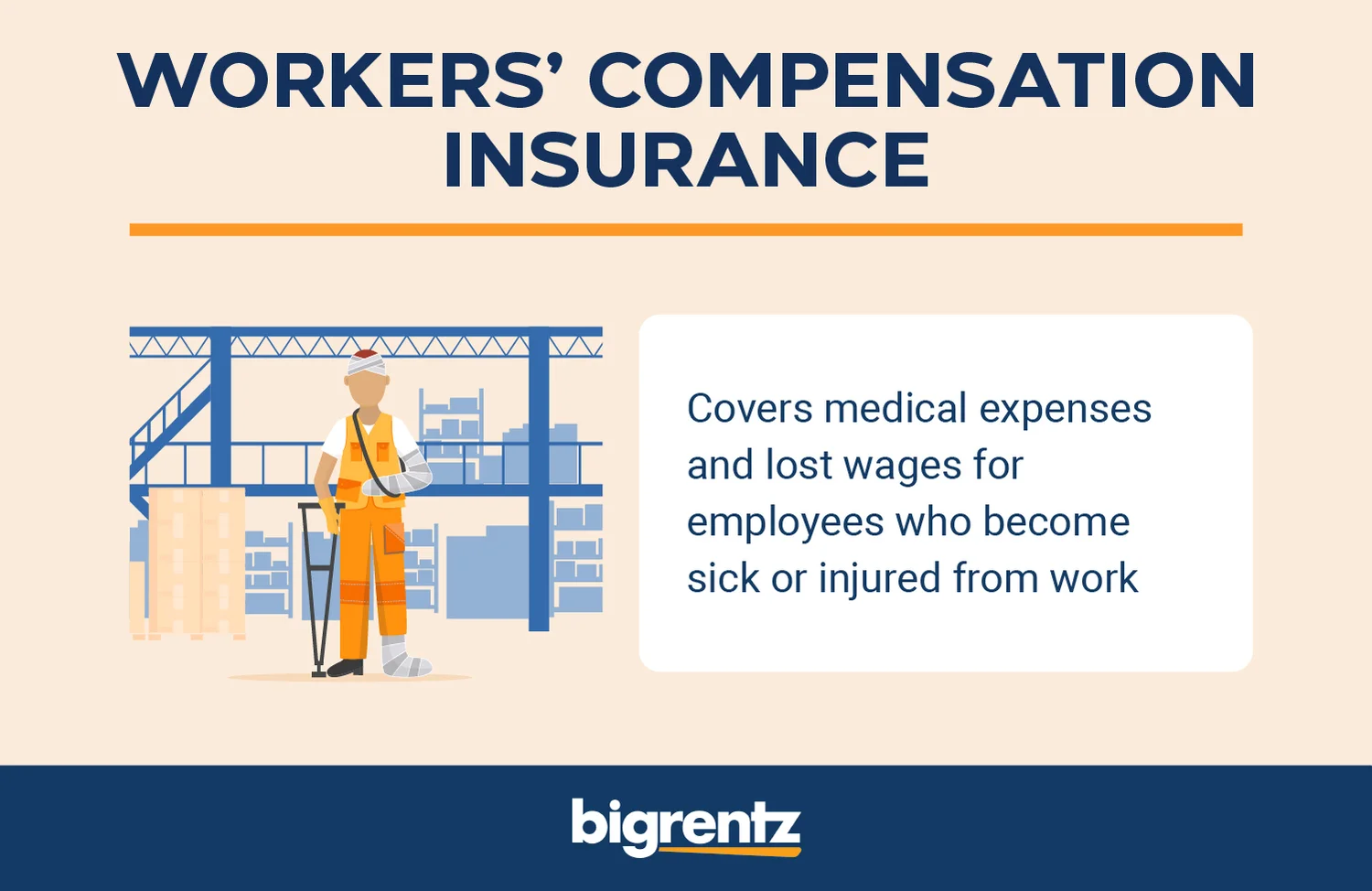 Depending on your policy and state law, workers' comp may include the following:
Medical expenses
Lost wages
Vocational rehabilitation services
Legal costs
Funeral expenses
Workers' compensation insurance is required in almost every state for businesses that have employees, including general contractors, subcontractors, and business owners. For instance, construction owners should get workers' compensation insurance to avoid getting sued by an employee who suffers a work-related illness or injury. It would also help cover medical expenses or lost income for business owners when employees get sick or injured on the job.
12. Surety Bonds
A surety bond is a written promise to accept responsibility for the debts or obligations of someone else. It is a three-way contract in which one party, the surety, guarantees the performance of a second party, the principal, to a third party, the obligee. Rather than protecting the contractor, surety bonds typically protect the project owner.
Here are a few surety bond options you may find in construction projects:
Bid bonds: Often used for construction projects with bid-based selection processes, a bid bond protects the owner if the selected bidder fails to begin a project.
Fidelity bonds: Also known as honesty bonds, fidelity bonds are a type of business insurance that protects owners against losses caused by fraudulent or dishonest actions by employees.
License and permit bonds: These bonds are required by government agencies or other public bodies in order to receive a license or permit to engage in a specific activity. License and permit bonds are a way to guarantee that the party seeking the license or permit will comply with applicable laws and regulations.
Payment bonds: This type of surety bond guarantees that certain subcontractors, employees, and suppliers involved in a project will be paid for their labor and materials.
Performance bonds: A performance bond provides protection against a contractor's failure to meet the obligations of the contract. If the work done by the contractor is defective or inadequate, the performance bond provides compensation for the cost of fixing or redoing the job.
Surety bonds are suited for a variety of construction-related businesses and professions, including general contractors, subcontractors, construction managers, and business owners. For example, subcontractors providing a specialized service such as plumbing or electrical may need a surety bond for larger projects.
Is Construction Insurance Required?
Businesses are required by the law to have the following insurance:
Workers' compensation
Unemployment
Disability
Laws may vary by state.
While construction insurance isn't required by law, it can be an important way to protect yourself if something goes wrong during construction. In addition, the party you're doing business with may require you to have insurance so they're not held responsible for injury or damage caused by the contracting work.
If you're an independent contractor of any kind, it is beneficial to carry insurance to protect yourself from an unsatisfied client or claims of damages resulting from your work. The type of insurance you need will vary based on your project role. Generally, contractors will need general liability and workers' compensation insurance before working on a construction project.
Can Liability Damage Waivers Replace Construction Rental Insurance?
While liability damage waivers (LDW) are not insurance, they may be an alternative option if you don't want to get insurance for renting equipment. Construction rental companies may offer customers an LDW at the time of rental to limit their liability if the equipment is damaged or lost.
BigRentz offers a Rental Protection Plan that covers rented or leased equipment in incidental damage situations. However, it does not cover damages or losses from carelessness. If a liability damage waiver is not selected, then the rental company will typically require you to provide insurance for rented or leased equipment.
How to Save on Construction Insurance
When shopping for insurance, look around for the best deals by checking out various providers for the insurance type that fits your needs. Evaluate your company's prior losses and how risky you may appear in the eyes of insurance companies. Consider combining policies to pay for what you need at a potentially reduced insurance cost.
Invest in risk mitigation and safety training to reduce accidents and claims. You might also consider policies with higher deductibles, which would make your premium lower. However, you may end up paying more in the long run if a claim arises and you have to pay more toward your deductible.
Ways to Reduce Risk in Construction
While insurance is essential to protect you in unforeseen circumstances, risk mitigation can help minimize the likelihood and impact of various hazards during your project.
Identify potential risks. Consider the risks most likely to impact your project, including safety, legal, financial, and environmental risks. Brainstorming with project team members and stakeholders can help you get a variety of perspectives on potential risks.
Prioritize risks. Order risks by the likelihood of their occurrence and their potential impact on your business. For example, a tornado might cause catastrophic losses, but if there is a low likelihood of one occurring, you may consider it a medium risk.
Prepare a risk response strategy. After determining the priority of risks, you'll want to plan a strategy for handling each one. Although the exact response depends on the risk, most response techniques will fall into one of these four categories: avoid the risk, transfer the risk, mitigate the risk, or accept the risk.
Execute your risk management plan. Now you can craft your risk management plan, pulling from a variety of internal and external resources. Depending on your project role and company size, you may have a dedicated risk department, establish a formal risk review process, partner with experienced insurance providers, seek advice from professional consultants, or use new technology to minimize risk.
Having a construction risk management plan will help you prepare for any potential risks associated with your project. It goes hand-in-hand with a good construction insurance policy to protect you and your company during a project.
Proper Insurance Coverage Is Essential
No matter how well you mitigate risk in your company, insurance provides an important added layer of coverage. The type of policy that's best for you depends on the kind of work you do and the risk level of your projects.
Even when renting construction equipment for your job, you need to be covered either by insurance or by a damage liability waiver. BigRentz equipment rentals require one or the other when you decide to rent with us.