If you rent construction equipment for your company, you've probably already heard of equipment rental insurance. Getting equipment rental insurance not only supports effective risk management for your rentals, but may also be necessary to rent equipment in the first place. Most rental equipment companies want either proof of your construction equipment rental insurance or require you to agree to their coverage plan.
Whether you're renting construction, industrial, or heavy equipment, having insurance coverage protects you in case of any accidental damage to the machinery, theft, or vandalism. At BigRentz, we offer our own coverage options to renters in the form of a Rental Protection Plan; however, this is not insurance.
In this guide, we go over the ins and outs of insurance for renting equipment, including what rental equipment insurance covers and how to find the right policy for you.
Types of Construction Equipment Rental Coverage
Construction equipment rental insurance is similar to other types of insurance. There are different coverage options in terms of the type of insurance policies available, the type of equipment they cover, the damage or risks they cover, and their duration.
First, you need to determine if short-term or inland marine insurance is a better option for your equipment coverage needs.
Short-term Rental Insurance
A short-term insurance policy typically covers durations of a few days to several months. As the name suggests, it is beneficial for short-term rental needs. A short-term policy may be the best choice for you if you rent equipment infrequently and are only using the equipment on one jobsite.
To calculate your premium, the insurance company will evaluate the value of the equipment based on the make, model, and its market value. You typically pay for the policy in a lump sum.
Inland Marine Insurance
Inland marine insurance, also known as a floater policy or equipment floater, is broad insurance coverage that covers movable property that you rent or own. It doesn't exclusively cover rental equipment. It also includes some property coverage like:
Buildings and structures during new renovations
HVAC and kitchen cabinets
Property moved on a truck
Tools and equipment on trucks
Inland marine insurance can be an add-on to your commercial insurance policy or a separate policy for a long-term rental period. It may be a good fit if you rent different kinds of equipment regularly and don't want to get short-term insurance each time or if you're moving rentals between multiple jobsites.
Most policies have a sublimit of coverage for the equipment you rent or borrow. If the value of your equipment rental is higher than the automatic policy coverage limit, you'll need to add coverage directly on your policy. Make sure the limits of your policy fit your needs before you commit or that you're able to have your coverage adjusted appropriately.
Long-term rentals sometimes allow you to add specific equipment details onto your policy. There might also be a reporting condition on your policy that requires you to report equipment-related expenditures, which could increase your overall premium.
You typically pay for this type of insurance monthly or as an annual premium.
Liability Damage Waiver
A liability damage waiver is something equipment rental companies may offer to customers as an alternative form of insurance, without actually being insurance. It's paid for at the time of rental.
Because a liability damage waiver isn't insurance, it doesn't typically cover the same things insurance does. It generally protects renters if the equipment is stolen or damaged from unexpected events, including:
Theft
Fire
Lightning
Flooding
Other acts of nature
However, a liability damage waiver does not cover accidental loss or damage. If you opt not to get a liability damage waiver, the rental company will typically require you to provide proof of insurance before you're allowed to rent.
What Does Construction Equipment Rental Insurance Cover?
Depending on your carrier and insurance policy, the following may be covered under equipment rental insurance plans:
Accidental damage, such as from overturns or collisions
Physical damage to equipment by:

Vandalism
Theft
Accidents
Fire, lightning, and other natural disasters
Falling objects
Exceptions and exclusions will be listed in your policy, so make sure to read it carefully and talk to your insurance agent.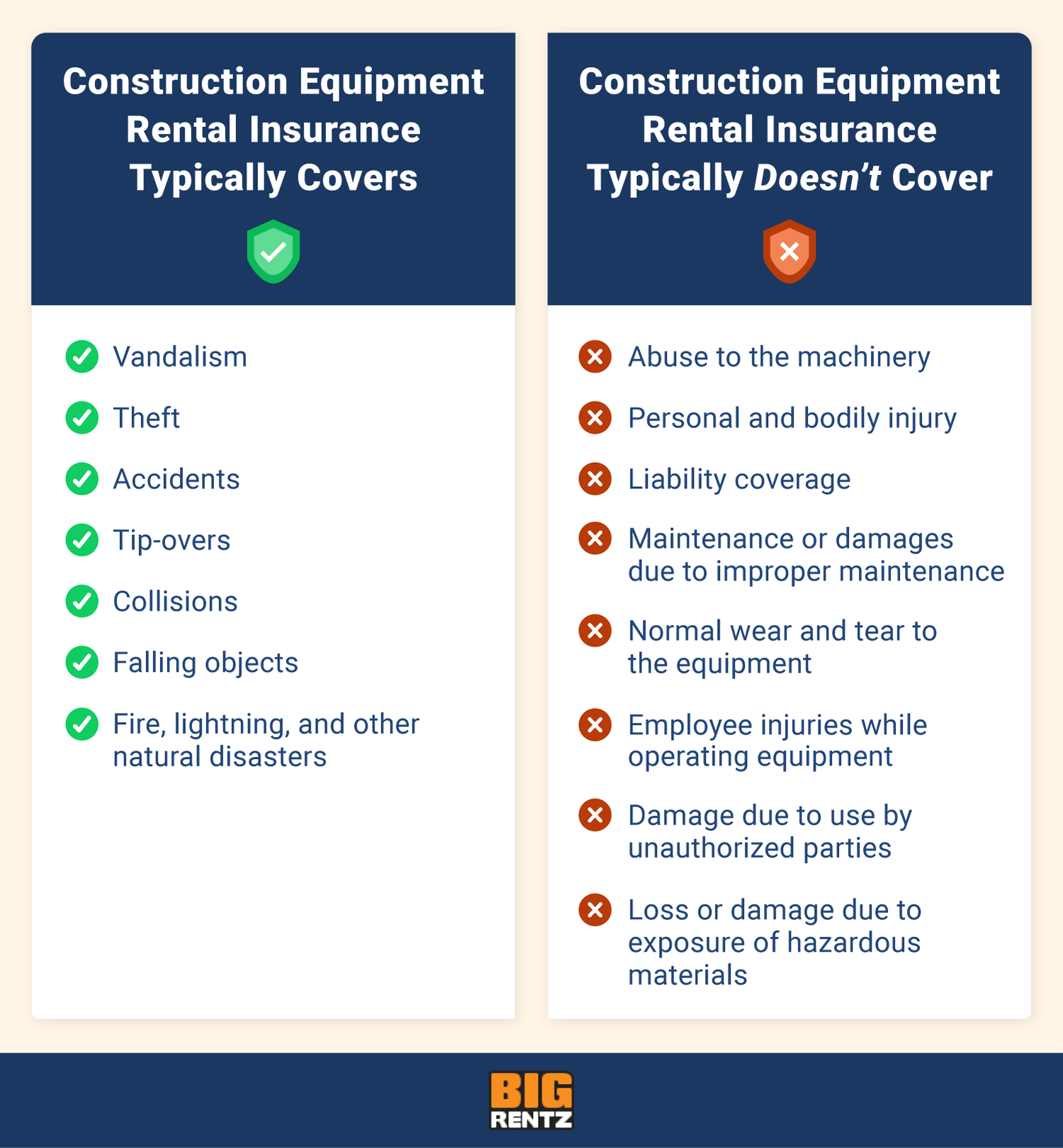 What Doesn't Construction Equipment Rental Insurance Cover?
Though what your policy covers or doesn't depends on the specifics of your plan, most insurance providers exclude certain issues and events. The following are typically not covered under equipment rental insurance plans:
Maintenance or damages due to improper maintenance
Damages due to abuse of the machinery
Normal wear and tear to the equipment
Employee injuries while operating the rented equipment (covered under workers' compensation)
Loss or damage due to exposure of hazardous materials
Damage due to use by unauthorized parties
Liability coverage
Personal and bodily injury coverage
How Much Does Equipment Rental Insurance Cost?
There is no one-size-fits-all insurance policy. The cost of rental insurance varies based on many factors including:
The type and/or value of the equipment
The rental duration
The insurance company
Talk to insurance agents to understand your coverage needs and get quotes.
Other Essential Types of Insurance for Construction Companies
While the options mentioned above cover rented equipment, they don't necessarily cover\ other potential risks. To give yourself and your team complete protection, you'll also need to get other types of insurance, covering issues like personal injuries or property damage.
In addition to rental equipment insurance, you may also want to discuss with your insurance agent whether you should carry:
General liability insurance: It provides you with third-party coverage for bodily injury, property damage, and personal injury claims arising from a business's operations, products, or services.
Commercial property insurance: This type of insurance protects buildings, tools, and equipment at your designated address from damage, theft, and lost income claims. It doesn't cover equipment en route to or at a jobsite.
Commercial auto insurance: This type of insurance protects vehicles you use for business. It typically excludes certain types of vehicles, like tractors or forklifts, that are considered construction equipment.
Worker's compensation: This type of insurance helps cover medical expenses and lost wages for employees injured on the job.
In addition to these insurance types, there are many types of specialized coverage and excess liability policies you may want to consider. Make sure to talk to an insurance agent to understand what best fits your business's needs.
What Insurance Is Required to Rent With BigRentz
Like most rental companies, BigRentz requires customers to have an equipment insurance policy for any equipment they rent, as well as other forms of coverage.
Here are the specific rental insurance requirements customers need to meet to rent with BigRentz, as outlined in the BigRentz rental agreement.
General liability insurance: Regardless of if you choose a Rental Protection Plan (RPP), you'll need to have general liability insurance of no less than $1,000,000 per occurrence. As mentioned above, general liability insurance covers bodily injury (not injury to employees) and damage to tools and equipment that you as a company own or rent (in some instances).
Rented or leased equipment insurance: Your rental equipment policy should be in an amount that's equal to at least the manufacturer's suggested list price and loss of use and rental income, unless you've selected the RPP as applicable. The RPP is an option to limit your liability for loss or damage related to rented equipment. If you don't choose the RPP, you must provide evidence of insurance coverage for the rented or leased equipment.
Worker's compensation insurance: BigRentz requires this as required by the federal government for businesses with employees.
Automobile liability insurance: This applies if the equipment is used on any roadway. The amounts set in the general liability and rented or leased equipment insurance applies.
In general, businesses are required by the federal government to have the following insurance:
Workers' compensation
Unemployment
Disability
What Is BigRentz's Rental Protection Plan?
BigRentz offers a Rental Protection Plan to limit your liability in the event of loss or damage to the equipment you rent. If you don't have rental insurance, the RPP might be an option. Keep in mind, however, that the RPP isn't insurance or a warranty, so it doesn't offer the same coverage an insurance policy would.
The RPP's deductible depends on the value of your rental. It's $1,000 for an equipment value of $25,000 or less. For equipment valued greater than $25,000, the deductible is either $2,500 or 10% of the repair cost plus tax, whichever is less. If you don't pay your deductible within 30 days of receiving the damage invoice, you automatically waive the RPP and will be responsible for the full outstanding balance.
According to the terms of the RPP, you'd be responsible for costs associated with any of the following:
Loss or damage resulting from gross negligence by the operator
Vandalism or theft
Leaving keys in the unlocked equipment
Exposure to corrosive materials
Overloading the equipment
Damage caused by electrical currents
Violation of the contract or any laws, ordinances, or regulations
Improper or negligent operation of the equipment
If the equipment you rent is lost, stolen, damaged beyond repair, or seized by the government, you'll be responsible for replacing it with a comparable piece of equipment.
Best Practices for Renting Construction Equipment
Renting construction equipment can make your life much easier, especially since it takes the work of storing, maintaining, and updating your equipment out of your hands. But it's still a process that requires careful planning.
These sections detail some best practices to keep in mind when renting construction equipment.
1. Evaluate the Coverage Options
First, determine what kind of coverage you'll need. Are you looking for a short-term policy, or do you have existing inland marine insurance that could cover the rental? Consider if you'll need additional coverage, too.
Once you have a sense of what you'll need, compare and contrast different coverage options for construction equipment rental insurance. You'll also want to look at what your rental company might offer, like the Rental Protection Plan at BigRentz.
Evaluate what would be covered, the deductible, and what you'd end up paying out of pocket in any given situation before you commit to a policy and insurer.
2. Review the Terms and Conditions of Rental Contracts
Before signing a rental agreement, ensure you've read and understood all of the terms and conditions so you know what you'd be responsible for. Review the policies and compare insurance options on deductibles, limits, what's included and not included, and any other additional features that may make one option a better fit than the others.
Make sure you read the policies and contracts carefully and ask questions about what you need clarified. You shouldn't sign anything you don't understand.
You also might want to talk to the rental company's service representative to get more information about available makes and models so you can make sure your equipment is properly insured.
Most rental equipment policies cover on an Actual Cash Value (ACV) basis, meaning they pay for the value of the machine today instead of the replacement cost. The difference between these two amounts can be significant, resulting in a higher out-of-pocket cost if something happens to your rental.
3. Obtain Your Certificate of Insurance
Once you purchase the insurance and have the equipment model you're ready to rent, request a Certificate of Insurance (COI) from the insurance provider. This is the proof of coverage you'll need to provide to your rental company at the time of your rental. In addition to allowing you to rent the equipment, having your proof of insurance also ensures that your rental is covered.
4. Evaluate the Rental Equipment Prior to Use
Before you use your rental equipment or even take it off the lot, make sure you inspect it carefully. This is your chance to make note of any imperfections on the equipment so you aren't charged for damages when you return it.
You can usually fill out a paper form during the check-in process to document the equipment's condition prior to use. Make sure the equipment make/model/serial number matches with the insurance COI.
Ready to Rent Equipment for Your Next Job?
Renting construction equipment is a great way to make sure you have the best equipment for your job exactly when you need it. Just make sure you have the right insurance policy to provide for your team's needs, manage risks, and give you peace of mind.
If you're ready to rent equipment for your next job, check out BigRentz's equipment catalog for machines to serve all your rental needs.