Yard work is hard work, and the work isn't over once you're finished. Basic chores like mowing the lawn or trimming the bushes often result in large piles of debris that can be hard to get rid of.
If you're ready to spruce up your yard but aren't sure how to deal with the yard waste, you've come to the right place. In this post, we explain what counts as yard waste and suggest convenient, eco-friendly, DIY options for yard waste disposal.
Table of Contents
5 Convenient Methods for Disposing of Yard Waste
Here are five ways to dispose of most kinds of yard waste.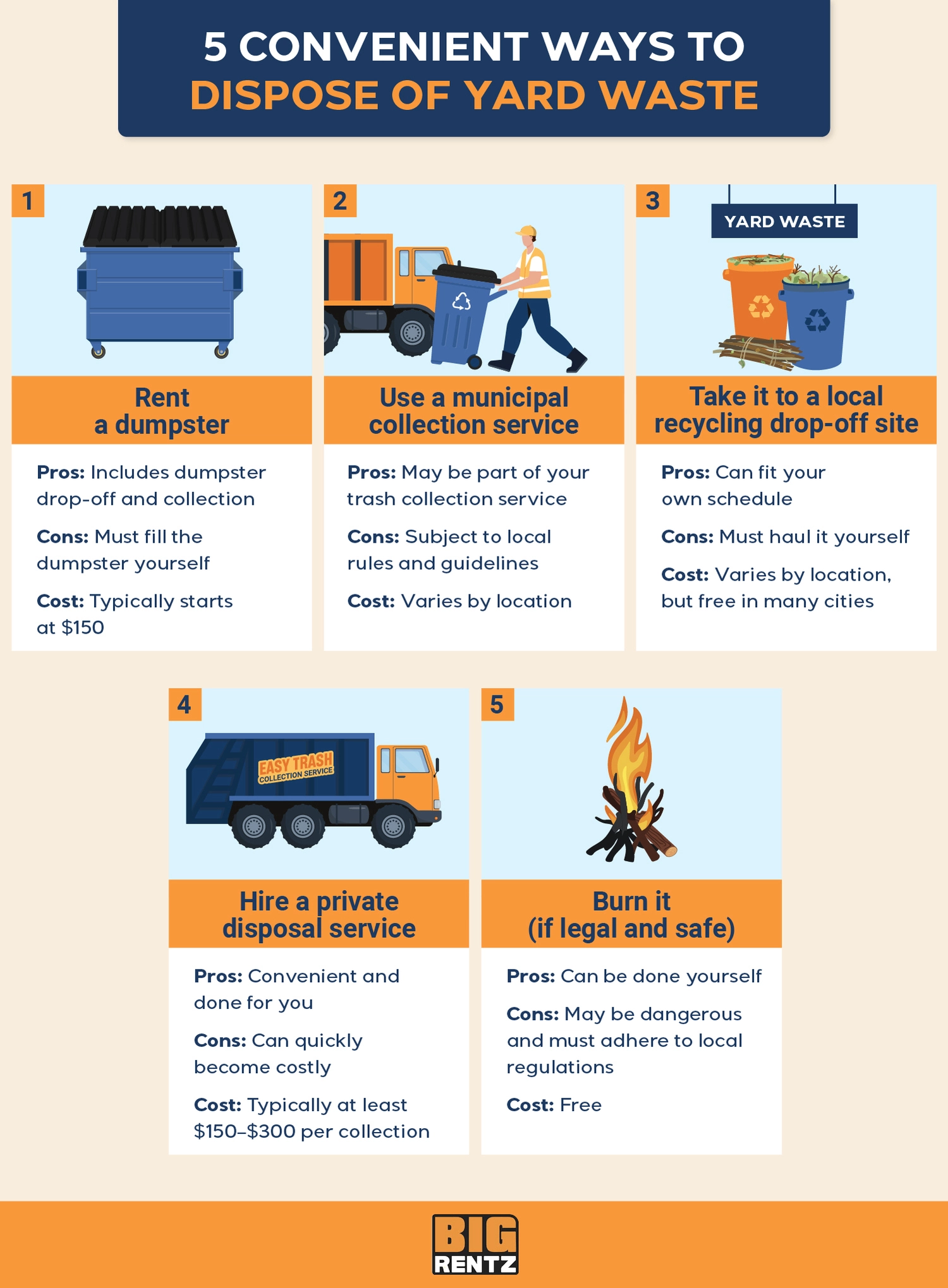 1. Rent a Dumpster
Renting a dumpster is a quick and efficient way to get rid of yard waste. Homeowners often use dumpsters when in need of junk removal, and the same can be done for yard debris. In fact, you can add both to the dumpster you rent so that you maximize your rental.
Typically, the dumpster is dropped off at your property by the rental company. You can fill it up with yard debris and other items you need removed—just be sure you follow the rental company's guidelines on what is or isn't allowed in the dumpster. Then you arrange a pickup for the dumpster and the waste gets disposed of by the company. You just need to clear an area for the truck to deliver and remove the dumpster.
BigRentz offers a dumpster rental service for seven-day periods. You can choose from 10-, 20-, 30-, or 40-yard sizes. The cost of dumpster rentalvaries by state but can start from $150 and go up to about $2,000 depending on size, duration, and location.

| | | | |
| --- | --- | --- | --- |
| Dumpster size: | How much waste: | Best for: | Cost: |
| 10-yard dumpster | Up to 1 ton | Small yard projects | $150 to $650 |
| 20-yard dumpster | Up to 2 tons | Mid-level yard projects | $225 to $1,100 |
| 30-yard dumpster | Up to 3 tons | Bigger land clearing and yard projects | $263 to $1,200 |
| 40-yard dumpster | Up to 4 tons | Large-scale land clearing and yard projects | $307 to $1,300 |

Keep in mind that if you want to dispose of materials like dirt and concrete, make sure you arrange for that with the rental company at the time of your rental.
Pros: Quick, easy, and affordable
Cons: You need space for the dumpster and have to fill it yourself
2. Use Your Municipal Yard Waste Collection Service
Many cities and towns offer yard waste pickup and recycling as part of the local trash collection services. Some provide curbside pickup on specific collection days.
Make sure you check with your municipality to see if they offer yard waste pickup and ask about the collection schedule. Depending on where you live, these services might not be available, or they might not be free.
Every locality will have specific limits and guidelines. You may have to use special yard waste bags or paper bags instead of plastic bags. Some services also have limits on what materials and how much of those materials you can dispose of, so be sure you check with local guidelines.
Pros: Handled for you by the local government
Cons: You'll need to check the regulations where you live, and it may not be available or meet your needs
3. Take It to a Local Recycling Drop-Off Site Yourself
Many areas have dedicated drop-off sites where you can dump your yard waste to be turned into compost. You may call your public works department to see if your municipality has a site, or you can look for local small businesses that provide this service, often recycling the yard debris into mulch.
Most sites have specific hours of operation, and there may be limits on what and how much you can dispose of and how it should be prepared for disposal. Staff may be on-site to assist you. It's typically a free service, but some sites may charge a fee.
Pros: Dispose of waste on your own schedule
Cons: You have to haul it yourself; there may be restrictions; and the site itself may be muddy or slippery
4. Hire a Private Yard Waste Disposal Service
If you don't mind paying, you can hire a private waste disposal service to pick up various types of waste with both one-time and recurring curbside collection options. They may also offer recycling options.
If you go this route, you should compare prices and what else comes with the service, since costs can add up quickly. Costs also vary by state and by what services you require. These companies typically charge $15 to 25 per cubic yard, which often works out at $150 to $300 per property each time. Many services have a minimum charge for a single load of $70 to $80.
Pros: Convenient
Cons: Your total cost may be considerably more expensive than using local services or just getting a dumpster
5. Burn Your Yard Waste (if Legal and Safe)
Burning your yard waste can be a quick way to dispose of it, but you should always check state regulations to see if it's legal to do so in your area and to learn what you're allowed to burn at each time of the year.
For example, in some states, such as California, you may need a permit to burn waste. Burning may also be prohibited during certain times of the year to help prevent wildfires. There might be a limit on the size of the pile for the fire, too. Four feet is typically recommended for safety.
If you try this method, make sure you only burn yard waste in a controlled environment with access to water to put it out (hose, buckets, and so on). Check the conditions so that you don't burn when it's windy or very dry. Also, make sure to look for possible obstructions, like power lines, overhanging tree limbs and buildings, and that the fire is surrounded by a 10-foot radius of gravel or soil in all directions. You should watch the fire until it's completely out.
Pros: Can be done yourself for free
Cons: Burning may contribute to air pollution and can be dangerous if not done correctly
3 DIY Eco-Friendly Ways to Dispose of Yard Waste
While the methods outlined above are convenient, if you have more time on your hands, you might want to consider these eco-friendly alternatives to dispose of your yard waste. These next sections detail some of the greenest yard waste disposal methods.
1. Compost Your Yard Waste
Composting uses the natural decomposition process of organic matter to create a nutrient-rich soil or mulch. If you have a green thumb, composting yard waste and food scraps is a great way to make food for your garden.
You can compost various types of organic material, including grass clippings, shrub and plant trimmings, and other garden waste, plus you can add in certain types of food waste. You can simply pile them in a heap, use a compost bin, or build your own DIY compost container.
Using compost in your garden can help enrich your soil with nutrients, as well as prevent erosion and conserve water, improving the growth of your plants.
Pros: Turns your yard waste into something you can use
Cons: You have to invest time building a compost pile in certain layers so that it's ready when you need it
2. Turn the Waste into Mulch
Similar to compost, mulching is a way to repurpose organic waste into something that helps the health of your garden. Mulch goes over top of the soil and around plants, protecting them from things like weeds and wind, and locking in moisturize.
Things like dried leaves, grass clippings, and chipped up branches or tree stumps can all be used as mulch. You can also use rocks and gravel, which can't usually be recycled through a waste collection site, to build out your mulch.
Pros: Turns your yard waste into something you can use, including types of yard waste that can't be recycled (rocks and gravel)
Cons: You need a lot of yard waste to create mulch
3. Work with Your Local Community
Your area might have community composting initiatives that accept donations from people in the neighborhood. If you're unsure where to look, organizations like ShareWaste can connect you to people and organizations near you. Some local governments' yard waste collection services recycle yard waste and turn it into compost or mulch for local residents to collect and use.
Pros: May benefit the local community
Cons: Services may not be available in your area
What Materials Count as Yard Waste?
These items typically count as yard waste:
Branches and brush
Flowers and floral trimmings
Grasses and weeds
Leaves
Tree trimmings
Untreated, unpainted wood
Christmas trees
Fruit and vegetable scraps and plants
These items usually aren't considered yard waste:
Plant pots
Dirt
Rocks
Pet poop
Bricks
Plant tags
Plywood, pressboard, painted, stained, or treated wood
Can You Put Yard Waste in Your Trash or Recycling Bin?
You typically can't put yard waste in your trash. Many states have banned yard waste from landfills for environmental reasons.
You also can't put yard waste in your recycling bin, because it can't be recycled like paper, plastic, or glass. It can, however, be composted, so check to see if your local government offers a yard waste collection service (if you don't want to compost on your own).
Rent a Dumpster to Easily Dispose of Your Yard Waste
When you're tending the garden or finishing a big landscaping project, the last thing you want to think about is cleanup. Let BigRentz take some of the burden off your shoulders. Our dumpster rental service can help you dispose of yard waste quickly and efficiently, so you can get back to enjoying your beautiful yard.