What happened if all the big box retailers actually fit in one box?
For decades, big-box retailers have thrived as ultimate "one-stop shops". Occupying a large amount of physical space and offering a variety of products, these retail giants have maintained a large footprint in their respective communities even as brick-and-mortar stores are increasingly downsizing and closing.
The enormous size and the sheer number of these stores made us wonder how much space they would occupy if they were combined as one. To find out, we multiplied the average store size of some of the largest retail chains by their number of stores to obtain an approximate total retail space. We then visualized the space of these imaginary stores against similarly sized locations.
Below you'll see how some of the largest retail chains compare to each other in size.
Walmart
With over 11,277 stores worldwide, Walmart is one of the largest retailers in terms of total store locations. With a mix of larger Supercenters, standard Walmart discount stores, and smaller neighborhood markets, the retail giant has an average store size of 99,800 square feet, meaning it encompasses approximately 1.1 billion square feet across all its locations — the largest space of all the stores we compared.
This amount translates to 40 square miles of retail space, which is about twice the size of the famous borough of Manhattan in New York City. Larger than most central downtown districts, Walmart would nearly encompass the size of a small city.
Walmart has increased its store locations by 60 percent in the last decade. As the chain continues to experiment with new technology to enhance its stores, we can expect this growth to continue — the company told its investors last year that it would double its retail footprint in 2019. The retail giant saw a 4.2 percent growth in sales last year due to the expansion of their grocery pickup services, as well as 3.3 percent increase in transaction sizes in store.
Target
Like Walmart, Target also is made up of supercenters, standard stores, and smaller city-specific retail formats. While Target has a larger average store footprint of 130,200 square feet, it only has 1,846 total locations worldwide. Added together, this is about 8.6 square miles of retail space — the equivalent size of the Santa Monica beachfront city in Los Angeles.
However, with Target planning to remodel 1,000 stores by 2020 as well as open new mini-Target stores, we can expect to see a growing revitalization and expansion of their retail footprint. The company has already seen a 2 to 4 percent increase in revenue per store since the acceleration of their remodeling plan.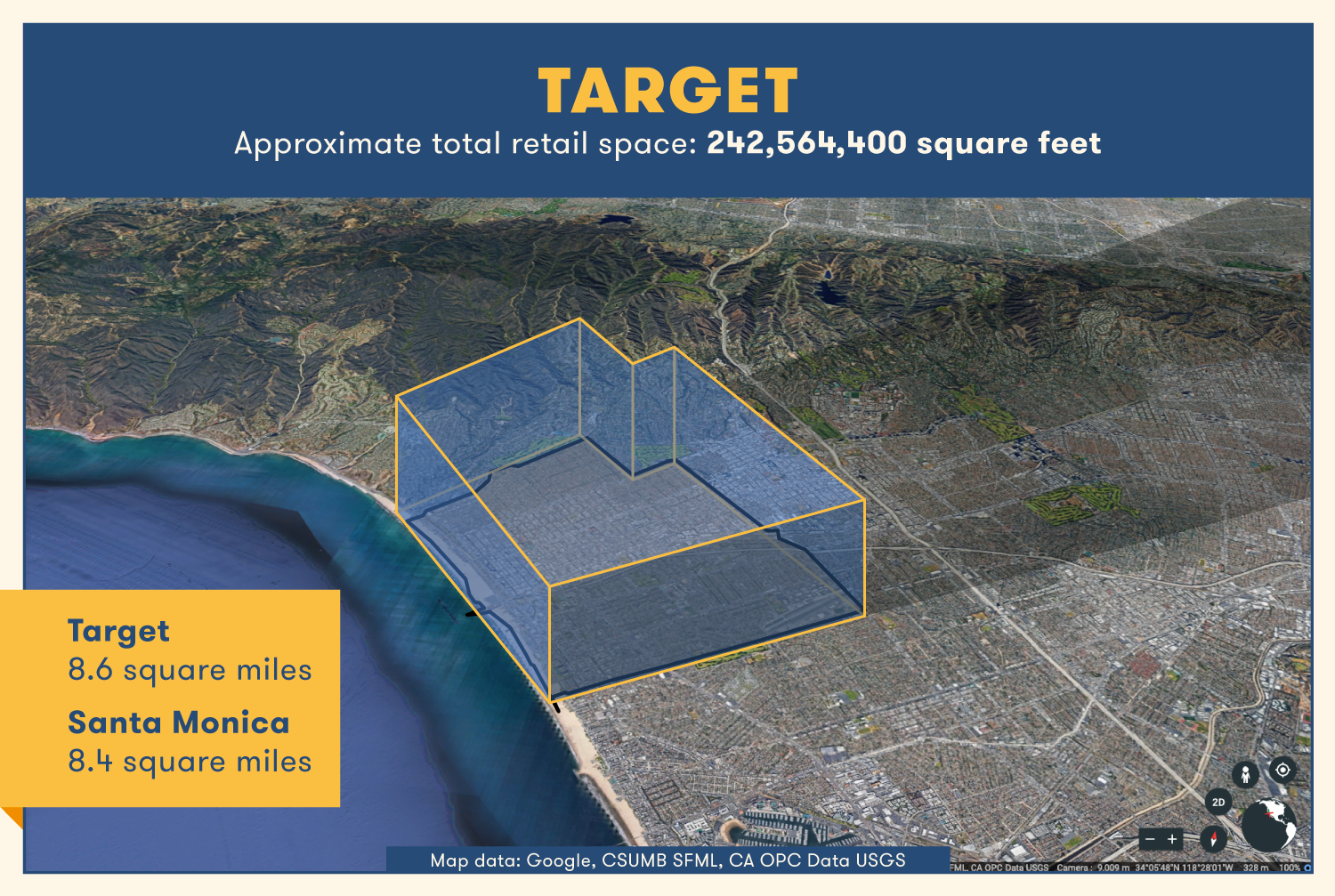 The Home Depot
The Home Depot is one of the nation's biggest home improvement chains. With a wide selection of hardware, equipment, supplies, appliances, and other home improvement necessities. The Home Depot has an average store size of 104,100 square feet over 2,286 locations. With a total estimated retail space of over 240 million square feet, it would cover 8.5 square miles, putting it in line with Target. For more perspective, this is about half the size of Miami Beach, a large island city that spans about 15 square miles.
Like other big-box retailers, The Home Depot plans to integrate its online and offline shopping channels and improve its supply chain infrastructure. However, while stores sales at the Home Depot rose by 3.2 percent last year, this is short of the company's expected growth of 4.5 percent. The underperformance could be attributed to the slowing home construction market, suggesting that the sheer number of stores and retail space is not the only factor in maintaining brick-and-mortar sales.
Kroger
Kroger is one of the country's biggest retailers in terms of sales, as it continues to see upward growth with its online revenue and experiments with new grocery technology. The grocery giant also has a large storefront and distribution center footprint, as it also owns Food 4 Less, Fry's, Ralphs, and Fred Meyer, among other grocery markets and even jewelry stores. These total about 2,769 stores nationwide.
With an average of 65,100 square feet of space per store, Kroger would take up 6.5 square miles if all stores were combined — the equivalent of the college town Cambridge in Massachusetts.
However, despite its growth and massive customer base, Kroger faces stiff competition from Walmart — the company's store sales grew by half the amount of its competitor. While the company has expanded its footprint through acquisitions and investments, their future hold on the grocery industry remains more unclear.
Walgreens
Walgreens is the second largest pharmacy store chain in the country behind CVS. With a selection of essentials and health and wellness products, it is no surprise that the company covers 15,073 retail locations. However with the average Walgreens only 9,700 square feet in size, the pharmacy chain would cover over 146 million square feet — or 5.2 in square miles — if it combined its locations into one mega-pharmacy store.
This fictional store would be slightly larger than the size of downtown Los Angeles, which for all its fame, is only 4.73 square miles in land area. As Walgreens faces pressure from Amazon's move into physical retail, it will be interesting to see if it can maintain its retail footprint in the years to come. The company experienced an 11.3 percent increase in sales in the 2018 fiscal year due to its acquisition of Rite Aid and expansion of its retail footprint. However, the less than expected sales show a need for the company to rethink its retail strategy.
Costco Wholesale
Recently beating out Amazon as America's favorite online retailer, Costco Wholesale is most known for its large warehouse shopping spaces and a wide selection of quality items. With an average retail store space of 145,300 square feet, it has the largest single-location footprint on our list. However, its location distribution is much smaller at just 762 stores. A large, flagship Costco that incorporated all its locations would cover the size of 4 square miles — the size of downtown San Diego counting its tide and bay sections.
Like other physical retailers, Costco faces competition from online retail. Despite this, the company's total sales rose by 11 percent in the past year, in part due to their efforts to broaden product lines at their brick-and-mortar locations.
As retail chains and big-box retailers continue to expand their footprint and keep up with the impact of e-commerce, an increasing number of cities and towns are enforcing store size caps to lessen the economic impact on local businesses. While big-box retailers can increase their store locations, these large stores will need to take new measures beyond retail space to compete, such as remodeling their store layouts, adopting sustainable green features, and creating more "experiential" retail experiences to make their stores stand out.
Sources:
eMarketer Retail | National Retail Federation | Net Lease Advisor | USAToday | ILSR | The Balance SMB | CityLab | Business Insider