Educational facilities aren't static. They're continually being enhanced, expanded, and upgraded, particularly as classroom sizes grow and funding for certain programs, such as STEM, increases. As such, contractors and construction companies must keep up with these changes and meet the education industry's evolving demands.
BigRentz can help you find the necessary equipment for your education construction project, whether you need a manlift to retrofit an old gymnasium or heavy compaction equipment to help lay the foundation for an entire campus of student housing. By renting these types of equipment and machinery, you can get the job done easily and efficiently and for less cost than buying.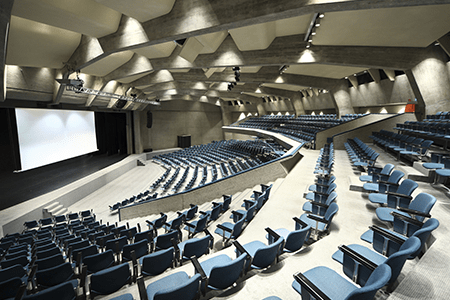 Rent Equipment for Your Next Education Project
The Evolution of Construction in the Education Industry
School buildings are evolving with the times, as administrators place more emphasis on active learning, research, and multimedia. Nearly gone are the days of single-purpose buildings. Grade schools, colleges, and universities are putting more emphasis on using renewable energy and sustainable, durable construction materials. Many school buildings, for instance, are more than 100 years old. They require renovation to meet current air quality and safety requirements while still preserving their architectural features.
To address issues of space, lighting, and airflow, many schools are being designed with higher ceilings and daylighting such as skylights. Buildings are also being designed and wired to accommodate technology-based learning. Many now have smart and hands-free features in bathrooms and labs.
School building regulations have also shaped the evolution of education construction services. Today's school building codes focus on students' safety and welfare, requiring buildings to be handicapped-accessible, have safe exits, be properly ventilated, and be able to withstand natural disasters such as tornadoes and earthquakes. This has resulted in a shift in the materials you see in modern education design. For example, they don't use wood framing in new school construction, due to current fire code restrictions.
Eco-friendly and sustainable materials are replacing those with short life spans or poor efficiency. There's an uptick in synthetic, green, and cool roofs. Fluorescent, LED, and other efficient lighting have replaced traditional incandescent light sources. Energy-efficient windows are becoming the norm.
Education Construction Solutions
When building or remodeling education facilities, you might need to rent a variety of equipment. Some commonly used machines BigRentz provides include:
These are just a few of the education construction equipment options you can choose from when renting from BigRentz.
Higher Education Construction Expertise
If you're contracted to work on a higher education facility, make sure you're aware of how it differs from a K-12 facility. You'll face features such as playgrounds and locker-filled hallways, along with robotics labs and student housing. Higher education libraries, in particular, are becoming increasingly digitized and specialized.
Colleges and universities tend to place great emphasis on modern design, eco-friendly materials, renewable energy, and technological connectivity. Much of these institutions' abilities to support such cutting-edge building projects are because they have greater funding than many K-12 schools, particularly public ones.
On that note, construction projects will vary between public and private institutions of any level, due to their funding sources. Public schools and colleges rely heavily on state and local government dollars to hire and pay for facilities construction and maintenance. Private institutions can source from donations, tuition, private foundations, endowments, and more.
Education Facility Maintenance
Education facilities require preventive maintenance to keep daily school operations running smoothly, prolong the life of existing equipment, and avoid costly future repairs. This is particularly important as older schools age. The frequency with which educational facilities should schedule maintenance for many pieces of equipment depends on manufacturer recommendations. Most, however, should be evaluated on an annual basis.
Maintenance of education facilities includes:
Servicing HVAC and electrical systems
Replacing older equipment and features with energy-efficient ones
Fixing leaks and repairing roof damage
Replacing worn floor coverings
Repainting
If you get called in to perform school building repairs or preventive maintenance, you might need to rent equipment such as a manlift to update vaulted lighting fixtures, paint walls, or access hard-to-reach ductwork. If you find yourself making bigger repairs, you might need to rent a dumpsterto collect waste safely.
Just as education facilities vary greatly in type and design, so does construction equipment. BigRentz can help you get the items you need to conduct maintenance quickly and avoid downtime for the school.