Bobcat makes a range of equipment, including skid steers, loaders, excavators, telehandlers, and tractors. When a Bobcat machine has an issue, it will display a diagnostic service code to inform the operator what the problem is.
This post lists Bobcat's fault codes and shows you how to find them, so you can fix issues that arise and keep your Bobcat equipment in good working condition.
Table of Contents
Bobcat Fault Codes List
If you're having trouble with your Bobcat machine, you can refer to the following list of diagnostic fault codes to find out what the issue is. Below is a full list of Bobcat error or service codes.
You can also download Bobcat's PDF with the error code list here.
Examples of Common Bobcat Error Codes
Bobcat fault codes exist for virtually everything that can go wrong with your machine. They apply to every part and aspect, from your lift spool to your drive pump. Codes also indicate what specific part or side of the machine the issue is on, such as your right front wheel or right rear wheel, down to which solenoid is malfunctioning in your machine's circuits.
Error codes also apply to the performance and function of your machine. You'll see trouble codes when things related to your power, such as battery voltage or sensor supply voltage, and fluid levels, such as your hydraulic oil temperature, aren't where they need to be. With the machine's built-in volt sensors, temperature sensors, and speed sensors, not only will you be alerted to these errors, but also these codes indicate necessary details, such as "out of range low" or "out of range high."
Though various things can cause your machine to malfunction, some issues are more common than others. Here are some examples of common trouble codes you might run into and how to fix the issues they're indicating:
M0909 Fuel Level Too Low: This code can be seen on both telehandler models and M-series Bobcat loaders and can cause various issues with your equipment. It's easy to fix—all you have to do is refuel.
H7404 Main Controller No Communication: This code means that Bobcat controller isn't receiving adequate power. It may indicate that the transmission needs to be lubricated. You may want to check on the ground for fluid leaks to identify the source of the issue.
H3916 Left Joystick No Communication/Left Joystick Not Connected: This code can be seen on M-series excavators and loaders. It could be a software issue, like an interrupted connection or no signal, or a hardware issue, like your joystick needing to be replaced.
Bobcat's fault codes, like those for other manufacturers, are primarily designed to be interpreted within the brand's own ecosystem, so it's best to check the operator manual to make sure you're interpreting them correctly.

Where to Find Error Codes on Your Machine
Error codes are typically shown on the instrument panel or control display of your machine. The panels may be different depending on the type of machine you have—for example, whether it's a skid steer or excavator—the model range, the specific features it has, and its age.
Here's where to find error codes on some common models:
R Series and similar: Use the touchscreen to select "service codes." You'll see the active error on the screen as well as a history of error codes that have come up before. You can also access the machine's service schedule and service record. If the model doesn't have a touchscreen, use the knob to navigate to and select "service codes."
M2 Series and similar: If you have a deluxe panel, navigate to "active warnings." If you just have a panel with gauges and a display, press the information button—that should take you to a screen with an open book symbol that has a wrench over the top. Active error codes will be displayed here, and you can cycle through them if there are multiple codes.
Other Bobcat machines, like compact tractors, will just show warning lights and symbols on the display screen to indicate an error. You can check the operator guide to see what these mean.
Why It's Important to Recognize Fault Codes and Fix Issues With Your Machine
Paying attention to fault codes helps you address issues as they come up with your equipment. Fault codes indicate that something is wrong with your machine. If you use the machine while it isn't operating normally, it could malfunction, putting you or the operator and other nearby personnel at risk. Some issues can even cause the machine to shutdown if left unaddressed, like if your engine coolant temperature is too high.
Also, recognizing a fault code and taking the necessary action to fix the problem means you can fix smaller problems before they escalate.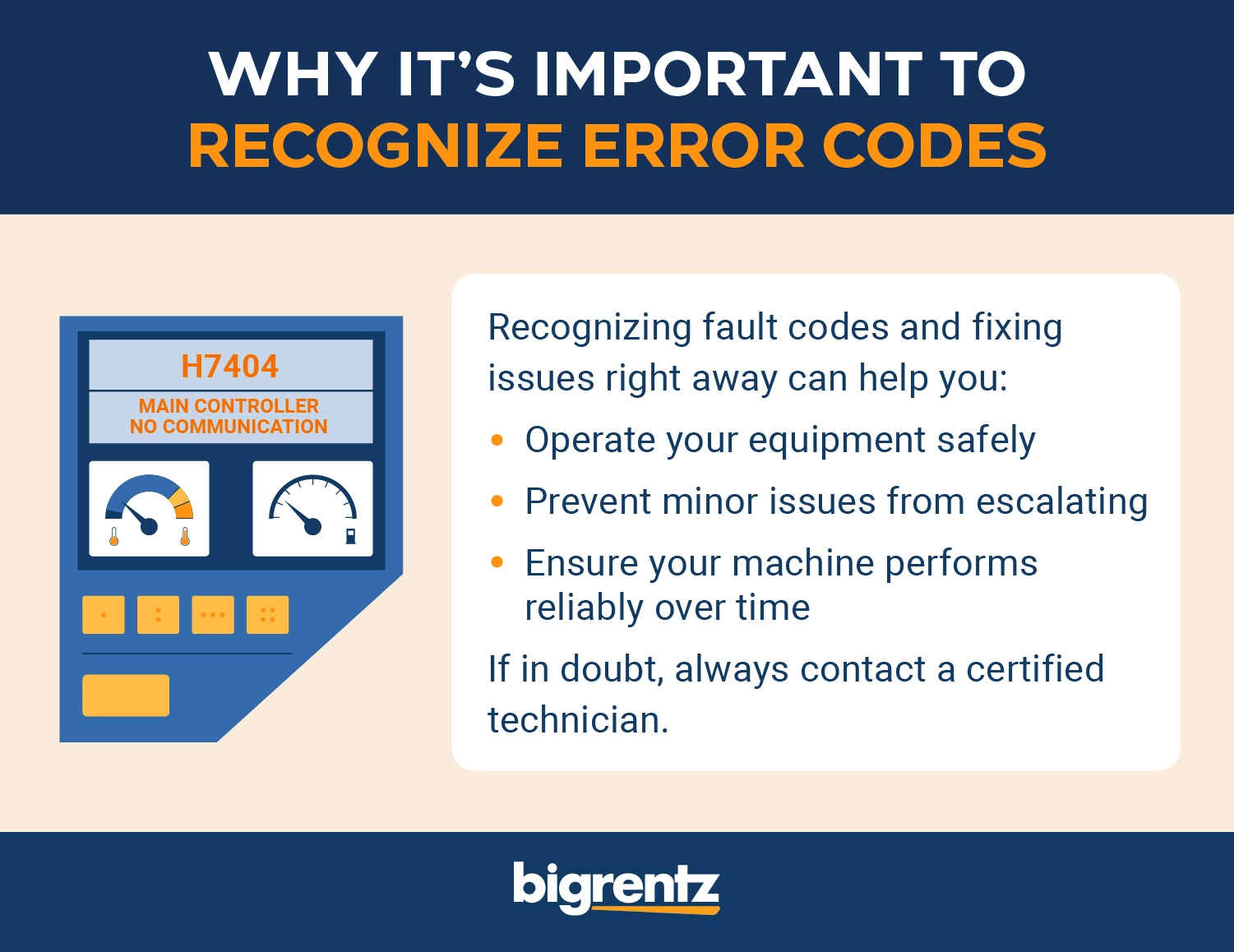 By identifying and addressing issues with your equipment, you can ensure you're operating it safely and that the machine performs reliably. Proper maintenance can extend the life of your equipment, potentially saving you money on repairs and replacements.
How to Reset Bobcat Fault Codes
If you think the fault code you're getting is erroneous, you can restart the engine to see if it resolves itself. There may also be ways to reset the codes using the instrument panel. Check your operator manual to see if this can be done and which buttons to press.
Whether you doubt the validity of the code or believe you fixed the problem yourself, contact a certified Bobcat technician. You want to be sure the problem is resolved before you try to reset any codes or use the equipment.
Even if you think it's a mistake, always check any error codes that you see come up on your machine right away. Seemingly small issues could become serious if they're left unaddressed, so it never hurts to check.
3 Tips to Maintain Your Bobcat and Prevent Faults
While you might not be able to totally avoid issues with your Bobcat machine, proper maintenance and care is your best defense against errors and faults. Here's how to keep your equipment well maintained.
1. Read the Operator Manual
Reading the operator manual will help you understand the specific needs of your machine. It'll also familiarize you with the best way to operate it for both safety and optimal performance.
If you need to order parts for your machine after seeing an error code, you can look up your Bobcat's serial number in the manual and order what you need online or from your dealer.
2. Adhere to the Service Schedule
Each Bobcat machine comes with a recommended service schedule for maintenance. Following the schedule for your specific machine can help minimize the potential for issues to arise.
For example, here's the maintenance schedule for an S650 skid steer loader:
Every 10 hours: Before starting the loader, make essential safety checks, inspecting aspects like engine oil and engine oil pressure, the air filter, hydraulic fluid, and wheel nuts.
Every 50 hours: Check for damage and leaks to hoses, tubelines, and other parts, in addition to a general inspection.
Every 100 hours: Check the battery, engine oil, and filter.
Every 250 hours (or every 12 months): The engine and drive belts need to be checked.
Every 500 hours (or every 12 months): Filters like the fuel filter need to be replaced.
Every 1,000 hours (or every 12 months): Fluids need to be replaced and the engine valve clearance needs to be adjusted.
Every 1,500 hours (or every 24 months): The coolant needs to be replaced.
3. Don't Forget to Maintain Your Attachments
Attachments require as much care as the main machine. Make sure you check all fluid levels regularly and change them as needed. You can also briefly test attachments for use before you start work to ensure they're safe to use and functioning properly.
Rent Well-Maintained Equipment From BigRentz
Using well-maintained equipment is crucial to workplace safety and success. Let BigRentz take some of the burden off your shoulders by renting the equipment you need from our reliable suite of machines. We handle the hassle of maintenance for you, so you can focus on getting the job done.