When it comes to construction work, there are plenty of hazards to look out for, from malfunctioning machines to falling debris. Wearing Personal Protection Equipment (PPE) like hard hats and safety glasses will help keep you and your employees better protected on the jobsite.
In this post, we explain the types of PPE used in construction, in accordance with OSHA's occupational safety standards.
Table of contents
What Is Personal Protection Equipment (PPE)?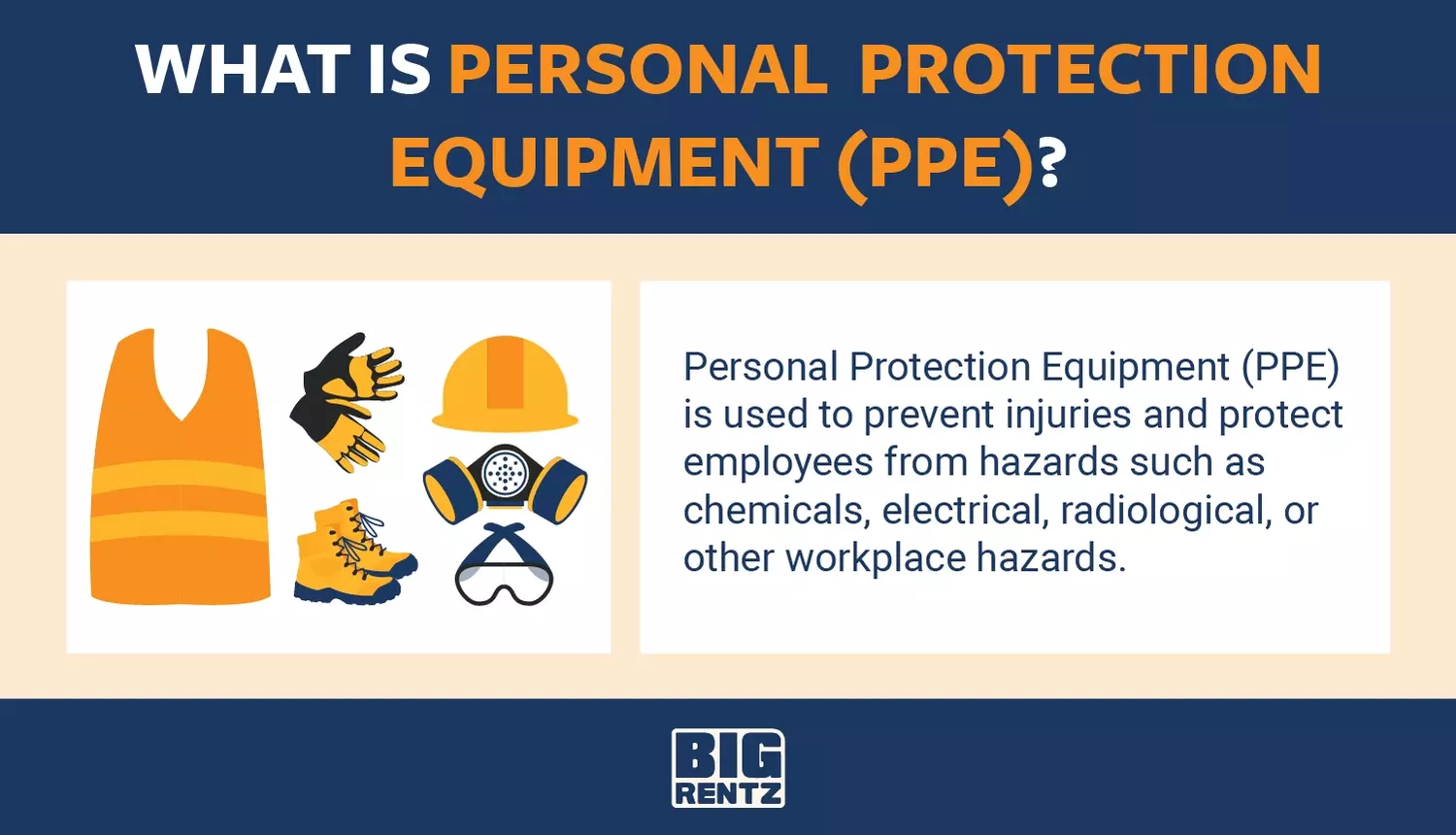 PPE stands for Personal Protection Equipment. It's the gear you and your workers use to prevent injuries and illnesses from worksite hazards.
PPE is a part of occupational health in many industries — the pandemic, for example, brought its use in medicine to national attention, with the urgent need for things like face masks, face shields, and gloves.
In construction, the most common example of PPE is probably the classic hard hat and boots, but there are many other types used to stay safe.
There's typically a PPE program in place on each worksite that acknowledges and addresses workplace hazards, ensures maintenance of the PPE, and provides safety training for wearers.
OSHA PPE Standards and Requirements
Under the Occupational Safety and Health Act of 1970, employers have the responsibility to comply with the safety and health standards set by OSHA. Some of these standards are based on the American National Standards Institute (ANSI).
Employers must provide personal protective equipment to their workers and also train each worker on how to use personal protective equipment properly. Safety training must cover:
When it's necessary to wear PPE
What kind of PPE is necessary
How to properly put it on, adjust it, wear it, and take it off
The limitations of the equipment
Proper care, maintenance, use, and disposal of the equipment
OSHA also states that employers must provide and replace all PPE at no cost to their employees. If an employee brings their own PPE equipment, the employer must ensure that the equipment complies with OSHA PPE standards.
According to OSHA, employers are usually responsible for:
Conducting a hazard assessment to identify potential workplace hazards
Identifying and providing appropriate PPE for employees
Training employees to use and care for PPE
Maintaining PPE, including replacing worn or damaged equipment
Periodically reviewing and updating the PPE program to ensure its effectiveness
Some types of PPE are exceptions to the standard, namely when they are items that can be worn in other areas of the employees' lives. Some examples of PPE employers aren't usually responsible for paying for include:
Non-speciality safety-toe protective footwear, including steel-toe shoes and boots
Everyday clothing, like long-sleeve shirts, long pants, and normal work boots
Ordinary clothing or items used for protection from weather, like winter coats or sunscreen
Hair nets and gloves worn by food workers for consumer safety
Lifting belts
Also, if an employee purposefully damages a piece of employer-provided PPE, they are responsible for replacing it. Employees other have responsibilities regarding PPE too, including:
Attending safety training sessions
Properly wearing PPE
Maintaining PPE
Informing their employer when PPE needs to be replaced
Types of PPE
There are several types of PPE you may find on construction sites. This chart shows what part of the body each protects and what hazards they protect you from.

| | | |
| --- | --- | --- |
| | Types of PPE | Potential Hazards |
| Body protection | Leather, wool, or duck woven fabrics | Cuts, bruises, or chemical hazards |
| Eye and face protection | Goggles and safety spectacles | Chemical splashes and flying debris such as dirt or metal |
| Foot and leg protection | Puncture-resistant or impact-resistant shoes | Exposure to barrels, tools, or sharp objects such as nails that may pierce through the shoe |
| Hand and arm protection | Chemical-resistant, canvas, or leather gloves | Electrical dangers, chemical burns, or harmful substances absorbed on skin |
| Head protection | Hard hats, bump hats, or safety helmets | Flying debris, pipes and beams, or electrical lines |
| Hearing protection | Earplugs, pre-formed or molded earplugs, or earmuffs | Exposure to loud machinery or tools |
| Personal fall protection | Fall-arrest systems, positioning systems, or travel-restraint systems | Working on rooftops or high-rise buildings |
| Respiratory protection | Reusable half-masks, filtering facepiece respirators (FFRs), and powered air-purifying respirators (PAPRs) | Silica dust, lead dust, and fumes |
Body Protection
Body protection, or protective clothing, is often used to protect your employees when handling heavy materials like metal or wooden debris. It's also used as a protective layer when dirt, dust, mud, or possibly hazardous chemicals could splatter on someone's clothing.
You should ensure body protection is used when handling construction machinery or during high-risk tasks, like excavation, earthmoving, or concreting.
Eye and Face Protection
Eye and face protection is often used to protect employees from flying debris that can come up in activities like excavation, demolition, or forestry work. It can also help protect your eyes and skin from dangerous chemicals and gasses.
If your project requires eye and face protection, make sure it fits properly without restricting movement. Also, ensure it's the appropriate type of PPE for your specific job.
For example, if your job puts you at risk of chemical splashes, you should wear eye protection, like well-fitting goggles, to keep your eyes safe. If you're working in an area with a lot of airborne dust or debris, wear safety glasses.
Foot and Leg Protection
Foot and leg protection is necessary to protect you from rolling objects or materials that can penetrate footwear. Potential hazards can include electrical currents, machinery like jackhammers, and sharp objects like nails.
You should wear puncture-resistant footwear when you're working with sharp objects that could potentially pierce through a shoe. Also, consider wearing impact-resistant shoes when you're working with heavy objects that could roll or fall on you, like barrels, construction tools, or buckets.
Hand and Arm Protection
Hand and arm protection is used to protect employees from hazards that could harm their skin, like chemical burns, electrical shocks, bruises, cuts, and puncture wounds. Not only can hand and arm equipment protect against surface skin damage, but it can also prevent chemical absorption through the skin, which might be even more harmful.
As with other forms of PPE, the right equipment generally depends on your specific job tasks. For example, if you're handling acids, peroxide, or other corrosive chemicals, chemical- and liquid-resistant gloves are appropriate. Leather, canvas, or metal mesh gloves can be worn to protect against cuts, sparks, heavy and sharp objects, or burns.
Avoid using gloves with holes or punctures in them and discard any gloves that touched hazardous chemicals so you avoid re-wearing them.
Head Protection
It comes as no surprise that head protection is another essential type of PPE. If objects fall or debris flies, protecting your head can shield you against sudden impact or penetrative hazards, like running into beams or pipes.
Hard hats are especially common and should be worn at all times during construction activities because head injuries are some of the worst injuries a person can get.
Hard hats can be categorized into different classes:
Class A: These hard hats provide impact and penetration resistance, with limited voltage protection (up to 2,200 volts).
Class B: These hard hats provide the highest level of protection against electrical hazards (up to 20,000 volts), along with some impact and penetration resistance.
Class C: These lightweight hard hats provide some impact protection, but no protection from electrical hazards.
Bump hat: These hats are worn in areas with low head clearance, protecting workers from bumping their heads, but don't protect from falling or flying objects.
To work properly, hard hats need to fit appropriately. They shouldn't be too big or too small, and shouldn't bind, slip, fall off, or irritate the skin in any way. If your hard hat shell is weakened or perforated in any way from cracks, tears, holes, or general wear, it shouldn't be worn. Also, if a hard hat sustains impact, it should be discarded and replaced, even if the damage isn't noticeable.
Hearing Protection
Exposure to loud sounds and high noise levels, especially for long durations, can damage hearing. Earmuffs or earplugs should be used in applications where workers have to operate conveyor belts, construction vehicles, or construction tools.
Though earmuffs and some kinds of earplugs can be reworn, single-use earplugs should be tossed away after use. It's typically the employer's responsibility to provide earplugs for each work day.
Personal Fall Protection
Personal fall protection protects you and your employees from fall hazards, especially when working on high-rise buildings, platforms, and rooftops. There are many different fall protection systems. Here are a few common examples:
Travel-restraint system: Travel-restraint systems combine an anchorage, an anchorage protector, a lanyard, and body support to prevent an employee from going over the edge of a walking-working surface.
Positioning system: A positioning system supports an employee while they're working on an elevated vertical surface, like a wall or windowsill, allowing them to safely work hands-free.
Fall-arrest system: Similar to a travel restraint system, a fall-arrest system also helps keep an employee connected to a walking-working surface by way of a body harness, an anchorage, a connector, and a lifeline, lanyard, or other deceleration device.
Respiratory Protection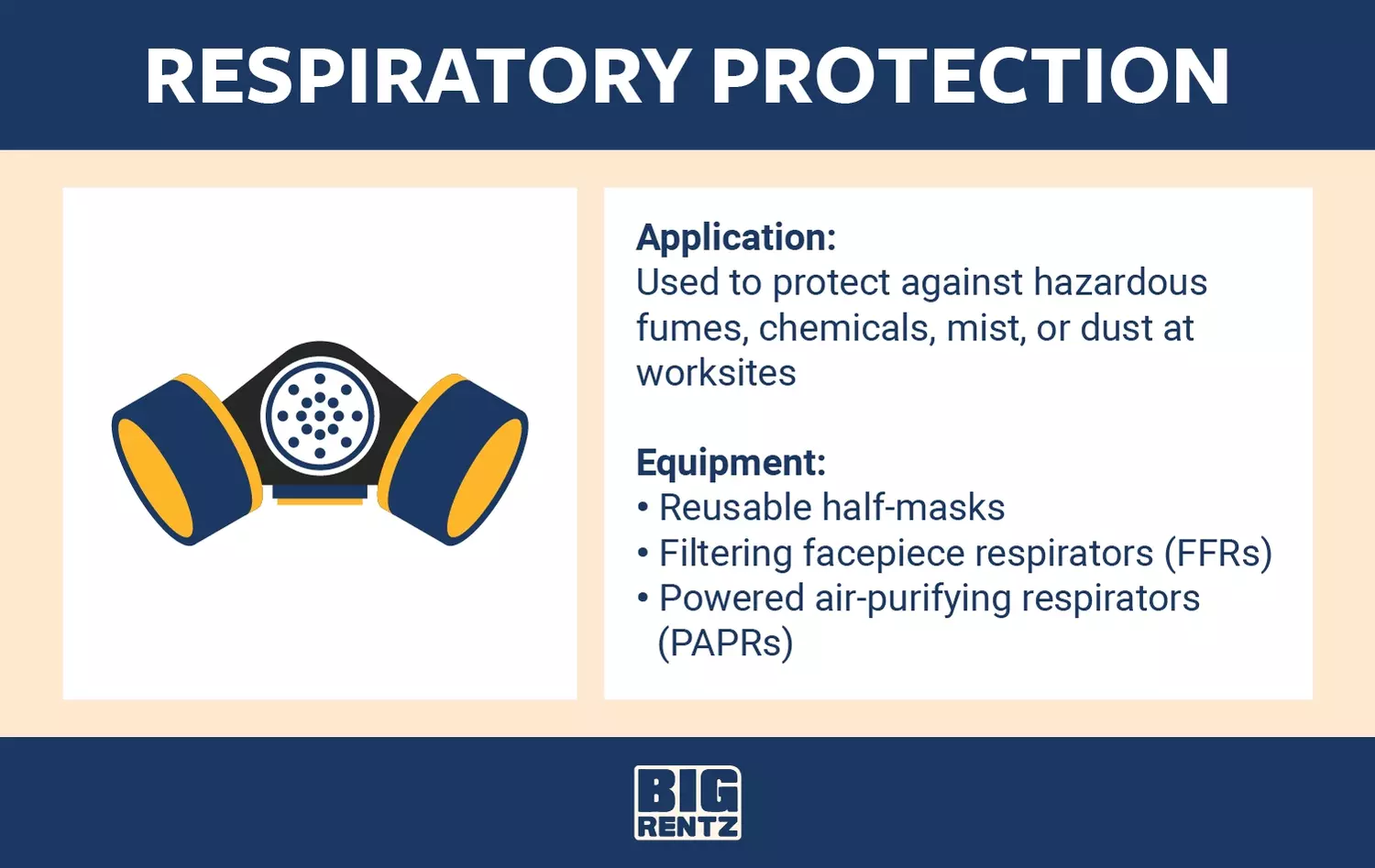 Respiratory equipment is used to protect workers' lungs in an environment that contains harmful dusts, fumes, mists, gasses, sprays, or vapors. Under OSHA Standard 1910.134, a respirator should be provided to each employee by their employer.
In any workplace where respirators are necessary, a respiratory program must also be developed and implemented with procedures in order to teach employees how to use a respirator correctly.
Respirators should only be used when an employee is exposed to potential hazards like lead and silica dust. These hazards can come from construction activities such as sawing, grinding, or chipping materials with a construction tool or vehicle.
Personal Protection Equipment Safety Tips
Using PPE properly is just as important as having it. Check out the tips below to ensure you're using PPE safely on your job site.
Identify any worksite hazards. In order to choose the right PPE for your team, you'll need to identify what specific hazards you're protecting them from. A hazard assessment not only gives you a better sense of what you're dealing with, but also helps ensure that the protection you provide is comprehensive.
Create a site-specific safety plan. A site-specific safety plan (SSSP) helps you develop a formalized protocol to follow that's tailored to your worksite so your employees know what they need to do to protect themselves.
Understand how to use the equipment. To reiterate, using PPE properly is paramount — in some cases, using it incorrectly can be just as dangerous as not using it at all. Make sure to brief your team members on the proper use with safety training, and direct them to your protocols as necessary. Also, make sure the PPE fits properly and is appropriate for your job tasks.
Check each protection equipment before use. Before you or a team member put on a piece of PPE, ensure it's in good working condition, free of damage or excessive wear. Discard any damaged equipment.
Take proper care and maintain the equipment. Make sure the PPE that you and your workers use is stored properly, inspected before use, and maintained as necessary.
Choose the correct PPE clothing or equipment. The type of PPE you use will depend on your job tasks, jobsite, and the specific workplace hazards you're dealing with. You and your team should wear the appropriate PPE for the job at hand.
Staying Safe on the Worksite
No matter the specific situation or environment, your safety, and your team's safety, should always be your number one priority. It's important to read, understand, and follow all safety procedures for any PPE you use and to make sure you're using it correctly.
Before operating or renting heavy equipment, have a safety plan in place. Reviewing your worksite hazards, creating and following safety protocols, and planning ahead of time can help you avoid serious injuries.