On a construction site, you'll need one of the following types of dumpsters: dirt-only dumpsters or construction waste dumpsters.
Once you know what type of dumpster you need, consult the size chart below to make sure you rent a dumpster that's right for your job site.
Finding the Right Dumpster Size
Choose one of the following standard dumpster sizes that will help you move along with your construction project.
| | | | |
| --- | --- | --- | --- |
| Dumpster Size | Weight Limit | Standard Dimensions | Truck Load Equivalent |
| 10 Cubic Yards | ~ 1 tons | 10 ft. x 7 ft. x 4 ft. | 3 pickup trucks |
| 20 Cubic Yards | ~ 3 tons | 20 ft. x 7 ft. x 4 ft. | 4-5 pickup trucks |
| 30 Cubic Yards | ~ 5 tons | 20 ft. x 8 ft. x 5 ft. | 7-8 pickup trucks |
| 40 Cubic Yards | ~ 6 tons | 22 ft. x 8 ft. x 8 ft. | 9 pickup trucks |
While the dimensions of a dumpster can vary, the volume always matches the name of the dumpster. Dumpsters also have weight limits, however, so a dumpster that holds twice the volume won't necessarily hold twice the weight.
An easy way to imagine different dumpster sizes is to consider how many pickup truck loads it would take to move an equivalent amount of waste. For example, a dumpster that holds 30 cubic yards can hold as much as about 7 full pickup trucks.
Common Uses for Construction Dumpsters
Construction dumpsters are useful for a variety of projects, including both small-scale residential construction as well as larger-scale commercial construction.
Here are some common uses for different sizes of construction dumpsters.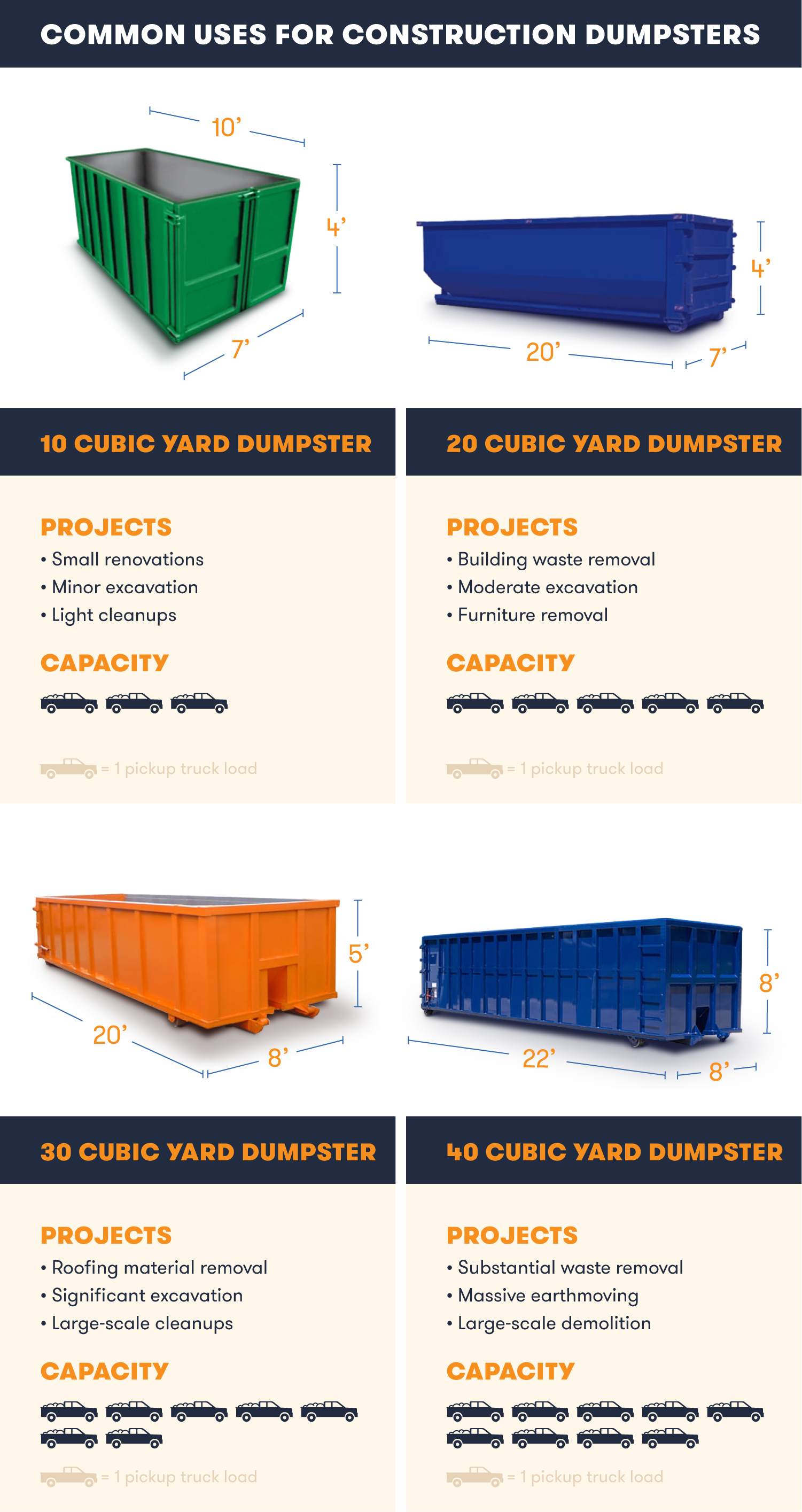 When choosing a dumpster, remember that some dumpsters are only for dirt while others can hold a variety of different kinds of construction waste. Picking the right size is a matter of determining the scale of your project.
10 Cubic Yard Dumpsters
A 10 yard dumpster is excellent for the following projects:
Small renovations
Minor excavation
Light cleanups
These small dumpsters are only suited for small-scale projects often related to residential construction.
20 Cubic Yard Dumpsters
A 20 yard dumpster is a great option for these projects:
Building waste removal
Moderate excavation
Furniture removal
These medium dumpsters are very common in small to medium-scale demolition projects.
30 Cubic Yard Dumpsters
A 30 yard dumpster is helpful for the following situations:
Roofing material removal
Significant excavation
Large-scale cleanups
Especially common for roof removals, these dumpsters are also excellent for larger-scale excavation processes where significant dirt removal is required.
40 Cubic Yard Dumpsters
A 40 yard dumpster is great for these projects:
Substantial waste removal
Massive earthmoving
Large-scale demolition
Because of their large size and higher weight limits, these dumpsters are helpful for moving massive amounts of dirt as well as construction waste during building or demolition.
Renting a Construction Dumpster
When you've figured out what dumpster size you need for your project, the next step is to get started with the rental process. Fortunately, it's now very straightforward to rent a dumpster online, getting a quote that is specific to your geographic area.
Rentals typically include drop-off as well as pick-up of the container on a schedule of your choosing, and you can opt for a daily, weekly or monthly rental according to your needs.