The infrastructure and urban development industries play a key role in the global economy — not only in the production of vital infrastructure facilities, commercial buildings and industrial plants, but also in its influence on the environment. As the world continues to turn its eye toward sustainability, the construction sector is paying increasing attention to the demand for greener and more efficient development practices.
With the rapid advancement of green building technologies in response to the mounting pressure on our global built environment, it's easy to see that the futuristic buildings of today can't be recognized as such without sustainable design — especially considering the fact that two-thirds of the population is estimated to live in cities by 2050.
As cities continue to search for new ways to expand urban landscapes with sustainability in mind, there are some already in development today. You might be surprised to learn that some of the most futuristic buildings are already underway. Read on or jump to the infographic below for our roundup of the world's most futuristic buildings, from ultra-modern designs to the regenerative building practices that make them stand out.
1. The Atomium (Brussels, Belgium)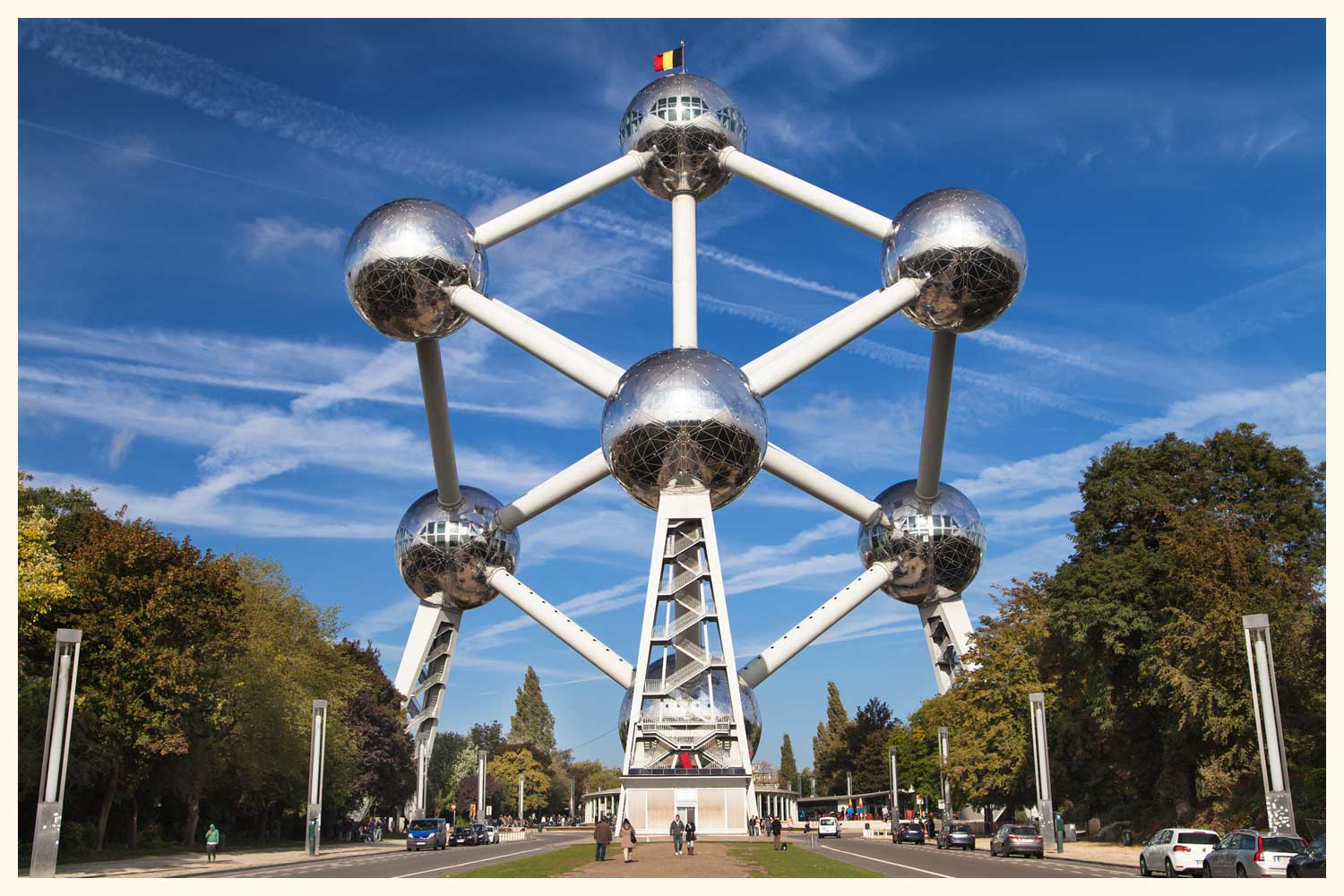 Originally constructed in 1958, the Atomium is a 335-foot tall building consisting of nine interconnected stainless steel spheres that form the shape of an iron crystal magnified 165 billion times. The 20 long metal tubes connecting the spheres contain stairs, escalators and an elevator to allow visitors to pass through the spheres where exhibit halls and other public spaces are located. Within the highest sphere is a restaurant featuring panoramic views of Brussels. The unusual and unforgettable appearance of the Atomium combines technical mastery with daring architectural design, and has become a permanent landmark of Belgium.
Defining feature: Stainless steel spheres
Year completed: 2012
Square feet: 10,760 per sphere
Architect: André and Jean Polak
2. The Crystal (East London, England)
The Crystal was conceived with the goal to challenge conventional ideas on sustainable urban living and design. The all-glass structure was developed with six different types of insulated glass with varying levels of transparency to temper sunlight and frame striking views within the building. The all-electric building consumes no fossil fuels on-site, and employs technologies such as LED lighting, chilled beams and high-efficiency ventilation to further reduce energy use throughout the site.
The Crystal is also 90% water self-sufficient thanks to rainwater harvesting, and is the first commercial building in the UK with an approved drinking water safety agenda. The Crystal's sophisticated management system was designed with mixed ventilation modes, and features an impressive range of controls that allow all energy elements to be monitored in real time and fine-tuned to further minimize energy use.
Defining feature: Real-time energy monitoring system
Year completed: 2012
Square feet: 193,750
Architect: WilkonsonEyre
3. Museum of Tomorrow (Rio de Janeiro, Brazil)
The Museum of Tomorrow is the first Brazilian museum to receive a gold LEED certification, and has become a model for urban recovery and revitalization using sustainable methods in the city of Rio de Janeiro. Some of its key innovations include a roof of solar "spines" that move with the sun to maximize natural light and energy absorption while adapting to fluctuating environmental conditions. It also utilizes reusable rainwater collection funneled from the Guanabara Bay, which saves an estimated 9.6 million liters of water and 2,400 megawatt hours of electricity yearly.
The roof of the building contains large steel structures or mobile "wings" that expand to the full length of the pier, and the building itself features large sea-facing overhangs to highlight the museum's extension from the dock into the bay. A reflection pool makes up the outdoor perimeter of the building, producing the building's floating visual illusion. The Museum of Tomorrow has become an anchor for Brazil's port revitalization efforts.
Defining feature: Mobile solar panels
Year completed: 2015
Square feet: 135,000
Architect: Santiago Calatrava
4. VIA 57 West (New York, New York)
The W57 Pyramid is one of the most dynamic designs to come of the construction boom in Manhattan, towering at 32 stories just south of Hell's Kitchen in New York City. The 709-unit residential building resembles a distorted pyramid of sorts, although it's technically a hyperbolic paraboloid. The unusually sloped structure combines two architectural styles — European low-rise apartment blocks and a traditional Manhattan tower — to create a design that's both functional and visually stunning.
The northern and eastern faces of the building extend to its 450-foot apex, while its southwest exterior follows a parabolic dip. The courtyard was designed as a giant green garden inspired by a classic Copenhagen urban oasis, and preserves existing views of the city while maximizing natural light. The creative design and sustainable construction of the W57 Pyramid has made it one of the most sought-after residential living spaces in the city.
Defining feature: Pyramidal form
Year completed: 2012
Square feet: 830,000
Architect: Bjarke Ingels Group
5. Vancouver Convention Centre West (Vancouver, Canada)
The Vancouver Convention Centre West is the first convention center in the world to receive the LEED Platinum certification and has become a model in sustainability since its opening in 2009. Its six-acre green roof is the largest in Canada, containing over 400,000 indigenous plants and grasses while functioning as an insulator to moderate heat throughout the seasons. The roof's water irrigation system comes from the center's black water treatment plant that collects and cleans water produced by the venue.
Situated on a waterfront adjacent to a restored marine habitat, the center relies on surrounding renewable resources for many of its operations. A seawater heat pump system produces the heating and cooling for the building while reducing energy use by 60% compared to traditional convention centers, and its water conservation system reduces potable water use by 70%. The convention center has become notable not only for its sustainable construction and design, but also for the sustainable operation and maintenance practices employed in all facets of the building.
Defining feature: Six-acre living roof
Year completed: 2009
Square feet: 1.2 million
Architect: LMN Architects
6. Tao Zhu Yin Yuan (Taipei, Taiwan)
The Tao Zhu Yin Yuan is a 21-story skyscraper that has become a landmark for eco-friendly design and carbon-absorbing architecture. The tower was designed to be completely energy self-sufficient, and its open spaces are covered by 23,000 trees, shrubs and plants that absorb up to 130 tons of carbon dioxide annually. From the base of the building upward, pockets of vibrant green gardens extend from the tower's balconies and terraces.
The tower's unusual twisting design is directly influenced by the double helix structure of DNA, symbolizing dynamic life in the tower's 21 twisting levels. Each floor is rotated by 4.5 degrees to allow for 270-degree views for residents, and an innovative column-free interior design that enhances window views. The tower combats air pollution through the vertical chimneys with a double-skin facade to produce natural ventilation. Additional sustainability features include a rainwater recycling system, energy monitoring systems and regenerative elevators.
Defining feature: Twisting double helix design
Year completed: 2018
Square feet: 455,694
Architect: LKP Design, Vince Callebaut
7. Pixel Building (Melbourne, Australia)
The Pixel Building is a four-level building that boasts a variety of achievements in sustainable construction and architectural design, and was first conceived with the goal of becoming Australia's first carbon-neutral office building. The structure successfully generates its own power and water through on-site wind turbines and a green roof that utilizes evapotranspiration of gray water from the building. The Pixel Building was constructed with low-carbon concrete and recycled building materials to further reduce its carbon footprint.
Defining feature: Australia's first carbon-neutral office building
Year completed: 2010
Square feet: 12,228
Architect: studio505
8. The Bullitt Center (Seattle, Washington)
Image by Nic Lehoux for the Bullitt Center
As the first commercial building to earn the Living Building certification — one of the most notable benchmarks of sustainable design — the Bullitt Center is a cornerstone for sustainable architecture and construction.
It boasts 100% on-site renewable energy, water and waste management, floor-to-ceiling windows to harness natural daylight and ventilation, and the use of heavy timber framing to reduce its carbon footprint. The entire building is powered by an overhanging photovoltaic panel on the roof, and has continued to operate as a net positive structure since its opening in 2013.
Defining feature: Net zero energy building
Year completed: 2013
Square feet: 52,000
Architect: The Miller Hull Partnership
9. CopenHill (Copenhagen, Denmark)
CopenHill came to prominence as a new kind of waste-to-energy plant in alignment with Copenhagen's goal to become the world's first carbon-neutral city by 2025. The precise positioning of the plant's machinery made the rooftop's efficient sloping design possible, under which 440,000 tons of waste are converted into enough electricity and heating for 150,000 homes annually.
Furthering the sustainability of CopenHill, this structure utilizes a typically unused building element — the roof — through its rooftop activity park for the public. Constructed on the roof of the 44,000-square-foot plant is a ski slope and recreational hill, along with tree-lined hiking trails, playgrounds, fitness structures, climbing walls and beautiful views across the city.
Defining feature: Rooftop ski slope
Year completed: 2017
Square feet: 44,132
Architect: Bjarke Ingels Group
10. Burj Khalifa (Dubai, United Arab Emirates)
The Burj Khalifa is known as the world's tallest building, but that's not the only reason this design is so impressive. Built to accommodate a variety of commercial, residential and luxury ventures, this mixed-use tower also contains the highest outdoor observatory in the world.
The tower was constructed with a Y-shaped plan to maximize the residential and hotel portions of the structure while maintaining an efficient floor plan and to reduce wind forces. A hexagonal core is supported by a series of concrete-core wings constructed in a spiral configuration, which account for the building's changing shape as you move up each tier. The Y-shaped plan and buttressed structural system made supporting a building of this height possible while still maintaining its slender, refined design.
Defining feature: Tallest building in the world
Year completed: 2010
Square feet: 5.67 million
Architect: Skidmore, Owings & Merrill
11. 1 Bligh (Sydney, Australia)
As the first office tower in Sydney to receive the highest score in the Australian Green Star standard, the 1 Bligh office tower is Australia's first truly green skyscraper. Constructed with the highest grades of sustainability and spatial efficiency in mind, the 28-story transparent tower successfully maximizes unobstructed views of the famous Sydney Harbour Bridge while minimizing solar gains.
A core element of the tower's design is an atrium that provides natural light and ventilation throughout the offices and balconies that face it. It's notably the first tower in Australia to employ a double-skin facade and the use of natural ventilation. Electricity is produced on-site through a trigeneration energy system that uses a vacuum tube solar collector, which allows for cooling, heating and electric power that is twice as efficient as conventional power grids.
A custom filtration plant in the tower's basement supports a black water recycling system that cleans wastewater from within the building, in tandem with additional sewage mined from city sewers that saves 100,000 liters of fresh water daily.
Defining feature: Naturally ventilated atrium for peak sustainability
Year completed: 2011
Square feet: 460,000
Architect: Ingenhoven Architects
12. Palazzo Lombardia (Milan, Italy)
The Palazzo Lombardia is a linear mid-rise office space and headquarters of the Lombard regional government in Milan. The goal of the tower's construction was to create an environmentally friendly facility that's interconnected with the public, containing exhibition spaces, a public park and other public spaces to stimulate regeneration of the district.
The tower's harmonious interweaving design is inspired by the rivers and landforms of Lombardy, as seen in the interlocking wave features and gently curved glass-walled offices of the structure. Palazzo Lombardia has also become a template for eco-sustainable architecture in Milan, employing sustainable technologies like a double-skinned climate wall, energy-generating photovoltaic panels, rooftop gardens and groundwater-fed heat pumps. The climate wall houses a solar shading system to harness natural sunlight and optimize internal temperatures, while the photovoltaic panels help save 80 tons of carbon dioxide annually.
Defining feature: Active climate wall
Year completed: 2010
Square feet: 1.5 million
Architect: Pei Cobb Freed & Partners
13. The California Academy of Sciences (San Francisco, California)
The California Academy of Sciences designed its iconic, sustainable museum with the goal of setting new standards for energy efficiency and environmentally responsible construction. The Academy's most notable features include its living roof, a 2.5-acre rooftop of rolling hills and fields.
The living roof's 6 inches of soil substrate provides natural insulation to reduce energy use, and enables 100% of stormwater runoff to be captured and kept free from pollutants. Fifty thousand biodegradable vegetation trays line the roof's hills, housing millions of native plants to support a thriving ecosystem. A solar canopy along the perimeter of the roof contains 60,000 photovoltaic cells which supply 5% of the Academy's yearly energy needs while reducing greenhouse gas emissions.
While the rooftop design functions to visually connect the Academy building to its park landscape, it also maximizes heating and cooling efficiency. The roof's steep slopes create a natural ventilation system by funneling cool air into the open-air plaza, and skylights offer both ambient light and an automatic cooling system that circulates hot air from the building.
Defining feature: 30% less energy consumption than federal code requirement
Year completed: 2008
Square feet: 410,000
Architect: Mark Cavagnero Associates, Stantec and Renzo Piano Building Workshop
The forward-thinking development and design of these buildings are laying the groundwork for a more sustainably-minded environment and society in the years to come. While the construction industry certainly plays a large role in reducing our environmental footprint, everyday people can do their part in practicing sustainable construction methods for their own projects as well. Whether it's using the right equipment or learning about value engineering to determine sustainable material alternatives, we can all play a role in creating a more sustainable future.
If you're interested in learning more about futuristic buildings, check out the infographic below for more information on sustainable design and the architectural themes behind famous structures.