The United States' construction infrastructure costs are on the rise in 2020, which can be good for the entire construction industry. The Census Bureau released a report on construction spending, showing that 2019 annual rate estimates ($1,345 billion) were under predicted for 2020 ($1,369.2 billion), and readjusted to meet financial demands.
This means that there was an overall increase in both the private ($346.5 billion) and public sectors of construction ($1022.7 billion). With last year's challenges of rising material costs, loss of labor with specialized construction skills, and struggles to implement new technology, 2020 infrastructure developments are appearing more promising than in the past.
What is an Infrastructure Project?
Infrastructure projects focus on the development and maintenance of services, facilities, and systems. These can be funded by private companies, publicly, or combined as a public-private partnership (a collaboration of government entities and private sector companies). The private investments can help manage the economic development of a city, state or an entire country.
Despite increases in pricing costs, the United States' infrastructure is predicted to grow to $396 billion by 2020. This will have an overall benefit for 11.2 million construction professionals, keeping them busy late into the year and onward.
Types of Infrastructure Projects
Today's infrastructure construction isn't the same kind that your grandfather performed. Construction trends emphasize technology and other innovative advancements, to contribute to our economic growth and wellbeing. We use and consume products and services related to different types of infrastructure every day when driving to work, flying on an airplane, going to the bathroom, and visiting the doctor's office. To gain a better understanding of how they play a part in our lives, here are nine types of infrastructure construction and the major projects that are making headlines.
1. Aviation Infrastructure
Aviation infrastructure projects develop and maintain airplanes and airports. This form of construction is a crucial part of the United States Transportation System.
The Federal Aviation Administration (FAA) funded $840 million in infrastructure grants to 381 airports across the United States. Its Next Generation of Air Transportation System (NextGen) project will be one of the most technical aviation infrastructure construction efforts to date. The project's goal is to renovate aging airports and deteriorating runways.
LAX broke ground in 2018 with the development of its 2.25-mile Automated People Mover light rail system. The $4.9 billion project will include six terminal stations and are slated for completion in 2023.
2. Bridge Infrastructure
Bridge infrastructure construction oversees the costs of building and maintaining bridges throughout the country. This includes heavily-trafficked highway bridges that are accessed daily.
The American Road and Transmission Builders Association released a report estimating that 54,239 of the nation's bridges have crumbling structures. The report concluded that it will take more than 80 years to restore all of them.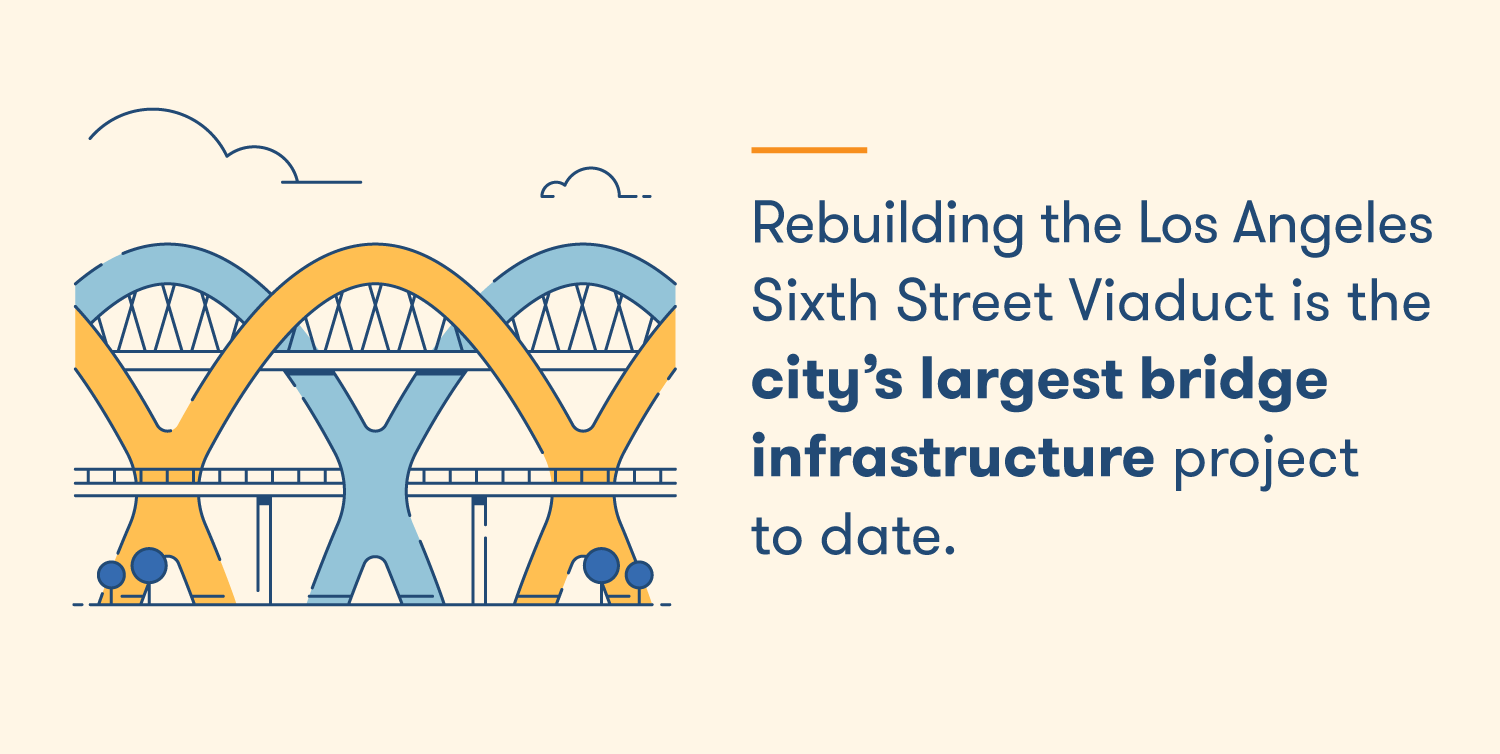 Breaking ground in 2016, the Los Angeles Sixth Street Viaduct is being rebuilt. Costing $1.2 billion, this will be the City of Angle's largest bridge infrastructure construction projects to date. While the substructure was completed in 2018, the superstructure won't be accessible till 2021.
3. Communications Infrastructure
The communications infrastructure sector focuses on the connection between government agencies, businesses, and the nation through wireless, cable, satellite and other technologies. Private and government sectors work together, ensuring that outages are fixed and updates keep wireless networks streamlined.
The United States' adaptation to 5G is in heavy discussion. The high-speed network is the fifth-generation of wireless technology, which will accelerate mobile data network connections. Predicted to change the face of communications technology, major telecommunications companies in the United States are upgrading their frameworks to meet demands. One report from Accenture Strategy estimates that 5G will help create 3 million jobs.
Dish Network is developing a 5G network in Littleton, CO. The direct-broadcast satellite company is relocating its headquarters to Littleton, where it's estimated to create 2,000 jobs in the area. Dish Networks plans to release a state-wide 5G high-speed network by 2023.
4. Power and Energy Infrastructure
The electrical infrastructure oversees projects that deal with power including; electrical lines, power grids, and innovations in alternative energy. The United State's electricity system is one of the largest in the world, using nearly 160,00 miles of power lines, and connecting 145 million people.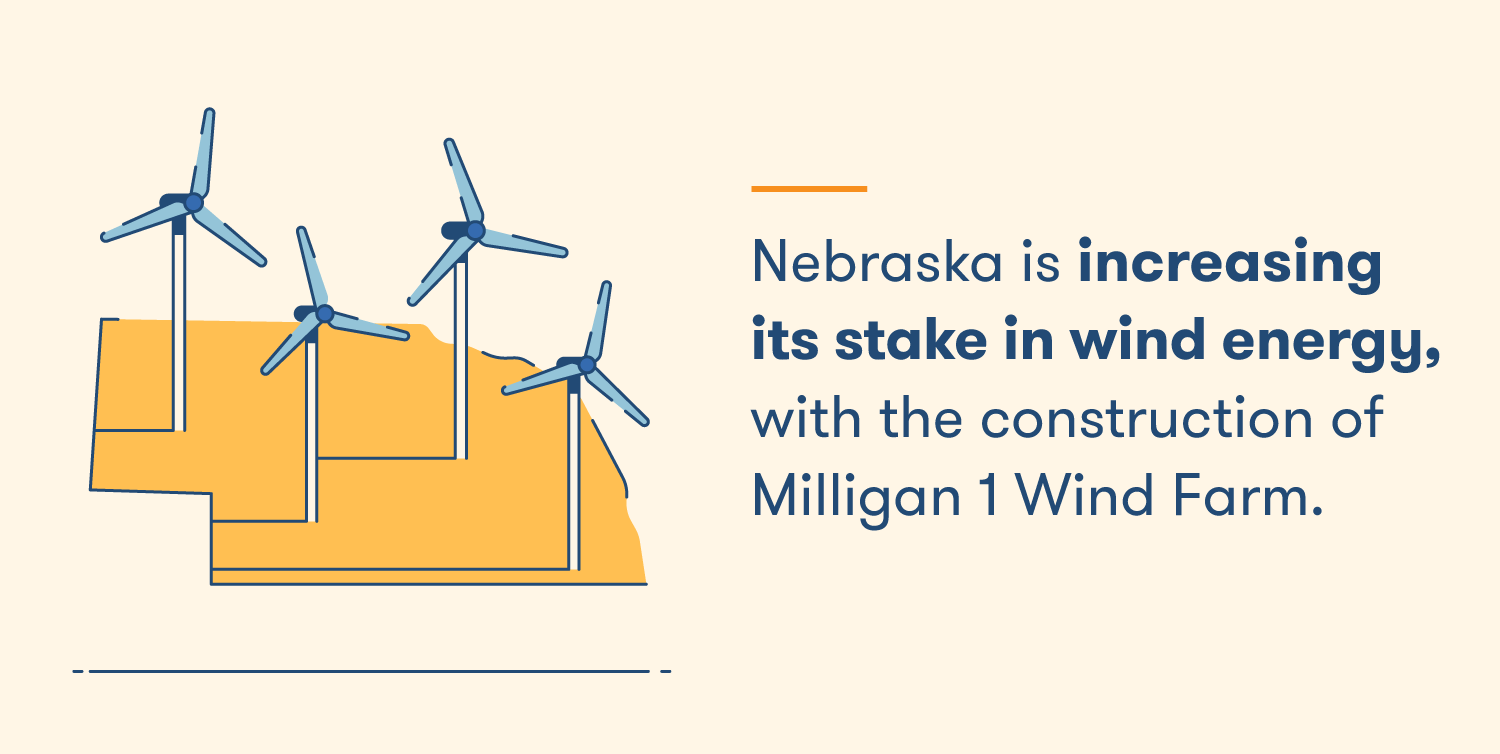 Infrastructure Energy Alternatives (IEA) is increasing Nebraska's stake in wind energy, with the construction of Milligan 1 Wind Farm. Set for completion in November 2020, the $98 million projects will use 99 turbines to charge power grids and send energy to local Nebraska homes.
5. Railroad Infrastructure
Railroad infrastructure is on the pulse of the United States transportation system. The sector is responsible for innovating and safeguarding trains, subways, and light rail systems. This includes track layout, steel supplies, bridges and tunnels.
The California High-speed Rail Authority (Authority) is involved in one of California's biggest railroad construction projects, building a high speed light rail system that will connect Los Angeles, Central Valley, and San Francisco California.
The build has started in Los Angeles County and San Francisco, but the Authority is petitioning for funds to complete to begin the Central Valley California phase, connecting Fresno, Bakersfield, and Merced. By 2023 is projected that $20.6 billion to $23.3 billion will have been invested in the project.
6. Road Infrastructure
Road infrastructure construction builds new streets and fixes streets, roads, and highway systems for mass transit. It also oversees developing transportation projects that grant greater transportation access to communities.
Florida's I-4 Ultimate Improvement Project will reconstruct 21-miles of the highway with wider lanes, new express booths, reconstructed bridges, and pedestrian walkways. The I-4 project is expected to create 2,000 jobs and boost the state's economic development.
Formerly known as the Orlando Expressway, I-4 runs through the heart of Central Florida connecting Tampa-St. Petersburg, Lakeland, Orlando, and Dayton Beach. The project will cost $2.3 billion and estimated completion in 2021.
7. Water Infrastructure
Water infrastructure works to create sustainable water projects to purify water supplies from waste, and make it safe for drinking. The United Environmental Protection Agency (EPA) works with other water sector partners to improve water efficiency in each state.
Pennsylvania Governor Tom Wolfe is funding $136 million for the state's water infrastructure. The project will improve drinking water, waste and pollution management, and develop new treatment plants, in 15 counties throughout the state.
8. Waste Management
Construction waste management works to improve the environment by storing, treating and eliminating hazardous materials. Sustainable construction practices are used to safely reprocess water for drinking, enhance human health, and dispose of sewage and solid waste.
The Environmental Protection Agency (EPA) announced granting a $40 million loan to Toho Water Authority for a sewer assessment and rehabilitation project that will repair the city's waste and sewage systems in Kissimmee, FL. With an estimated $81.9 million cost, the Water Infrastructure Finance and Innovation Act (WIFIA) project will create 198 jobs and hit completion in August of 2020.
9. Hazardous Waste Management
Hazardous waste construction finds and disposes of hazardous materials to protect the environment. Solid and hazardous waste bi-products, such as sewage remnants and other industrial leftovers, are transported to designated landfills hazardous waste facilities. Tanks, drip pads and incinerators are used to treat, recycle or dispose of.
Vanguard Renewable and Dominion Energy have collaborated on a $200 million effort to convert methane from dairy farms into natural gas. Several related projects are underway in New Mexico, Colorado to name a few, with nationwide expansion down the pipeline.
Private vs. Public Construction
Private and public construction are important components of infrastructure. Government agencies and private companies work independently and in partnership, to create structures and provide services that improve societal living.
Private construction projects are funded and owned by private companies and organizations. These include homeowners (residential construction), businesses and private hospitals (commercial construction), and manufacturing facilities (industrial construction).
Public construction, also known as public works, consists of projects funded by local, state, and federal governments. This includes public schools and government buildings.
The United States Infrastructure is vital to the country's economic and social growth. Each sector works in tandem to increase water resources, improve communication technology and upgrade mass transit. As more funding becomes available and projects break ground in 2020, fingers are crossed in hopes that this is the upswing that the industry needs.