When cities look to invest in development projects, everyone tends to focus their excitement on the new: a new apartment complex, park, office building, or shopping center. But these projects often face numerous obstacles, most notably the need to find space for them.
Adaptive reuse provides an alternative by transforming existing spaces that are no longer being used. For many involved in commercial construction, adaptive reuse enables the possibility of accessing prime real estate and revitalizing urban areas. 
Consider, for example, New York City, where city agencies are responsible for 14,000 properties spanning 43,000 acres, but around 20 percent of those properties are not being used. Beyond city-owned properties, the nation's largest city is home to a 6 percent retail vacancy rate, which accounts for hundreds of abandoned storefronts. 
As lifestyles and priorities change, our buildings need to change along with us. Adaptive reuse makes this possible by turning office buildings into apartments or factories into co-working spaces. The most ambitious adaptive reuse projects are often the most beautiful, taking an abandoned space and breathing new life into it.
Read on to learn how adaptive reuse works and how it can benefit the environment. We'll also show some real examples of adaptive reuse, but you can jump straight to our imaginative renderings for how currently abandoned spaces could be transformed
What Is Adaptive Reuse?
Adaptive reuse is the act of finding a new purpose for an existing structure. For example, taking an old navy barracks and turning it into a high school would be the process of adaptive reuse.
There are thousands of unused structures across the United States—factories, office buildings, shopping malls, train stations—that offer an opportunity for creating a new space without actually constructing a new building. 
When considering whether to undertake an adaptive reuse project or demolish a building, developers usually take a few factors into consideration:
Building Condition: Some buildings are beautiful from the outside, but structurally they are so damaged that restoring them is simply impossible.
Government Regulations: Sometimes, certain buildings are granted landmark status and can only be modified in specific ways, which makes undertaking many projects difficult. 
Materials Value: When the materials of an existing structure are sufficiently valuable, it can often be more cost-effective to reuse certain elements of a building rather than procure entirely new materials. 
In addition to these considerations, developers are also increasingly attracted to adaptive reuse because of its environmental benefits.
Environmental Benefits of Adaptive Reuse
As concerns about the environment grow, the construction industry is going green. While there's a large emphasis on green buildings, which have environmental benefits after construction, a growing trend has the industry aimed at finding more sustainable building techniques. 
Adaptive reuse has a number of environmental benefits:
Reduced Materials Usage: Many building materials are scarce, and producing them has a negative effect on the environment. Reusing existing structures reduces the need to create new materials. 
Avoid Demolition: One of the most environmentally harmful aspects of construction is the demolition of old structures. Adaptive reuse completely skips this portion of the process and the resulting negative effects. 
Eliminating Hazardous Materials: Older buildings often contain hazardous materials, and adaptive reuse offers the possibility to remove these from the environment and replace them with more sustainable alternatives. 
While adaptive reuse is not always the perfect solution, it frequently offers a sustainable alternative to new construction.
Beautiful, Real-World Adaptive Reuse Projects
Adaptive reuse is not a new idea, though it has exploded in popularity during the last decade. In the last ten years, for instance, more than 750 commercial buildings have been transformed into apartments, nearly 4 times as many as in the 1990s. 
While adaptive reuse happens all over the country, it is most common in big cities like New York, Chicago, Los Angeles, and San Francisco. Below, we've collected a few examples of impressive transformations that have taken place in some of these cities.
Emporium in San Francisco: Theater Turned Arcade
The Emporium in San Francisco is a sprawling retro arcade bar with 44 arcade games and 17 pinball machines, plus live music and events. Just a few years ago, however, the same building was just the abandoned home of the Harding Theater, a movie and music venue that originally opened in 1926.

Image from Emporium SF.
Once a lively space featuring acts like The Grateful Dead, the Harding Theater eventually closed for good and sat empty for decades. When a developer sought to demolish the building, the city declared it a landmark, so it was transformed instead. The original facade of the building was maintained, but its interior was retrofitted and refurbished to create a modern and delightful space to experience classic games like Galaga and Dig Dug.
Google's LA Headquarters: Airplane Hangar Transformation
Google's campus in Los Angeles is housed entirely within a historic airplane hangar once owned by Howard Hughes. The hangar was once used to manufacture the Spruce Goose, a massive aircraft intended to be used during World War 2, though it was never actually used for that purpose. After the Spruce Goose left the hangar to be housed elsewhere, the gigantic structure was abandoned for a number of years.

Image from Vox.
When Google purchased the space, they took an adaptive approach rather than demolishing the hangar. While preserving much of the building's wooden exterior, the inside was retrofitted with concrete and steel to provide a more solid structure. Additionally, multiple stories were added, creating a mesmerizing cascading effect with mezzanines where people can gaze upon the impressive hangar structure.
New York's High Line: From Elevated Train to Bustling Green Space
New York City's High Line Park is one of the most well-known green spaces in the world, but its origins are far removed from plants and park benches. The raised 1.5-mile park, which features hundreds of native plants, was once the site of an elevated railway line that transported food along the west side of the city. While it was once a vital part of New York's infrastructure, the elevated railway eventually fell out of favor as trucks began handling more and more deliveries.

Image from High Line.
Rather than demolish the railway, New York City opened a contest to solicit ideas for adaptive reuse in the early 2000s. Hundreds of ideas—like a mile-long lap pool or roller coaster—were considered, but ultimately the city settled on a park. The new design retained many elements of the original railway but added landscaping, sitting areas and art installations. Overall, the park is a perfect encapsulation of the beauty that emerges from blending old and new through adaptive reuse.
Imagined Transformations of Unused Spaces
While adaptive use is growing in popularity, there are still tons of opportunities to convert unused buildings into impressive new spaces for living, leisure and work. 
We found three abandoned buildings in New York, San Francisco and New Orleans and created renderings to show what those spaces could look like if they were restored and renovated. 
Read on to see a subway station become a library, a train yard turned into an amphitheater and a power plant converted to a climbing gym. 
Abandoned Subway Station Becomes Literary Paradise
New York City's very first subway station was built below City Hall in lower Manhattan at the beginning of the twentieth century, but it has been closed since 1945. Adorned with brick and colored tiles as well as chandeliers and stained-glass skylights, the space is a perfect candidate for adaptive reuse.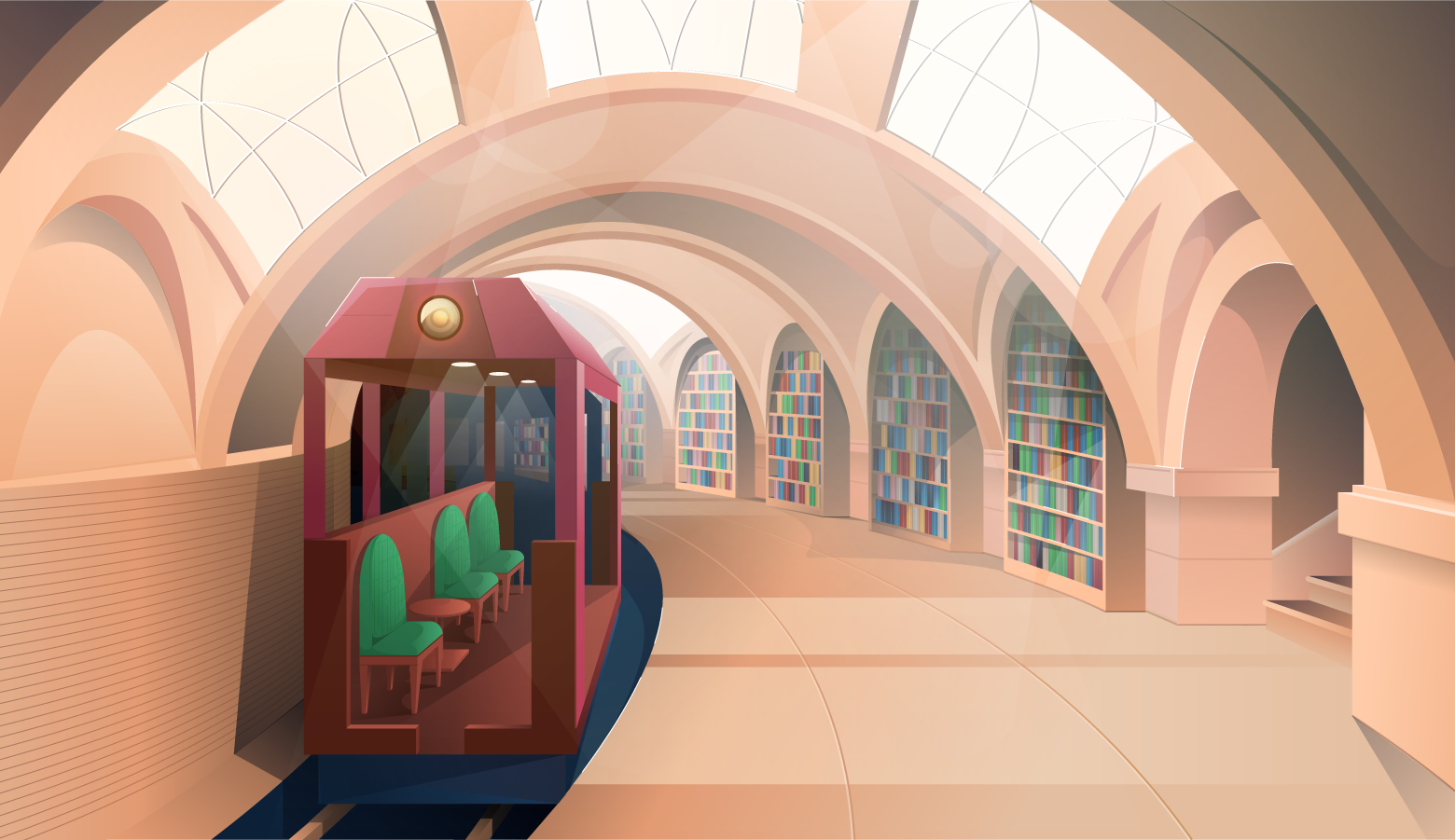 A reimagined look at the City Hall subway station as a public library, rendering by BigRentz.

Our reimagination of this space creates an underground library filled with shelves of books. Additionally, an antique subway car sits on the tracks with seating inside for patrons who want to read a book before checking it out.
Vacant Train Yard Restored as Outdoor Performance Space
In the early twentieth century, the Southern Pacific Railroad constructed a large turntable south of San Francisco. Surrounding the turntable was a huge train storage building called the Bayshore Roundhouse. Once a vital part of the Bay Area's infrastructure with more than 25 outbound tracks, the Bayshore Roundhouse is now totally abandoned and partially destroyed.

Image: LPS.1, CC BY-SA 3.0, via Wikimedia Commons.
A transformation of the Bayshore Roundhouse into an amphitheater, rendering by BigRentz.

Our vision for the revitalization of this beautiful structure involves the creation of an amphitheater as well as luxury boxes within the original roundhouse. The new Bayshore Roundhouse Amphitheater would host concerts, comedians and stage plays with views of the beautiful San Francisco Bay.
Dilapidated Power Plant Energized by Climbing Gym Renovation
The once lively Market Street power plant, situated in the outskirts of New Orleans' downtown district, has sat unused for four decades. Originally built at the turn of the twentieth century, it provided power for thousands of households in New Orleans before shutting down after nearly seventy years in service. Despite its broken windows, the stout brick building is a testament to a classical architectural style. 

Image from Michael Winters.
A re-energized power plant turned climbing gym, rendering by BigRentz.

In our conceptualization for this building's second life, we have gutted the interior of the space and created a rock climbing gym with walls several stories tall. Some of the plant's original design elements stay, paying homage to its original purpose, and the glass in the beautiful arched windows has been replaced to allow natural light inside. 
The Future of Construction Involves the Past
Adaptive reuse is an important part of redeveloping cities over time. In the best cases, adaptive reuse projects retain timeless architectural styles while finding new spaces for people and businesses. Furthermore, these sorts of projects can help reduce the environmental impact of construction by reusing materials and avoiding demolition.
Not all buildings can be repurposed, but our goal in creating new buildings should always be to take a long-term view and imagine how they could be transformed whenever new needs arise. Another approach is modular building, which enables buildings to be disassembled and reused in myriad configurations to account for changing circumstances.
In any case, all construction companies should consider adaptive reuse as a creative approach to solving building challenges. Old factories, theaters and office buildings are waiting all across the nation to become the most sought after new restaurants, apartment buildings, clubs and music venues.