The construction industry in America is on a roll. Spending on construction in the U.S. easily exceeded $1 trillion in 2017 and in 2018, the private sector saw about $951 billion of that. But who is driving all of this growth?
There are many different sub-industries of the construction business, performing work in different areas like commercial, industrial, institutional, and civil construction services. Every year, Engineering News-Record (ENR) releases its list of the Top 400 Contractors. In 2019, the companies featured generated a combined $405 billion.
To find out the industry leaders, we looked at the revenue and major projects of firms, using data sourced both from ENR's list as well as our own research. Get to know the top construction companies in 2019 below:
Bechtel has established itself at the top of many published lists of top construction companies – and for good reason. The company has completed more than 25,000 construction and civil engineering projects worldwide, including iconic projects such as the Hoover Dam and the Channel Tunnel. They've also worked on Tellurian's $275 billion Driftwood LNG export terminal.
Bechtel has a staggering workforce of 55,000 people in nearly 50 countries, but are headquartered in San Francisco, CA.
Fluor is another highly-ranked company, topping all construction firms in the petroleum and industrial sectors in the United States. In recent years, the company has expanded its environmental services to include nuclear waste cleanup projects and disaster rebuilding, which have become a significant part of its business.
Located in Irving, TX, one of their major projects was Bayer's cell-culture technology center in Berkeley, CA.
New York-based Turner Corporation has been responsible for shaping many landmarks in the city's iconic skyline, including Madison Square Garden and Yankee Stadium. Outside of New York, they built the Rams Stadium in Los Angeles and the Martin Luther King Jr. National Memorial in Washington, D.C.
Company founders refer to Turner as the "largest small contractor in America" due to its system of serving as local contractors in each community. (They are responsible for building 20 of the 100 tallest buildings in the world!)
In addition to generating some of the most impressive and livable public spaces in the world and delivering clean water and energy, AECOM has been named one of Fortune magazine's World's Most Admired Companies for the past five consecutive years.
The company is known for being one of the largest design firms and brings together 45,000 creative, technical, and management experts. Headquartered in Los Angeles, CA, they've worked on a billion-dollar mixed-use development (The Grand) as well as Olympic Park in London.
Skanska USA is owned by its parent company Skanska AB, a publicly-traded Swedish firm. They are located in New York, NY, home to one of their biggest projects: LaGuardia Airport's $60 billion redevelopment.
The company is also known for its people-focused culture, offering durable, high-density helmets to worksite crew and supporting mentor groups for women in construction. Skanska serves a wide range of clients including those in healthcare, aviation, water, and power.
With roots going back to 1884, Kiewit started as a small firm run by two hardworking brothers before growing into one of the most highly respected Fortune 500 construction powerhouses. The employee-owned organization headquartered in Omaha, NE has mined more than 750 million tons of coal and built more lanes of highway systems than any other contractor in the U.S.
Top projects include the Seattle Light Rail expansion and a $5 billion natural gas export terminal in Louisiana.
Jacobs Engineering is an American company focusing on sustainable solutions. With 70 years of work and a team of 5,000 architects, designers, and constructors worldwide, the company was recently ranked in the top 10 on Interior Design Magazine's Top 100 Giants Survey, earning high marks in Government Design, Office Design, and Transportation Design.
Located in Dallas, TX, they've been part of major projects globally, such as the 20 Fenchurch Street skyscraper in London and the $1.5 billion expansion project at Denver International Airport here in the U.S.
PCL is a group of independent construction companies operating across the United States and other countries. The company made headlines for partnering with CopperTree Analytics to embed data and energy analytics and IoT services into its construction processes. PCL is also known for its strong safety culture – the company's lost time frequency rate is five times better than the national average.
In 2014, they built the first LEED Platinum commercial airport in the U.S.: the San Diego International Airport, Terminal Two building. More recently, they also built the Stadium for the Los Angeles Football Club.
DPR Construction is an employee-owned, flat organization with shared leadership across a committee. The company is a national leader in building technically challenging and environmentally complex projects, and is known for building biopharmaceutical corporate offices, healthcare facilities, and buildings that emphasize energy efficiency.
One of their major projects was the 583,800 square-foot Mayo Clinic West expansion in Phoenix, but perhaps most famous for their work on Pixar Animation Studios in their home state of California. 
Balfour Beatty is a leading international construction company known for financing, developing, and building vital infrastructure projects for local communities. As a leader in the U.S. commercial construction industry for 76 years, the firm has worked on dams, power stations, and railways as well as the Pentagon Memorial.
Their headquarters is in Dallas, Texas but have worked on projects all over, from the Topsail Island's $54 million 65-foot-high Surf City Bridge in the Carolinas, to the A14 in Cambridgeshire.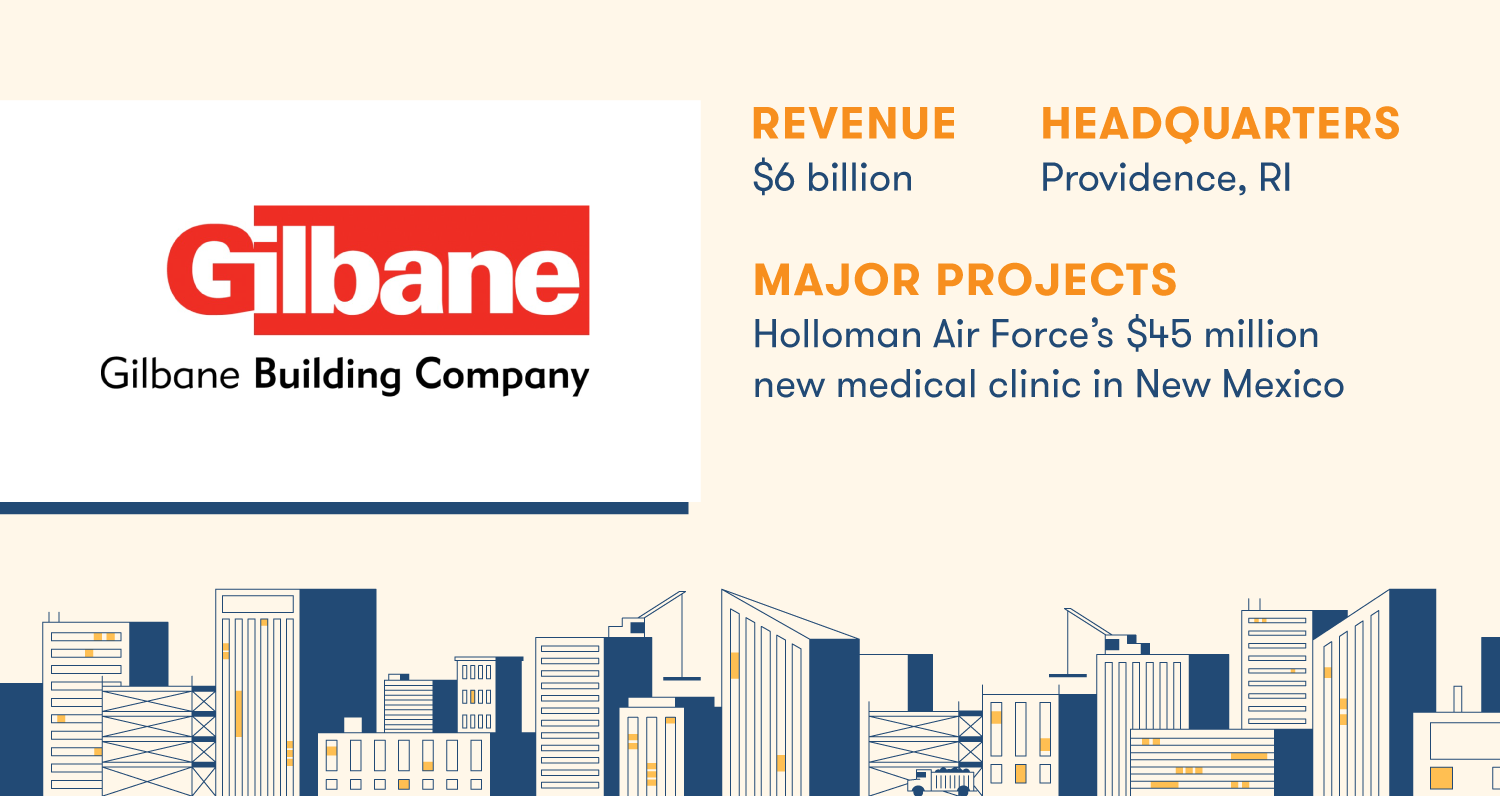 With over 146 years of experience in the industry, Gilbane Building Company is a family-owned firm in its fifth generation. Located in Providence, RI, they are considered a leader in real estate development.
Gilbane provides integrated construction and facility management services and has attained a number of industry awards, including five Construction Users Round Table Safety Awards. They are responsible for Holloman Air Force's $45 million new medical clinic in New Mexico.
Founded in 1937, Hensel Phelps has a long history of developing city districts. Located in Greeley, CO, the company is known for its commitment to technological innovation – it made headlines for using drone surveying and 3-D site survey technology to track, map, and measure the Daniel K. Inouye Airport project in Hawaii.
One of their other major projects was the Airside Four renovation project at Orlando International Airport.
Australia-based Lendlease is a leading international property group. It boasts an impressive portfolio of innovative projects that have become the cornerstones of major cities – landmark projects like the Sydney Opera House and the 9/11 Memorial & Museum in New York. They also helped create the 2.4 million square foot Southbank neighborhood development in Chicago.
In addition, about 99 percent of projects in Lendlease's development pipeline have achieved or are targeting green certification.
Haskell is widely recognized for its success in the design-build industry, consistently ranking among the top U.S. design firms. Over 70 percent of its construction projects stem from repeat clients – a testament to the company's  services and expertise.
Haskell works within a diverse scope of industries including food and consumer projects, like the Gatorade Plant in Oklahoma, as well as federal, military, and infrastructure projects, such as the GE Aviation Learning Center in Evandale, OH.
Holder Construction, headquartered in Atlanta, GA, is a national firm specializing in education projects like academic facilities, collegiate housing, classrooms, laboratories, performing arts centers, and meeting rooms as well as full-service hotels and airport buildings.
However, the company has adapted to also include data centers and corporate facilities as the data center market continues to boom. One major project is the Federal Express headquarters in Memphis, TN.
Impressively, Holder also boasts a 91 percent repeat client business rate.
The Chicago-based Walsh Group has been in the construction business since 1898, providing a range of general contracting, design, and construction management services and boasting a portfolio of award-winning projects.
Walsh is ranked first in the construction industry for being the largest bridge builder, largest water treatment builder, and largest wastewater treatment plant builder in the world. They've built the Chicago Riverwalk in their hometown, as well as the Dart Blue Line in Dallas, TX.
Operating since 1909, Whiting-Turner Contracting is one of the nation's largest construction management companies offering a full spectrum of services on projects small and large. WTC, headquartered in Baltimore, MD  is consistently ranked on many construction lists and is well-known for its stability in the industry – it has not borrowed money since 1939 and has had no buyouts, acquisitions, or name changes.
Some major projects they've been a part of are the Port Covington waterfront project in Baltimore as well as the $1.5 billion Amazon air hub at the Cincinnati Airport.
The Top Construction Companies of the Future
The spectrum of companies at the top of the construction industry is wide, showcasing projects of different size, scope, and industry. Whether you're a construction employee looking for a new company or the owner of your own firm looking for ideas on how to grow, these industry leaders can offer inspiration and demonstrate what's possible for the construction industry in the future.
With innovative leaders like these at the helm, we can look forward to more exciting projects that change and define the world. Not only will these construction giants continue to erect world-renowned landscape-shaping projects, but they'll continue to inspire small business owners to evolve and innovate at the community level, too.
One way that construction firm owners are innovating is by changing the way that they source their equipment, finding opportunities to save time, budget, and resources by continuing to push toward a leaner owned inventory. To learn how you can do the same in your own company, read our guide to renting vs. owning construction equipment or talk to us directly.