Backhoes are digging machines that are significantly smaller than excavators but larger than skid steers. Unlike a skid steer, which has one forward-facing bucket, a backhoe has two digging implements: a loader that faces forward, and a rear bucket that pulls excavated material backward toward the machine (hence the name backhoe).
There are backhoe attachments for any number of uses, from landscaping to trenching to forestry projects. Backhoe attachments include:
Augers
Brooms
Buckets
Couplers
Grapples
Hammers
Pallet forks
Rakes
Rippers
Snowplows
Thumbs
Backhoe attachments are available from several manufacturers, including Caterpillar, John Deere, Bobcat, Komatsu, and JCB.
Here's a closer look at some of them.
Popular Backhoe Attachments
1. Auger
Augers are hydraulic-powered attachments with bits shaped like corkscrews. They are used to drill deep into the earth. They can dig up to 32 feet deep and range in length from 4 inches to 50 inches.
Ideal for:
Digging post holes
Digging holes for footings
Planting trees and shrubs
2. Broom
Brooms are equipped with heavy-duty steel or poly bristles that rotate around a cylinder to sweep away debris and clear work areas. They can clear away fine material like sand or coarse material like broken concrete and rubble.
Ideal for clearing:
Sidewalks
Parking lots
Warehouse floors
Docks
3. Bucket
When you think of backhoe attachments, you probably picture a bucket. It's the most commonly used: a steel attachment with teeth-like edges that can dig and scoop. There are several varieties in different sizes and weights.
Ideal for:
Trenching
Grading stones
Lifting and moving soil
Moving debris
4. Coupler
Couplers allow a backhoe operator to switch easily between attachments and tools without a crew. This can come in handy when you need to perform several different types of work on a jobsite.
Ideal for:
Changing backhoe buckets and attachments quickly on a work site
5. Grapple
Grapples consist of two opposing rows of teeth or clamps, like a clamshell. These jaws come together to secure and move material.
Ideal for:
Moving debris and vegetation
Auto salvage
Sorting loose material
6. Hammer
As you might guess, hammers are used for breaking up materials like large rocks, asphalt, and concrete. They're often used in demolition projects or quarries.
Ideal for:
Demolition
Quarrying
Breaking up hard material
Construction
7. Ripper
Rippers look like a shark's tooth, claw, or talon. They're used to cut through rock, asphalt, and frozen earth.
Ideal for cutting through:
Frozen ground
Ice
Other hard material
8. Snowplow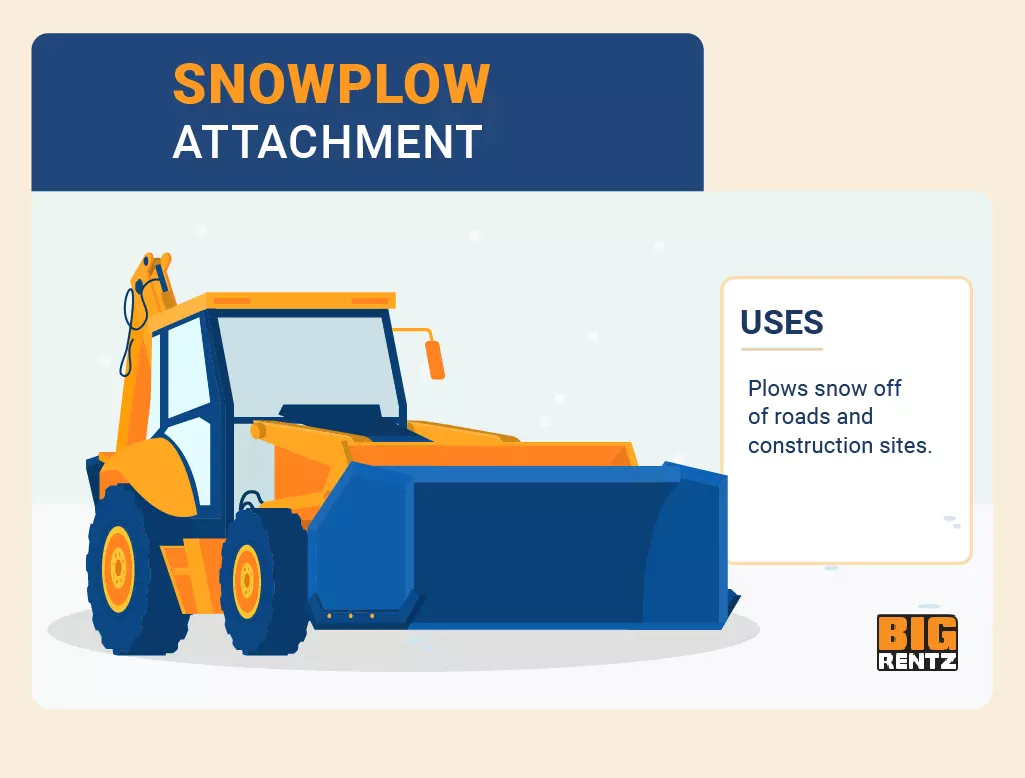 Snowplows scoop and push aside snow. They're great to have in cold climates and can be used by businesses, apartment building owners, and homeowners' associations, among others. Another attachment, a snowblower, can work well when dealing with a lot of snow.
Ideal for:
Clearing roads
Clearing driveways
Removing snow from parking lots
9. Thumb
Just like a human thumb, a backhoe thumb enables a backhoe operator to pick up objects and transport them across a worksite.
Ideal for picking up and transporting:
Broken tree limbs
Tree trunks
Broken concrete
Rocks
Hydraulics and Your Attachments
Improvements in hydraulics have added power to attachments, enhancing lifting capacity in the process. Modern backhoes have the ability to slow the engine down and direct more power to the hydraulics, making for a smoother, easier lift. 
Unidirectional: Unidirectional hydraulics work well for attachments such as hammers, which require one-way hydraulic flow.
Bidirectional: With bidirectional hydraulics, power flows two ways, as with thumbs and augers.
Auxiliary: Added hydraulics can allow contractors to more effectively use attachments such as brooms and grapples, providing extra flexibility in the process.
Which Backhoe Attachment Do I Need?
When determining what kind of backhoe loader attachments you need, consider what kind of job you're doing. You may need several attachments to break up and clear ground, for example, a hammer, thumb or grapple, and broom.
Think about things like digging depth and what kind of material you need to move (snow, brush, earth, etc.). How big is your worksite? How important is maneuverability? How much power do you need? Once you answer these questions, you can select the backhoe rental that's best suited to your needs.