Whether you're digging holes, shifting dirt, or moving large objects, hydraulic excavators are among the handiest pieces of construction equipment to have on the job site. Excavators come in several sizes you can tailor to your budget, digging depth, and lifting capacity.
They're also versatile: You can choose from a variety of hydraulic attachments to help with specific jobs, such as buckets for hauling and blades for pushing.
We will introduce the top 12 excavator manufacturing companies and the range of attachments available.
1. Caterpillar
Caterpillar, the world's largest manufacturer of construction equipment, offers more than 300 machines in its product line and features many different sizes of excavators. Whether your job involves agriculture, construction, or landscaping, CAT has options that can work for you.
Excavators
Mini excavators — CAT offers 24 models, ranging from 13 horsepower and 2,061 pounds up to 23.6 hp and more than 9,000 pounds. These machines can dig from depths of less than 6 to more than 10 feet.
Small excavators — With six models to choose from, Caterpillar machines in this class range from 73 horsepower and more than 30,000 pounds up to 119 hp and more than 38,000 pounds. They can dig anywhere from just under 19 feet to nearly 21 feet deep.
Medium excavators — Eight models range from 146 hp and more than 48,000 pounds to 273 hp and 77,000 pounds. Digging depths are around 22 or 23 feet.
Large excavators — For bigger jobs, CAT offers six models in this class, ranging from 273 hp and 80,500 pounds up to 542 hp and more than 207,000 pounds. They can dig anywhere from 27 feet to nearly 32 feet deep.
CAT also offers two long-reach excavators, 11 wheel excavators, three demolition excavators, and two frontless excavators.
Attachments
Caterpillar's line of attachments includes 48 different models. Among them are the following:
Augers
Buckets
Compaction wheels
Couplers
Grapples
Hammers
Trenchers
2. Komatsu
Japan-based Komatsu is the second-largest manufacturer of construction equipment in the world. Established in 1921, Komatsu is known for its mining equipment. It also produces construction machines like Komatsu excavators, as well as machinery for forestry and utilities. Komatsu offers small, mid-size, large, and mining excavators.
Excavators
Small excavators — Six models range from 24.4 hp and around 6,500 pounds to 68 hp and more than 19,000 pounds.
Mid-size excavators — Komatsu has 13 models, ranging from 97.2 hp and around 28,600 pounds to 165 hp and nearly 41,000 pounds.
Large excavators — If you're planning a big job, the company has 19 large excavators ranging from 257 hp and around 80,000 pounds to 75 hp and nearly 266,000 pounds.
Surface mining excavators — Six models are available, starting at 1,046 hp and about 450,000 pounds.
Attachments
Konmatsu attachments include:
Bolder heads
Buckets
Couplers
Dippers
Feeds
Felling heads
Harvesting heads
Hydraulic breakers
3. John Deere
Although John Deere is best known for its agricultural equipment, the company also offers a full line of construction equipment, including excavators and attachments. The U.S. company, known for its distinctive green and yellow logo, and its slogan, "Nothing runs like a Deere," is based in Moline, Illinois, but has a global reach. John Deere makes compact, mid-size, and large excavators.
Excavators
Compact excavators — Five models range from 14.5 hp and 3,790 pounds to 53 hp and more than 13,620 pounds. Digging depths range from just over 7 feet to more than 12 feet.
Mid-size excavators — There are 14 models to choose from, ranging from 56.9 hp and around 18,000 pounds to 271 hp and more than 85,000 pounds. Digging depths range from around 15 feet to more than 27 feet.
Large excavators — Deere offers three models in a range of 367 to 512 hp; nearly 113,000 to almost 189,000 pounds; and 27.2 to 31.5 feet in digging depth.
Attachments
John Deere excavator attachments include:
Augers
Backhoes
Brooms
Buckets
Cutters and mulchers
Forks and spears
Grapples
Hammers
Planers
Plate compactors
Rakes
Rollers
Snow attachments
Trenchers
4. Bobcat
Bobcat is known for its versatile compact excavators that can handle a range of tasks. A member of the Doosan Group, its North American operations are based in North Dakota, with other facilities in North Carolina, Wisconsin, and Minnesota. You can choose from a range of Bobcat excavators based on horsepower, digging depth, arm configuration, and tail swing style. Everything from compact equipment at 1 to 2 tons to the largest excavators at 16 to 18 tons is available.
Excavators
Compact excavators — Three models are available, ranging from 10.2 hp and nearly 2,600 pounds to 24.8 hp and almost 6,500 pounds. Maximum ground-level reach ranges from 10.2 to 16 feet.
Large excavators — Bobcat offers a 35,000-pound model and a 38,000-pound model.
Attachments
Bobcat attachments include:
Angle broom
Auger
Backhoe
Bale fork
Brush saw
Buckets
Chipper
Digger
Grader
Grapples
Hydraulic breaker
Mower
Pallet fork
Ripper
Scraper
Snow blade
Spreader
Sweeper
Trencher
Wheel saw
5. JCB
England-based JCB manufactures more than 300 types of machines, including its popular excavators. It makes compact and mini excavators as well as larger heavy-duty excavators for construction, material handling, and other purposes.
Excavators
Compact excavators — JCB makes six models weighing from 4,211 pounds to 21,457 pounds, including a zero-emission electric mini handler. Maximum digging depths range from just over 9 feet to nearly 15 feet.
Large excavators — JCB models weigh between about 31,500 and 60,184 pounds, with engine power up to 173 hp and digging depths from just under 20 feet to 22 feet.
Attachments
JCB attachments include:
Brush cutter
Buckets
Earth drills
Forks
Grabs and grapples
Hydraulic breakers
Lifting equipment
Rakes
Ripper tooth
Shovels
Snow attachments
Stump grinder
Sweeper collectors
Tillers
Tree Spade
Trencher
6. Doosan
Doosan is a South Korean company that's also the parent company of Bobcat. It has ranked among the world's 10 largest manufacturers of heavy equipment since 2018. Doosan makes mini excavators, crawler excavators, and wheel excavators.
Excavators
Mini excavators — Doosan makes four models in its 7 Series, including one with a 20-foot digging reach.
Wheel excavators — Three models are available that can allow you to dig from nearly 15 feet up to 20.5 feet. Weights range from 34,203 to 47,179 pounds, with horsepower ranging from 124.3 to 186.4.
Crawler excavators — 10 options in this line range from a model with an operating weight of 43,224 pounds and a dig depth of 20 feet all the way up to a 181,000-pound model with a 27.5-foot digging depth.
Attachments
Doosan makes a number of excavator attachments:
Buckets

Angle tilt bucket
Ditch-cleaning bucket
Heavy-duty bucket
Severe-duty bucket

Grapple
Hydraulic quick coupler
Log grapple
Thumb
7. Hyundai
Hyundai is better known to most people as a carmaker. But the Hyundai name is also attached to the seventh-largest maker of heavy equipment. Hyundai Construction Equipment products include compact, wheeled, and crawler excavators.
Excavators
Mini excavators — Hyundai models (10 of them) range from nearly 2,400 pounds to almost 18,700 pounds and 13.2 to 66.9 hp.
Wheel excavators — Four models are available at 80 to 201 hp and 12,235 to 46,738 pounds.
Crawler excavators — This is Hyundai's biggest line of excavators, with 19 models available. Weights range from more than 29,600 to nearly 115,000 pounds. Power ranges all the way up to nearly 400 hp.
Attachments
Hyundai attachments include:
Bucket
Clamshell bucket
Orange grapple
Quick coupler
Rock breaker
8. Volvo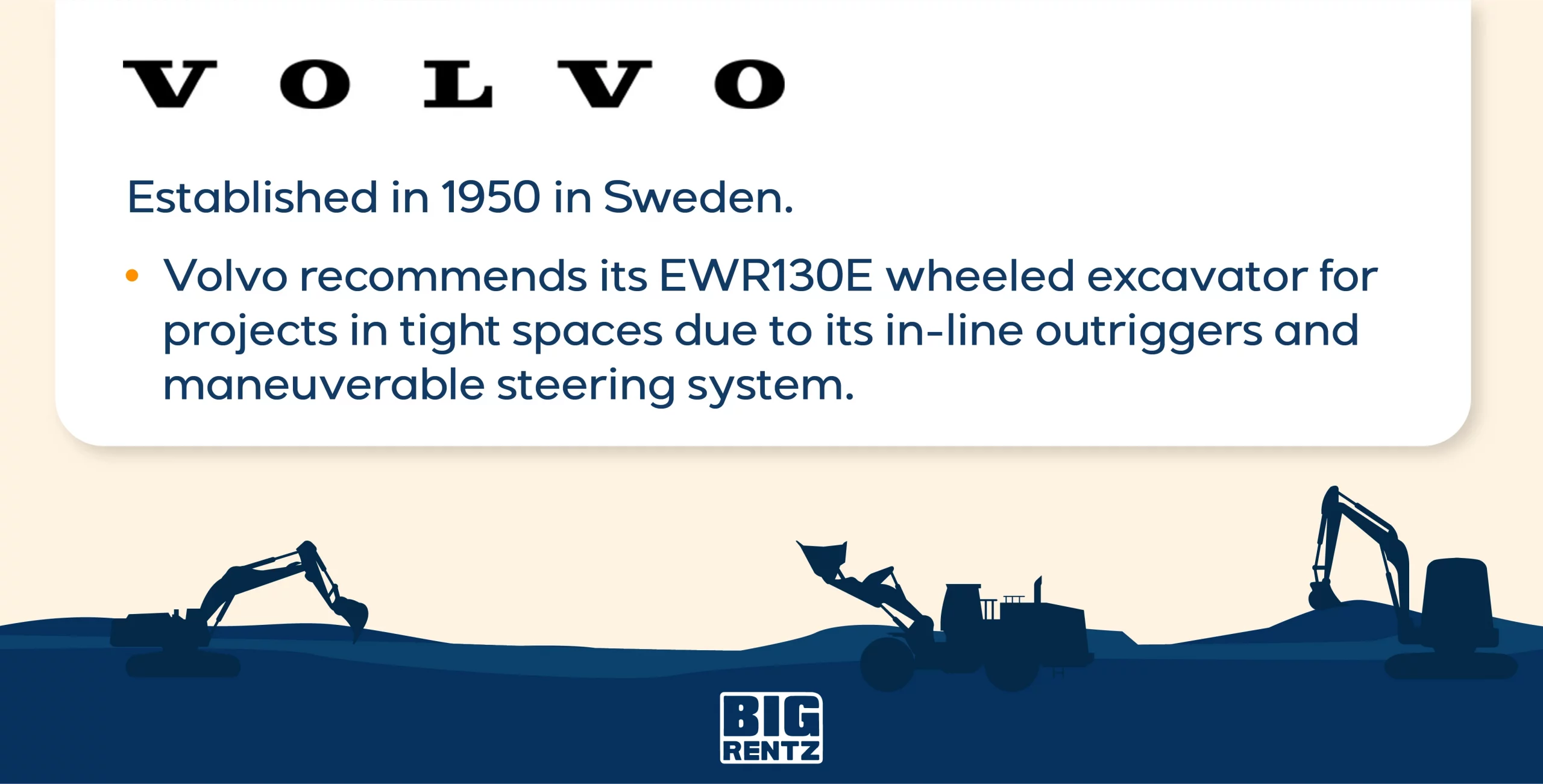 Volvo Construction Equipment is a subsidiary of the Volvo Group. It manufactures a line of heavy equipment that includes compactors, excavators, wheel loaders, articulated haulers, pipelayers, and demolition equipment. Its selection of models includes compact, wheeled, and crawler excavators.
Excavators
Compact excavators — The Volvo line features 11 models in this class, ranging from roughly 3,700 pounds to nearly 21,000 pounds. Horsepower ratings run from 16.1 to 63.
Wheel excavators — These are available in eight medium-size models, ranging from 121 to 173 hp and weighing between 28,440 and 57,320 pounds.
Crawler excavators — Volvo makes crawlers in medium-size (6) and large (12) models. Medium crawlers range from 121 to 173 hp and from 28,880 to 61,440 pounds. Large crawlers go from 225 to 603 hp and weigh between about 57,300 and roughly 209,000 pounds.
Attachments
Volvo attachments include the following:
Compact excavators

Buckets
Hydraulic thumbs
Quick couplers
Tiltrotators

Wheel and crawler excavators

Buckets
Quick couplers
Tiltrotators
9. Hitachi
Hitachi Construction Machinery makes high-performance excavators in a variety of sizes to fit your job. The Tokyo-based company founded in 1970 makes loaders, compaction equipment, and dump trucks in addition to 45 different Hitachi excavators.
Excavators
Hitachi manufactures a variety of construction and mining excavators, including the following models:
EX2000-7E — This electric 818-horsepower model can dig up to 14 feet, 4 inches deep with its backhoe and 27 feet, 6 inches with its shovel.
EX1200-7B — Running on a Tier 4 Final engine, the EX1200-7B can call on 760 hp and reach a maximum dig depth of 30 feet, 9 inches with its backhoe and 15 feet, 8 inches with its shovel. Its operating weight is 257,951 pounds for the backhoe and 264,600 pounds for the shovel.
ZX890LC-6 — With 512 horsepower and an operating weight of 186,511 pounds, this construction excavator features a dig depth of 31 feet, 4 inches.
Available only in Latin America:
EX2000-7 — This fuel cut off excavator can give you 1,000 hp of power with breakout force of 425,492 pounds for its backhoe and 423,288 pounds for the shovel. Maximum dig depths are 26 feet, 7 inches and 14 feet, 4 inches, respectively.
Attachments
Hitachi excavator attachments include:
Bucket
Dig bucket
Grapple
10. CASE Construction
CASE Construction produces a line of heavy equipment that includes skid steers, forklifts, backhoe loaders, and excavators. The company got its start in 1842 as Racine Threshing Machine Works in Wisconsin; it is now a subsidiary of CNH Industrial, an American-Italian global company with headquarters in the United Kingdom. Its excavators come in three classes: mini, midi, and full size.
Excavators
Mini excavators — The CASE line of half a dozen mini excavators range in weight from 3,910 pounds for the CX17C to 12,940 pounds for the CX60C. When it comes to horsepower, the CX17C provides 16.8 hp, while the CX57C gives you the most at 66.9 hp.
Full-size excavators — CASE offers you a dozen models from which to choose, ranging in weight from 29,131 pounds all the way up to 158,300 pounds. The smallest full-size model, the CX130D, offers 102 horsepower, while the largest, the CX750D, kicks in at 460 hp.
Attachments
Augers
Backhoes
Bale handlers
Bale spears
Broom
Buckets
Coupler
Dozer blades
Hydraulic compactors
Hydraulic hammers
Mulchers
Pallet forks
Rakes
Ripper
Snow blades, blowers, buckets, and pushers
Thumbs
Tree puller
Trenchers
11. Takeuchi
Takeuchi Manufacturing has been in business since 1963. They developed the first compact excavator in 1971 and introduced it to North America. Based in Japan but with a global footprint, the company produces track loaders and crawler dumpers in addition to its line of excavators. Models come with retractable undercarriage and in conventional, minimal, or short tail swing.
Excavators
Takeuchi is known for their compact excavators. These are some of their popular models:
TB201R — This roughly 2,500-pound model has a maximum digging depth of 5.76 feet.
TB235 — Weighing in at nearly 8,000 pounds, this model can provide a digging depth of up to 8.5 feet.
TB370 — This compact excavator weighs around 15,000 pounds and can dig over 13 feet deep.
TB2150R — The largest excavator in the Takeuchi line tips the scales at about 35,000 pounds and can dig to depths of almost 20 feet.
Attachments
Takeuchi attachments include:
"Adjust-a-Hook" coupler
Ditching and grading bucket
Excavator thumb
Heavy-duty pin-on bucket
Hook-style coupler bucket
12. Kobelco
Kobelco Construction Machinery is a part of Kobe Steel, Ltd., a Tokyo-based company formed in 1905. The company sells four types of excavators: mini, SR Series, conventional, and specialty.
Excavators
Mini excavators — Kobelco manufactures eight models ranging from 3,681 pounds and 14.5 hp to 12,147 pounds and 37 hp.
SR Series — Eight models are available, weighing 18,700 to 60,000 pounds and with horsepower of 70 to 160.
Conventional excavators — Kobelco makes 10 models, with the smallest weighing nearly 33,000 pounds and the largest 185,700. Horsepower ranges from 96 to 510.
Specialty excavators — The company makes three long-reach excavators and four "high and wide" models. The long-reach machines weigh from 52,200 pounds up to 77,473 pounds with horsepower ratings of 160 to 252. The high-and-wide models weigh between 56,700 and 124,800 pounds, with horsepower of 160 to 369.
Excavator attachments are not readily listed on the Kobelco website. However, there are many third-party attachments compatible with their models.
No matter what type of job you're trying to complete, contact BigRentz to discover an excellent selection of excavators available to rent, as well as all the attachments you need to go along with them.