A versatile piece of heavy equipment, you can use telehandlers, also referred to as telescopic forklifts or telescopic handlers, in agricultural settings, warehouses, and on construction sites. You can attach a variety of customized tools onto the boom, which extends out and up, making material handling simple.
If you're planning to rent a telehandler for your jobsite, you need to get the right size to reduce the risk of dropped loads, the machine tipping over, permanent structural damage, or physical injuries. If you need a telehandler for your next job, this article helps you find the right size telehandler to use as well as provides you with information to operate it safely.
Table of Contents
Telehandler Sizes
The forward reach and different attachments available to telehandlers give them more versatility than other boom lifts, making them suitable for several different applications. You can carry heavy materials across farm fields, construction sites, or in a warehouse and reach over obstacles when performing maintenance and repair or delivering tools on the work site.
However, selecting the right size telehandler for your worksite or project depends on the following three main criteria:
Full size vs. compact telehandlers: If you're working in a small space, like a warehouse, or lifting light pallets, you should go with a compact telehandler. If you're toting a heavy load or moving around a wide open space, the strength and reach of a full-size telehandler make it the better choice for your job.
Telehandler lift angle: The degree at which a telehandler lifts something influences its weight capacity. The farther away from the chassis an operator picks up a load, the less weight the telehandler can support.
Telehandler carrying capacity: Each telehandler model has a maximum weight that it can carry, which is important to know because it affects the size of load the machine can transport and the risk of the telehandler tipping over.
With an average telehandler of 43 feet long and a carrying capacity of 10,000 pounds, BigRentz offers a wide range of telehandler models for rent, including:
42-foot telehandler with a weight capacity of 6,000 pounds
55-foot telehandler with a weight capacity of 12,000 pounds
44-foot telehandler with a weight capacity of 20,000 pounds
Fixed Telehandlers vs. Rotating Telehandlers
Fixed telehandlers use a stationary cab and telescoping boom lift. Because of their increased mobility, fixed telehandlers work best for jobs that require you to move materials long distances. A rotating handler uses a cab and boom lift that both rotate 360 degrees while the machine remains stationary. For confined areas, rotating telehandlers make a better choice.
How to Choose the Right Telehandler
Because you have so many options for telehandler manufacturer, size, carrying capacity, and angle, use the information in the following sections to choose the right telehandler for your job.
1. Consider Project Requirements
Each telehandler comes with a load chart that lists the machine's capacities for weight and height and how the angle of a load affects them. The most important information you need to know is the type of materials needed for the job and where to pick up and deposit loads. Knowing these factors helps you understand how the weight limits change based on the degree and the height the boom will be lifted.
How to Read a Load Chart
Typically, a load chart employs a grid system that shows maximum lift height of a load, distances and angles that an operator can lift or move items, and the maximum lift capacity of the telehandler. Each telehandler has a specific load chart, and you can view load charts through the spec sheets for each telehandler offered by BigRentz. The attachment type used also affects the load chart.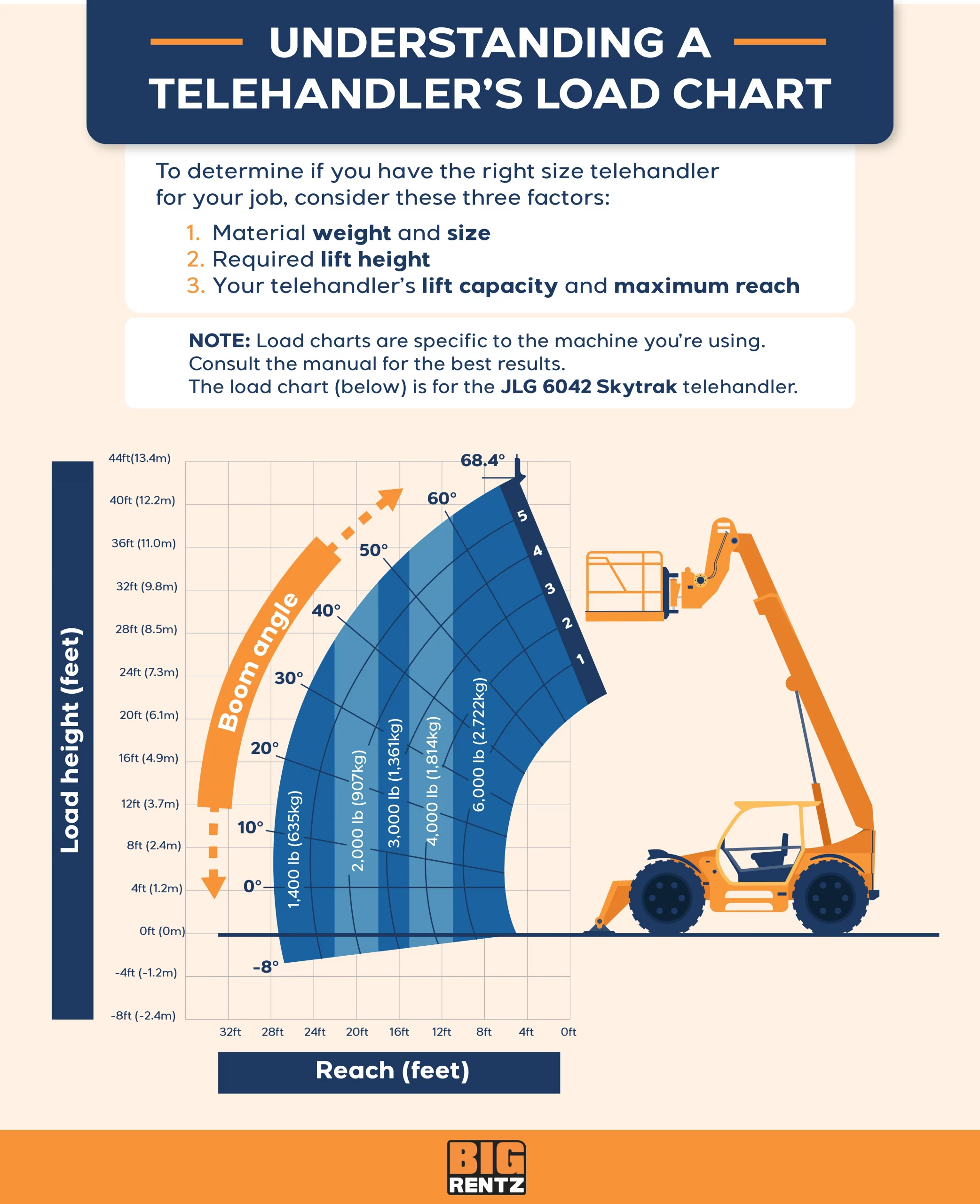 To read the load chart accurately, you must determine the material weight, the required lift height, and the capacity of your telehandler. Then you can safely operate a telehandler within the range indicated on the load chart.
How to Determine Material Weight
Often, the manufacturer has marked the weight onto the load, or you can find it on blueprints or engineered drawings, the bill of lading, shipping documentation, or a manufacturer's specs or catalog. Veteran telehandler operators know the weight of items they regularly lift, and resourceful workers can use an industrial scale for smaller loads.
Without information from experience or manufacturers, you can figure out the weight with some basic calculations. Just find the volume of the load (length x width x height) and multiply that number by the weight of the object, which you can find online for common, heavy materials. All calculations must take into account the weight of any attachments.
2. Determine Lift Height and Reach
Telehandlers have great versatility, but they also carry potential for injury and property damage. Telehandlers can tip over, hit sprinkler systems, overhead vents and beams, or burst through ceilings. For these reasons, operators must know the carrying capacity and maximum lift heights and reaches of their machines with and without attachments plus the height limits and size of work areas before starting work.
A load chart supplies you with specific limits on how a telehandler can be safely operated. Knowing how far up and out you need the lift to reach determines how much weight you can safely move.
3. Choose What Attachments You Need
Because telehandlers are compatible with different attachments, you need to know what attachments work best for your project as attachments can affect the load chart, which is based on a center load of 24 inches.
If you need other types of attachments, such as swing carriages or work platforms, you need to check that attachment's load capacity to see if it differs from standard measurements.
Common telehandler attachments include:
Carriage: This popular attachment transports and positions loads.
Fork: With this piece of equipment, operators can smoothly move pallets without leaving the cab to make adjustments.
Bucket: Like a household bucket, this tool is primarily used to move and dump loose materials, like gravel, or oddly-shaped items.
Truss boom: This attachment gives a telehandler longer reach or increases the lift height for a load.
Work platforms: A telehandler operator can move workers to higher locations when they are standing on a platform attached to the machine.
Lift hooks: These tools allow telehandlers to lift a bundled load.
4. Consider Job Site Conditions and Work Space
In addition to height, weight, and attachments, you should consider environmental conditions at a job site, such as rough terrain, high winds, or unstable soil, when choosing telehandler size.
When working in small areas, consider using compact telehandlers. With more versatility than forklifts in confined spaces, telehandlers work best in an indoor setting because of their small size, low weight, and high maneuverability.
Conversely, operators working with heavy loads in large spaces should choose full-size telehandlers designed for heavy industrial use. These telehandlers have weight capacities that range from 6,000 to 20,000 pounds and can extend up to 56 feet.
5. Ensure All Operators Are Certified
In addition to having the right telehandler size and attachment for your job, you need to ensure that anyone who operates the telehandler has training through OSHA. The maneuverability of telehandlers increases the chances of putting the load in an unsafe position. As the load rises, the telehandler's stability decreases. Having the proper training before operating the equipment helps keep the operator and those nearby safe.
How to Get Telehandler Certification
Every telehandler operator must complete an OSHA-approved telehandler certification program that teaches safe operating skills with instruction and practical training. Workers must have these skills recertified every three years. Only employers and specific organizations, including online organizations, can certify telehandlers.
Online or employer-offered programs can take anywhere from a few hours to a few days to complete. Employer-supported programs may be free, but some online courses cost anywhere from $80 to $300.
Telehandler Safety Tips
Safety should be a constant consideration because so many things can go wrong lifting, moving, and suspending loads at construction sites, farms, and warehouses. To reduce the risk of accidents, follow these basic telehandler safety tips:
Get certified. Improper training causes most accidents. Instruction on the proper way to operate a telehandler of different sizes with various attachments will reduce the likelihood of physical injury or property damage.
Wear appropriate clothing. Telehandlers should wear the right safety equipment, like safety shoes, hard hats, and high-visibility clothing.
Inspect the telehandler daily. Inspect the machines each day for damage that can cause accidents.
Be aware of your complete surroundings. When not in use, keep attachments low to the ground so nothing blocks your view. Use mirrors to maintain a full view of your surroundings.
Make sure loads are secure and stable. Telehandler design makes them prone to tipping over. To ensure this doesn't happen, consult the load chart and bundle or stabilize loads.
Conclusion
Telehandlers make light work on farms, construction sites, and warehouses. They lift and transport loads and even workers over obstacles to hard-to-reach places. With a variety of attachments, BigRentz offers telehandler models in different sizes for rent.