Backhoe models are based on factors like their overall horsepower, dig depth, operating weight and controls. The size of the backhoe depends on some of these factors as well — the higher the operating weight, dig depth, and horsepower, the bigger the backhoe. Manufacturers like John Deere, CAT, CASE and Kubota offer a selection of five to eight different backhoe models of all sizes.
When choosing what backhoe size is right for you, it's important to understand the parameters and expectations of the project you're working on. Common projects where a backhoe can come in handy are small demolitions and excavations with a maximum depth of around 15 feet. Most backhoes can dig 13-15 feet into the ground. If you find yourself getting close to your backhoe's maximum depth or surpassing it, it's best to call for a professional opinion and/or help.
Pushing a backhoe to its limits is never a good idea. While a backhoe is not the largest piece of equipment, it can be difficult to operate for a first-time or inexperienced operator. You may be ready to rent a backhoe, but be sure you get the right-sized machine for the job. Check out backhoe sizes from popular manufacturers below.
John Deere Backhoe Sizes
Among their hundreds of products, John Deere offers a selection of seven different backhoe models:
John Deere Backhoe Sizes and Specs
John Deere Model
Engine Power
Dig Depth
Operating Weight
310L Backhoe
100 hp
14 ft. 1 in.
14,669 lbs
310L EP Backhoe
69 hp
13 ft. 8 in.
13,822 lbs
310SL HL Backhoe
113 hp
15 ft. 1 in.
16,571 lbs
310SL Backhoe
103 hp
14 ft. 3 in.
15,872 lbs
315SL Backhoe
103 hp
13 ft. 5 in.
17,554 lbs
410L Backhoe
116 hp
15 ft. 11 in.
17,786 lbs
710L Backhoe
148 hp
17 ft. 3 in.
25,588 lbs
CASE Backhoe Sizes
CASE introduced the first factory-integrated backhoe loaders. Today, CASE manufactures five backhoe models:
CASE Backhoe Sizes and Specs
CASE Model
Engine Power
Dig Depth
Operating Weight
580 EP
74 hp
14 ft. 11 in.
15,995 lbs
580N
90 hp
14 ft. 8 in.
16,589 lbs
580 Super N
97 hp
14 ft. 4 in.
17,810 lbs
580 Super N WT
110 hp
14 ft. 5 in.
20,760 lbs
590 Super N
110 hp
15 ft. 5 in.
21,325 lbs
CAT Backhoe Sizes
CAT produces a wide assortment of eight backhoe models. The models below share similar weights and dig depth, with the real difference in their horsepower.
CAT Backhoe Sizes and Specs
CAT Model
Engine Power
Dig Depth
Operating Weight
415 IL/strong>
69 hp
–
17,637 lbs
415
70 hp
14 ft.
24,251 lbs
440
104 hp
15 ft. 6 in.
29,321 lbs
450
131 hp
17 ft.
29,321 lbs
420
92 hp
14 ft.
24,251 lbs
416
86 hp
14 ft.
24,251 lbs
420 XE
92 hp
14 ft.
24,251 lbs
430
107 hp
15 ft. 1.2 in.
24,251 lbs
Kubota Backhoe Sizes
Kubota offers three backhoe models, shown below.
Kubota Backhoe Sizes and Specs
Kubota Model
Engine Power
Dig Depth
Operating Weight
M62
63 hp
14 ft. 1.8 in.
8,925 lbs
L47
74.1 hp
10 ft. 1 in.
7,205 lbs
B26
24.3 hp
8 ft. 4.8 in.
4,001 lbs
Picking The Right Sized Backhoe For The Job
Picking the right sized backhoe can be tricky if you're unfamiliar with the specifications manufacturers use to describe the size of the machine. Before renting a backhoe, you should create a clear plan for your project. Understanding the depth you'll be digging to and where you'll be digging will help ease any confusion you may encounter when browsing backhoe sizes and brands.
Once you've planned out your project, you can ask yourself some questions to steer you toward the right sized backhoe:
How much material do I need to move?
What type of terrain will I be working on?
How far down do I need to dig?
Do I need to maneuver through tight spaces?
How much time do I have to work on this project?
These questions will help you choose the appropriate operating weight, dig depth, size, and horsepower needed to get the job done.
Is it dangerous to use a larger backhoe than needed?
Using a large backhoe can be dangerous if you're not used to operating a machine with this stature and horsepower. If you choose to use a larger backhoe than needed, you should be aware of a few things:
Keeping the wheels on even ground
Staying away from the edge of the hole you're digging
Keeping the load close to the ground while moving
Staying in the designated seat inside the cab with the seatbelt fastened
Using a large backhoe has its benefits — it can reduce tracks on the site and speed up the process. However, large backhoes can weigh over 20,000 pounds and can cause severe damage to a person or job site if they roll or tip over. Therefore, operating these machines with the utmost care and caution is essential to reducing the risk of injury and destruction.
Is it dangerous to use a smaller backhoe than needed?
Yes, backhoes can become unbalanced if they're carrying more weight than permitted and reaching a dig depth further than recommended. Smaller backhoes have strict operating recommendations and pushing them beyond their limits can put the operator and machine at risk of multiple threats, including:
Tipping
More tracks on the site
Resistance when operating
Small backhoes work well for smaller projects like ponds or residential backyards. If you're thinking about renting a backhoe for a DIY project, a small backhoe with a dig depth of 13 feet and an operating weight of no more than 15, 432.36 pounds should do the job.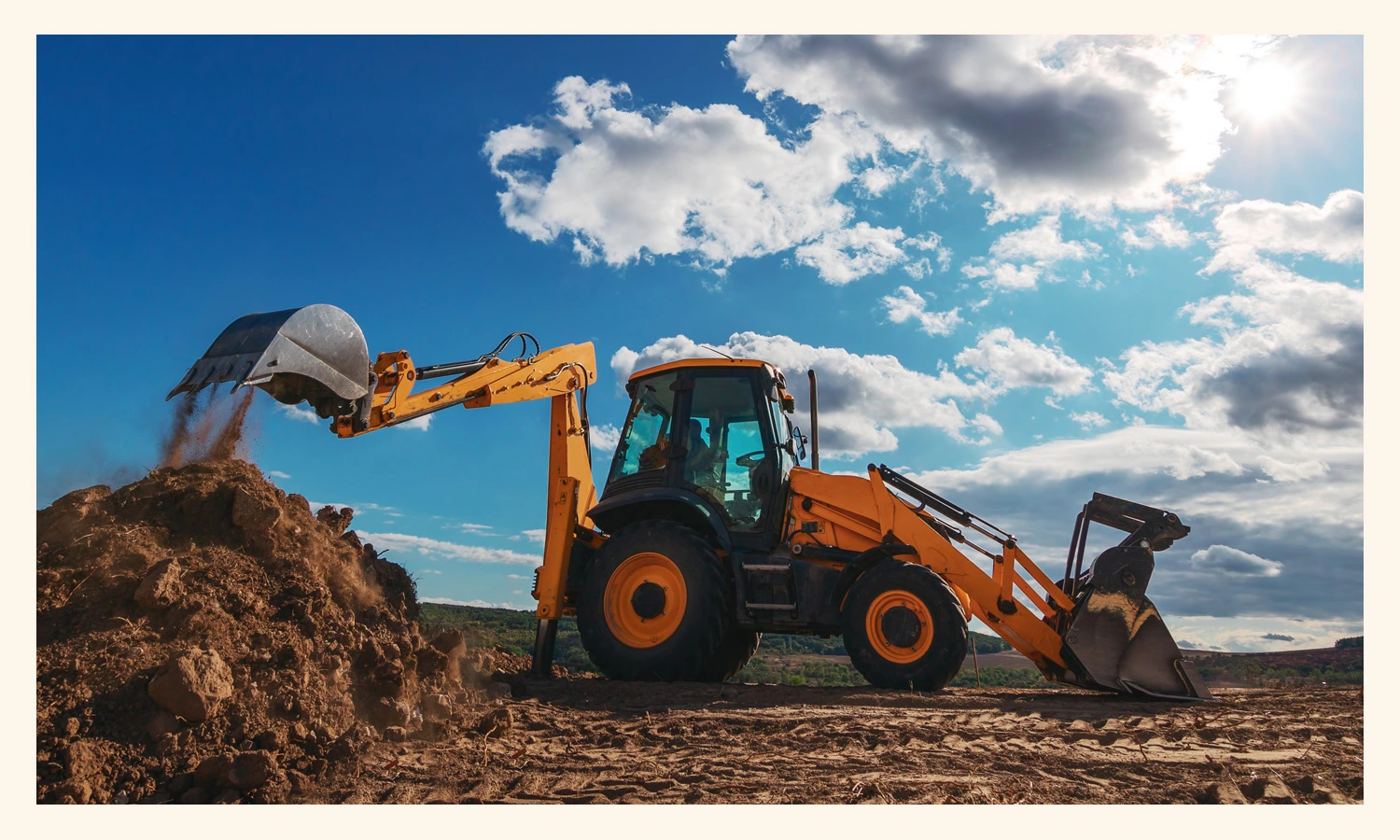 Before renting a backhoe, it's key to find the right fit for you and your project. Testing the limits and going in blind can be dangerous. Guidance from construction professionals and manufacturers on equipment and how they operate can help prepare you to take on your next project.