It's no surprise that the construction job market took a significant hit during the COVID-19 pandemic. Government-mandated shutdowns, project delays and rising material and labor costs all contributed to a sharp increase in unemployment rates that the industry is still recovering from two years later.
Fortunately, sites began to reopen, equipment rentals picked up and construction employment began to rebound over the past year. With a new surge of job opportunities, it's a great time to consider a career in construction. If you don't know where to begin, we rounded up 12 cities to research based on employee wages, population and job availability.
First, let's take a look at the impact COVID-19 has had on the construction industry overall.
The State of Construction Jobs in a Post-COVID-19 World
Despite improvement in many areas of the economy, nonresidential contractors are coping with widespread economic challenges. According to the analysis of the Bureau of Labor Statistics (BLS), even though it's predicted the construction industry will continue experiencing negative impacts due to the shift to remote work from 2019-2029, there are also positive signs for hopeful hard hats.
There is still reason to be optimistic that construction job availability and salary ranges will be on the uptick, especially in certain cities. Thankfully, employment in construction is working its way back up to pre-pandemic levels slowly but steadily. Take a look at our visual guide on this topic here, too.
The 12 Best Cities for Construction Jobs
Based on a combination of information gathered from Glassdoor, the U.S. Census Bureau and the BLS, we narrowed down a list of 12 American cities ideal for finding a job in the field of construction. We considered salaries, the relative populations, the number of jobs available and signs of job growth in the area.
As of November 2021, Glassdoor reported the nationwide average salary for a construction laborer to be $45,932. Salary shouldn't be the only factor to determine whether or not a city is best for construction work opportunities — and the cost of living should be considered — but it's a helpful indicator of the state of the economy and what's to come in the construction sector.
1. Los Angeles
Los Angeles is the pinnacle of construction development thanks to its adaptability to the new normal post-COVID-19. By leaning on digital solutions for getting permits, using touchless technologies as much as possible and molding its projects to satisfy consumer preferences, LA has one of the most resilient workforces.
2. Chicago
Chicago is home to major infrastructure projects, including revamping the city's metro and adding lanes to the Eisenhower Expressway. Infrastructure comprises the largest share of construction, with residential and commercial projects relatively equal. Since construction costs are lower in the Windy City, job growth is more rapid.
3. Seattle
Seattle's educational and residential construction sectors are bouncing back. Also, there are always going to be signs of growth in the metro area that headquarters tech giants like Microsoft, Amazon, Facebook and Google. There is particular optimism for construction project advancement and job growth in 2022.
4. San Francisco
The pandemic-induced construction work decline in San Francisco was short-lived. Construction employment grew by about 2% last year, and the job market is predicted to take off in 2022 following accelerated growth in the fourth quarter of 2021. Power plants and sewers are huge citywide infrastructure projects, and residential construction is expected to grow in the Bay Area over the next three years.
5. Boston
According to recent estimates, construction work in Boston is at the highest recorded in the past two decades. With Boston officials signing off on $8.5 billion in development projects in 2020, it's a great sign for construction workers looking for a city with no shortage of commercial, residential and city-funded projects.
6. Philadelphia
The Philadelphia region is filled to the brim with both residential and commercial construction projects with the potential for work opportunities. It's also helpful that the cost of living and construction expenses in Philadelphia are much lower than the tristate area. Plus, the post-pandemic increase in corporate relocations has caused city dwellers from higher cost states like New York to support the Philly construction job boom.
7. Denver
Even though many American cities experienced negative impacts on commercial and multifamily construction across the country, Denver has been an exception. Tons of upcoming residential construction projects along with plans to build a light-rail and I-70 highway point toward continued job opportunities. Plus, the city is trying to build a Hyperloop to connect Denver to other cities in the Western U.S.
8. New York
Despite low construction employment rates in New York City in the beginning of 2021, construction jobs will continue to make a comeback this year. Nonresidential construction spending is expected to increase by 11.6% in 2022, and projections show that the industry will create over 20,000 jobs over the next three years. With New York being a magnet for some of the biggest mega construction projects worldwide, like Hudson Yards, it's only a matter of time before job opportunities bounce back.
9. Portland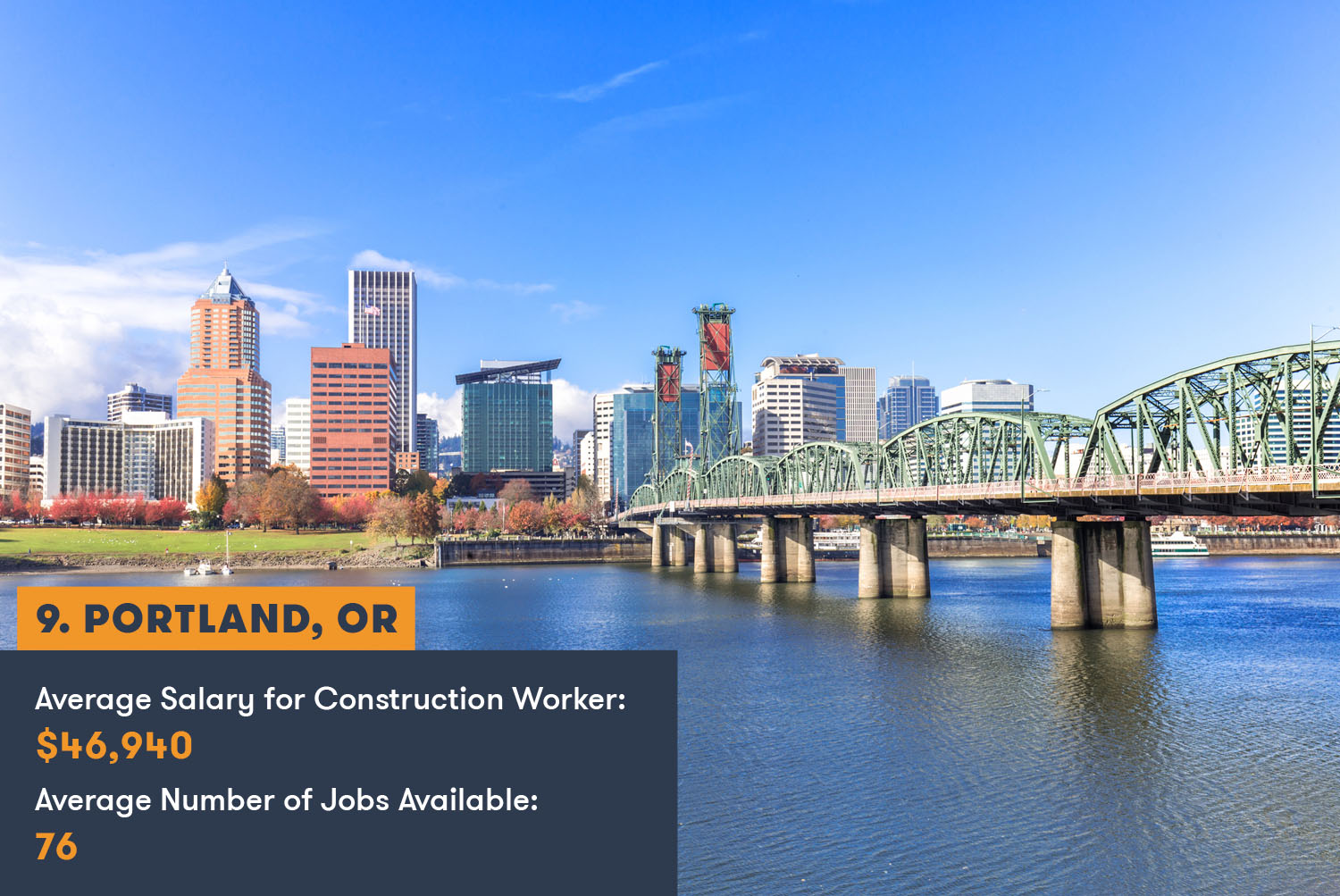 Portland is expected to invest heavily in its infrastructure projects, even though residential construction is still the dominant construction sector. Bridges and high-speed rails across the Columbia River, as well as light-rail construction, will help boost construction jobs. Fortunately, unemployment for tradespeople and construction workers is already low in Portland, too.
10. Minneapolis
The Minneapolis-St. Paul metro area has exciting infrastructure projects driving upcoming construction work, like building the city's light-rail network and a new Google data center. Construction labor began returning to pre-pandemic levels in 2021, and it looks like opportunities will continue to grow moving forward.
11. Riverside
Riverside's wide array of city improvement projects that are part of its robust Build Riverside initiative indicates that this small metro area has strong potential for steady construction employment opportunities in 2022 and beyond.
12. Detroit
Detroit's construction job outlook is positive thanks to an expected increase in medical construction projects and inventory warehouses as online shopping soars like never before. There's a notable spike in demand for health care facilities other than hospitals, like nursing homes, urgent care clinics and more.
Our Methodology
Our findings revealed that some of America's most populous and legendary cities, including Los Angeles, New York, San Francisco and Chicago, are pointing toward a promising future in terms of construction job availability in 2022 and beyond.
In order to determine the best cities for construction jobs, BigRentz compared a sample of 100 of the most populated U.S. cities, narrowing down the list to the top 12 cities with the most construction work opportunities and best salaries, using 2019 BLS data on construction laborers and 2021 Glassdoor data, respectively.
We rated each city based on these two factors, weighed equally, while factoring in cost of living:
Average salary for construction workers in the region
Average number of construction jobs available per month
The future finally looks bright, as some of the largest construction organizations like the Associated Builders and Contractors are investing more than $1 billion annually in workforce development initiatives as roughly 430,000 employment opportunities emerge.
In fact, there's arguably never been a better time to consider working in construction, a career that offers competitive pay, advancement opportunities and encouraging construction trends.
We hope this article was helpful and sparked some ideas for cities to think about pursuing. If you're considering enrolling in trade school in the next few years, you could be on the right track. No matter where you are in your career, check out our visual guide below with some strategies for success while navigating the post-COVID job market.