Landscaping requires a lot of manual labor, but the right equipment can make your life much easier. Whether you need to grade land, plant large trees, or dig holes and trenches, there's a powerful machine that is up for the task.
This guide helps you understand how using heavy landscaping equipment, from skid steers to backhoes, can expand your business and lead to more projects in the future.
1. Skid Steer
The skid steer is a small, multipurpose landscape machine with a tight turning radius. It transports and dumps materials around the project site with ease.
The agility of this machine makes it an ideal option if you're working on hard ground, asphalt, or soil or on sites that require narrow maneuvering.
The features of a skid steer vary depending on the brand you purchase or rent. A few specs from Gehl's line of smaller (R105) to larger (R260) skid steers include:
Operating capacity: 1,049 pounds to 2,599 pounds
Dump angle at maximum height: 40 degrees
Travel speed: 5 mph to 12 mph
With its many attachment options, it can perform various operations, including:
Digging holes
Grading land
Lifting and moving materials
Wood chipping
Brush cutting
Stump grinding
Clearing snow
The cost range of a skid steer rental depends on several factors, including the size, type, availability, your location, and the duration you rent the loader for. Here's a breakdown of our skid steer rental costs from the lowest to the highest priced machines. Prices may vary depending on location and availability.
2. Track Loader
A compact track loader is similar to a skid steer, except it runs on parallel tracks instead of wheels. Because it is heavier and has more traction, it can maneuver better on muddy, wet, or uneven terrain.
Like any equipment, their specs will vary, depending on the brand and model. For example, compact Bobcat track loaders (T450 to T86) have rated operating capacities from 1,490 pounds to 3,800 pounds, horsepower from 55 hp to 105 hp, and travel speeds from 5.4 mph to 7 mph.
A track loader is best used for:
Digging trenches to assist with planting and irrigation
Clearing land
Lifting and transporting materials
Earthmoving and demolition
Excavation
If you're considering renting a track loader, the following is our cost chart per day, week, and monthly rentals for the lowest and highest priced track loaders, but prices can vary based on location and availability.
3. Backhoe Loader
A backhoe loader is an ideal piece of heavy equipment for landscaping because of its versatile design. You get a bucket on one side and a front loader on the other, and you can use a variety of attachments on either side.
You can use a front loader to load and move materials, such as snow, debris, and soil, and the backhoe bucket digs and backfills materials.
John Deere backhoe loaders offer a range of performance and sizes. You can expect the following from smallest (310 G-Tier) to largest (710 P-Tier):
Power: 69 horsepower to 148 horsepower
Digging depth: 13-foot to 17-foot
Speed: 3 mph to 23 mph
Operating weight: 13,907 pounds to 25,790 pounds
Some backhoe loader uses include:
Planting and uprooting trees
Moving heavy boulders, dirt, rocks, and gravel
Trenching
Breaking asphalt
Digging small ponds
Although prices vary by location and availability, our backhoe loader rental options include:
4. Excavator
From mini excavators for landscaping limited spaces to large demolition excavators, there are machines to tackle all types of landscaping tasks. Excavators are equipped with either wheels or tracks and a large arm and bucket for digging. The type of excavator you choose depends on your project's requirements, such as size and terrain.
John Deere excavators' performance abilities vary, but you can expect the following from their smallest to largest models:
Dig depth: 7 feet to 30 feet
Power: 14.5 horsepower to 463 horsepower
Operating weight: 3,800 pounds to 188,750 pounds
In contrast, the specs of the smallest (300.9D) to largest (340) CAT excavators include a digging depth range of 68 inches to 42.8 feet, power ranging from 13 horsepower to 311 horsepower, and an operating weight of 2,061 pounds to 96,700 pounds.
These landscaping tools and equipment are best used for:
Demolition tasks
Deep digging
Trenching
Grading
Backfilling
Here's our rent chart for the lowest and highest-priced excavators, although prices may vary based on your location and the equipment's availability.
5. Walk-Behind Trencher
A walk-behind trencher digs into the ground to form a trench. It allows you to create trenches in narrow spaces or enclosed work sites, perfect for drainage projects or to create a spillover trench for mulch from landscaping beds.
Comparing the smallest (C16X) and largest (C30X) walk-behind trenchers, you'll find these features and capabilities:
Digging trench depth/width: 36/6 inches to 48/6 inches
Operating weight: 1,895 pounds to 2,100 pounds
Power: 16 horsepower to 31 horsepower
Landscaping applications that require a walk-behind trencher include:
Digging trenches
Ripping up soil and roots
Shovels through materials such as roots or pavement
Preparing for irrigation installment
Although price vary based on location and availability, our lowest and highest priced walk-behind trencher renting options include:
6. Bulldozer
A bulldozer is a piece of heavy equipment best used for large landscaping tasks like digging and moving materials. When you need power equipment that can clear large pieces of land, a bulldozer is up for the task with the help of its front blade.
CAT's small (C3.6) and large dozers (C27) range in performance with the following capabilities:
Horsepower: 80 horsepower to 752 horsepower
Blade capacity: 1.99 cubic yards to 40.2 cubic yards
Operating weight: 17,855 pounds to 165,089 pounds
Bulldozers are ideal for tasks such as:
Clearing land
Creating slopes
Pushing dirt and materials
Grading land
Digging shallow ground
Bulldozer rental costs range based on the size, power, and duration and can vary based on location and availability:
7. Telehandler
A telehandler, or telescopic handler, can hoist materials to and from high places. Its boom can extend to access hard-to-reach areas. Plus, there are multiple attachment options that help you move and lift various materials.
You can find JLG telehandlers ranging from compact (G5-18A) to high-capacity (2733):
Lift capacity: 5,500 pounds to 26,600 pounds
Lift height: 18 feet 4 inches to 33 feet 1 inch
Max reach: 10 feet 11 inches to 17 feet 7 inches
As for efficient operations, JLG 3013 Telehandlers are second to none. Their ultra-compact body makes them the top pick for lifting lower weight materials high into trailers, truck beds, or over obstacles.
Telehandlers are prime choices for landscaping applications, including:
Planting large trees by lifting and reaching
Moving hardscape and soil
Loading and unloading heavy materials
Our telehandler rental options are (prices may vary based on location and availability):
8. Tractor
While tractors are commonly considered farm machinery, they offer a lot of versatility so you can perform a range of projects, from basic landscaping tasks to the heavy lifting  associated with landscaping. You can turn your compact tractor into a lawn mower but also use it to haul gravel or dirt and perform other heavy-duty tasks.
John Deere tractors (Series 1 through 4) offer a wide range of power, from 21.5 horsepower to 75 horsepower, and a lift capacity of 754 pounds to 2,222 pounds.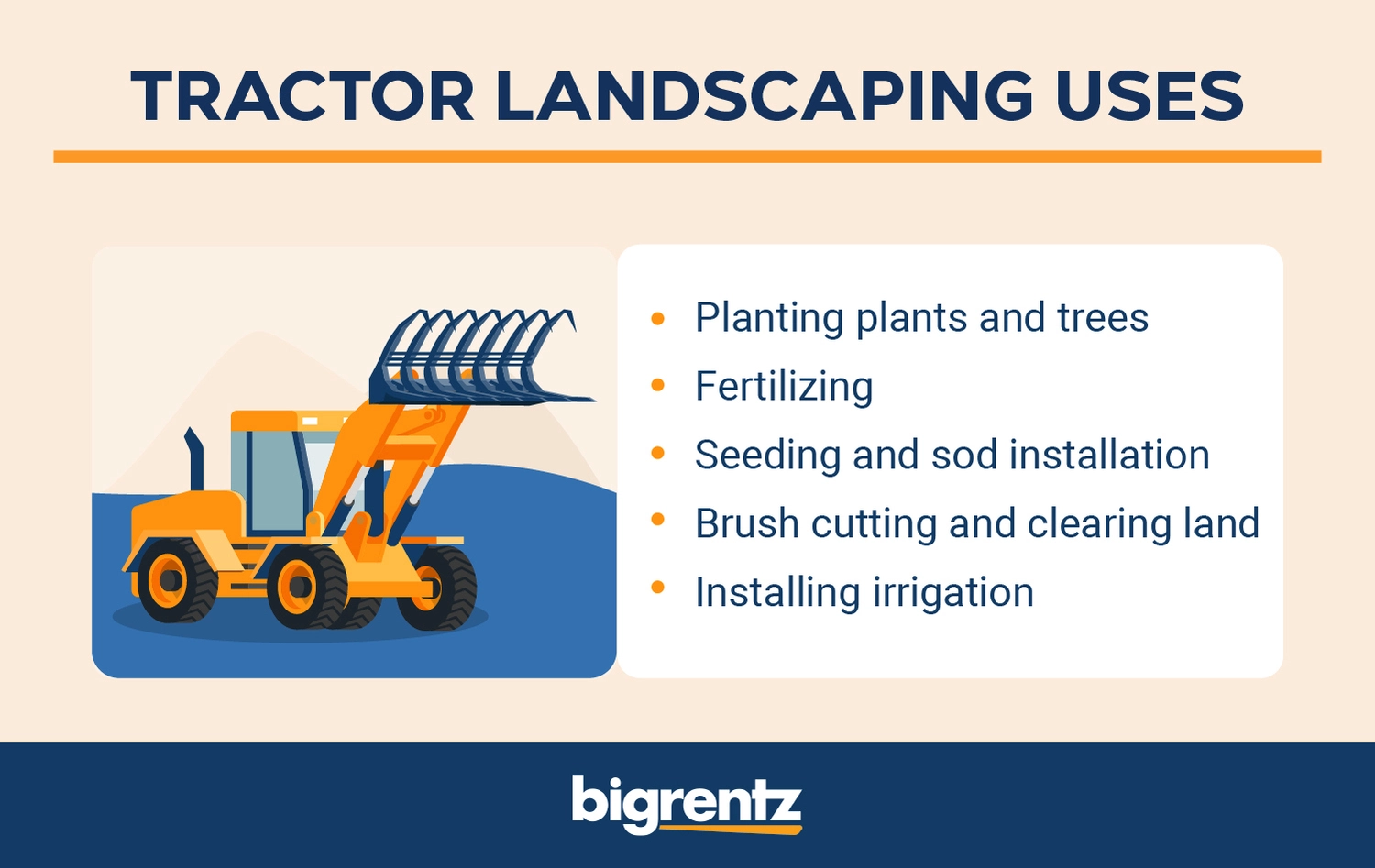 Some common tasks that tractors can perform include:
Planting plants and trees
Fertilizing
Seeding and sod installation
Brush cutter and clear land
Installing irrigation
9. Motor Grader
A motor grader is a type of landscaping equipment used for grading or leveling a surface with the help of its sharp blades. It's beneficial if you need to grade, level, or create slopes.
CAT motor graders (120 GC through 24) range in power from 171 horsepower to 535 horsepower and have a load capacity ranging from 35,494 pounds to 161,695 pounds.
A more in-depth list of their landscaping duties includes:
Grading and leveling
Clearing debris
Creating slopes and ditches
10. Wheel Tractor Scraper
A wheel tractor scraper is heavy-duty equipment that performs tasks related to earthmoving. Not only can it move material, such as soil, debris, or gravel, but it can also transport the material large distances, including other jobsites. It can spread the material around with its rear blades as well.
A CAT wheel tractor scraper, with models 637K to 657, offers heavy-duty capabilities in both power, ranging from 570 horsepower to 629 horsepower, as well as operating weight, ranging from 117,782 pounds to 164,244 pounds.
The CAT wheel tractor scraper is best used for:
Earthmoving
Leveling and grading
Land reshaping
Creating ditches
11. Water Truck
A water truck is used for water transportation to a landscaping site. Its massive body carries around 2,000 to 6,000 gallons of water. It transports, sprays, and pumps water to the jobsites so that you can maintain visibility on site or pump water for plants or filling ponds.
Other more specific operations of a water truck include:
Watering plants
Dust control
Filling ponds
Checking if the ground is level
Best Attachments for Landscaping
Attachments allow you to add versatility to these machines without having to rent or purchase a specific machine for every single task. The following list explains common attachments for landscaping jobs and the landscaping machinery they can be joined to:
Grapple buckets hold and move materials and attach to a skid steer, backhoe loader, telehandler, excavator, and compact track loader.
Augers drill holes deep into the earth and attach to skid steer loaders, compact track loaders, telehandler excavators, and backhoes.
Stump grinders remove stumps from the work site and attach to skid steer loaders, compact track loaders, excavators, and backhoes.
Rippers penetrate hard surfaces like rocks, frozen earth, and asphalt and attach to bulldozers, excavators, backhoes, tractors, and compact track loaders.
Buckets attach to backhoe loaders, skid steer loaders, telehandlers, excavators, and compact track loaders so they can dig and scoop up materials.
Snowplows remove snow from an area and attach to compact track loaders, skid steer loaders, and tractors.
Tillers can deconstruct hard ground to cultivate areas for planting. They can be attached to compact track loaders, skid steer loaders, and tractors.
Forks are used to pick and move heavy materials such as rocks, debris, logs, and more and can be attached to skid steer loaders, telehandlers, excavators, and compact track loaders.
Mulchers clear construction sites from underbrush, leftover fencing, and small trees and are commonly attached to skid steer loaders, compact track loaders, and excavators.
Which One Do I Need?
As a landscaping professional, you have a lot of machines to choose from. However, to get the most out of your investment, you need to figure out what aspect of the machine is a priority. That way, you can find the right pieces of equipment and attachments to handle the wide range of tasks you need.
Most Powerful
These landscaping machines can be extremely powerful when operating on various terrains:
Track Loaders are decked with powerful engines that offer a range of horsepower options, enabling them to perform demanding tasks such as moving and lifting heavy materials, grading, and digging.
Excavators are designed to perform demolition, digging, and excavation tasks and have an operating weight range of  3,800 pounds to 188,750 pounds.
Wheel tractor scrapers are heavy-duty landscaping machines used for bulk earthmoving, lifting heavy materials, and leveling.
Motor graders are ideal for heavy road grading, site preparation, and surface leveling.
Bulldozers are robust machines suited for demolition and digging deep into the ground.
Most Versatile
The machines are beneficial for multi-purpose jobs and can also perform effectively in various settings:
Telehandlers can perform various tasks, from planting trees and assisting in irrigation to loading and unloading weighty materials from construction sites.
Tractors can do anything from pulling and hauling trailers and equipment from landscaping sites to spreading seeds on fertile grounds and plowing overgrown vegetation.
Backhoe loaders can efficiently dig foundation grounds for landscaping, assist in excavation projects, trenching, and remove snow from roads or driveways.
Most Maneuverable
Skid steers are ideal when low to moderate power and versatility are required. These machines are the finest for grading, lifting, material handling, digging, and hauling, with moderate power and versatility but very high maneuverability.
Most Task-Specific
The following machines are designed with low to moderate power and versatility but can be your go-to option when your priority is task-specific:
Water trucks are the most task-specific of all the landscaping equipment owing to their only purpose of transporting water, regardless of how many ways this feature can be used.
Walk-behind trenchers are well-suited for forming trenches digging deep into the earth.
Ready to Rent?
Now that you have the details on some of the most viable equipment for various landscaping jobs, you can determine what you need. The attachment options and machines they complement allow you to avoid buying or renting multiple machines at the same time.
Once you've decided, BigRentz has you covered with its extensive range of landscaping tools to meet your needs. Select the rental options according to your budget, and resume your landscaping journey hassle-free!