There are a lot of great benefits to working in construction: job security, high economic demand, great career growth opportunities, and in many cases, higher than average salaries. The construction industry is chock full of opportunities and the Bureau of Labor Statistics (BLS) projects a 10 percent employment rise in the industry over the next 10 years. Strong benefits and pay, engaging work and low barrier to entry make jobs in this sector very attractive to job seekers.
Here are the 10 best construction jobs in order of pay:
1. Construction Managers
Construction management is not only considered one of the best careers in the industry, but it's also listed as one of the best jobs in the country, according to a report from U.S. News. Here's what you need to know about being a construction manager.
What They Do
Construction management involves a lot of moving parts. From obtaining different work permits to overseeing the entire project, construction managers do a little bit of everything.
Instead of focusing on one aspect of a project, they'll typically be involved with everything from top-level site coordination to specific subcontracting projects like plumbing and HVAC.
They're responsible for making sure the project's deadlines are met, responding to emergencies and protecting the safety of everyone on the construction site.
Average Salary
Construction managers will generally make the highest salary in the industry due to the responsibilities that are expected of them. According to the BLS, the average salary of a construction manager is $93,370 a year or $44.89 per hour.
Requirements
Like any other managerial job, becoming a construction manager will take some time. Typically, construction managers start off in an entry-level position in the construction field and move their way up.
A bachelor's degree isn't always necessary to become a construction manager, but as industry trends evolve, it's becoming more common for construction manager positions to require some sort of higher education.
A Certified Construction Manager certificate is a construction certificate issued by the Construction Management Association of America and is also necessary in some states. In order to earn one, applicants need a bachelor's degree and over four years of experience or at least eight years with no degree.
2. Elevator Installer/Repairer
As new stores and residential and commercial construction projects are built, the demand for elevator installers increases. The BLS has projected a 10 percent job growth in this area over a ten year period.
That, coupled with high wages and the continuous demand for maintenance and repairs, make this a very attractive career option. Here's an overview of why being an elevator installer is one of the best jobs in construction:
What They Do
As the title suggests, elevator technicians install and repair elevators—but that isn't the only thing they do. They "assemble, install, maintain and replace elevators, escalators, chairlifts, moving walkways," and other similar items in buildings, according to the official job description listed by the BLS.
Average Salary
The average wage for an elevator installer and repairer was $79,780 in May 2018, but salaries can vary depending on what industry an individual installer works in.
For example, in 2018 the top three industries for elevator installation were government contracting, building equipment contracting and educational services in the state, local and private sectors. In each of these industries, the average pay for 2018 was $91,010, $78,860 and $64,340 respectively.
An elevator apprentice typically makes 50 percent of what an elevator installer makes and earns continuous pay increases as their apprenticeship progresses. Apprentices who are also licensed and certified welders will receive higher wages as well.
Requirements
The process of becoming an elevator installer is pretty straightforward. Elevator installers start out as apprentices in a 4-year program designed to help them learn the trade. Elevator installation apprentices must be at least 18 years old with a high school diploma or equivalent and be able to pass basic math, reading and mechanical tests.
Those who specialize in maintenance require a better understanding of mechanics and engineering than those who specialize in installation. This is because elevator maintenance workers need to be able to troubleshoot any problem that may pop up.
Although not all states require a license to work as an elevator installer, becoming certified can show professionalism and proficiency in the field. The National Association of Elevator Contractors (NAEC) offers Certified Elevator Technician (CET) certificates, Certified Accessibility and Private Residence Lift Technician (CAT) certificates and Qualified Elevator Inspector (QEI) certifications for anyone who passes the programs.
3. Electrician
There are several benefits of being an electrician, such as the ability to be your own boss, the reported 10-year job growth as outlined by the BLS, union benefits and much more. It's one of the highest paying jobs someone without a college degree can have and the variety of the work means that it can be both luxurious and exciting.
What They Do
Electricians install, maintain and repair practically anything that runs on electrical power in homes, businesses and factories. Electrical systems in commercial and residential buildings alike typically require the expertise of a licensed electrician, both at installation and when it comes time for repairs.
If a solar panel is installed, an electrician is typically the one that connects it to the rest of the building's electrical system.
Average Salary
The average salary of an electrician is $55,190 a year, but the top 10 percent earned over $94,620, according to the report by the BLS.
Although seemingly lucrative, most electricians remain on call for after-hours emergencies including times of inclement weather. They are also expected to work overtime during times of scheduled maintenance or on construction sites.
If an electrician is self-employed, they'll typically work in residential construction and may be able to set their own hours. However, they may still be required to be on call in case of times of emergency.
Requirements
To become an electrician, some start off as apprentices while others go through a trade or technical school. Those who have electrical experience in the construction industry or the military can have a shorter apprenticeship period than most.
Electricians must have a high school diploma or equivalent, Although a college degree isn't necessary, if someone is looking into a specialization it can be helpful. For example, industrial electricians specialize in installing and maintaining industrial equipment. Earning an electrical or engineering college degree can provide a stable foundation for this kind of specialization.
Unlike other careers whose certification requirements vary by state, all electricians, regardless of location, must be licensed.
4. Plumber
Anyone who's ever dealt with low water pressure, a leaky faucet or an unpleasant odor can certainly see why the plumbing profession remains in such high demand. In fact, the BLS predicts that demand for plumbers will rise by 14 percent in a ten-year timeframe.
Whether in a residential apartment complex, a bare-bones warehousing facility or a high-end corporate office, a plumber will always be necessary.
What They Do
A plumber's job involves much more than fixing a leaky pipe under the sink. It includes the installation, maintenance and repair of any pipe or system that involves the process of moving a liquid or a gas. Other duties include inspecting plumbing systems, troubleshooting issues, developing and interpreting blueprints and installing, repairing and maintaining HVAC systems.
Average Salary
The BLS states the average plumber makes $53,910 annually, although the lowest 10 percent can make as low as $32,100 or less. Still, according to U.S. News, plumbers are in the top 10 highest paying jobs one can do without a college degree.
Requirements
Although a college degree isn't necessary, there are degree programs for this trade. That being said, a four or five-year apprenticeship is all that's needed to become a plumber. Likewise, most states require a plumber to have a license to practice the trade with at least 2 years of on-the-job experience.
5. Sheet Metal Worker
Sheet metal work is projected to grow about eight percent over 10 years, thanks to increased construction of structures in the industrial, commercial and residential sectors. That, coupled with workers rotating out of the field, means that there is plenty of work with fantastic pay for this position.
What They Do
The job of sheet metal workers involves the construction, assembly and installation of products that are made of sheet metal, like roofs and walls on commercial, industrial and residential buildings.
Sheet metal workers also work on restaurant equipment, signs, handrails, cars and trucks, column wraps and any other item that has metal. Sometimes, workers will also install other materials like fiberglass and plastic board along with sheet metal, but if there is metalwork involved, a sheet metal worker will be needed.
Average Salary
Sheet metal workers have some of the highest salaries across blue-collar industries, earning an average of $48,460, or the equivalent of $23.30 an hour. Pay varies widely in this industry depending on factors like project type and location—in 2018, the highest-earning 10 percent earned over $86,200 while the lowest 10 percent earned less than $27,780.
Requirements
Many sheet metal workers learn their trade in different technical and vocational programs where welding is a large part of the curriculum, then apply those skills to a specialization in sheet metal projects later on. Sheet metal workers typically don't need a bachelor's degree and can qualify for jobs with a high school diploma or equivalent.
There are trade and technical schools that offer different courses and programs that teach welding and other sheet metal fabrication knowledge, but attendance isn't mandatory—many sheet metal workers instead learn their trade through apprenticeships.
6. Carpenter
Carpenter's are like the jack of all trades of the construction industry. With an estimated eight percent rate of growth, a growing interest in prefabricated homes and an aging workforce show positive growth of this type of job over the next ten years.
What They Do
A carpenter is one of the most versatile jobs in the construction industry. From installing a kitchen cabinet to constructing cement footings for a skyscraper, being a carpenter is a jack of all trades kind of skill.
Although work does involve hammering a nail into wood, there is much more that goes into the work of a carpenter. From basic addition in order to measure and cut materials to complex geometry in order to figure the spatial volume of a room, there are a lot of nuances that go into this role.
Specialties also exist in this trade, such as residential carpenters. This type of carpenter specializes in building, repairing and maintaining interior systems in residential buildings, like family homes and apartments.
Average Salary
The average salary of a carpenter is $46,590, according to the BLS. However, different specializations and industries will earn different salaries. For example, rough carpenters will earn an average of $43,600 and a carpenter working on a nonresidential building could earn an average of $51,260.
Requirements
There are two main paths to becoming a carpenter: through an apprenticeship or through on-the-job training, although an apprenticeship is traditional. Trade schools typically last two years and can be completed in-person or online.
All carpenters must also earn the OSHA 10- and 30-hour safety training card in order to work in this field, although it's recommended for anyone in a trade to complete this training for a career in construction.
7. Equipment Operator
Although advancements in construction technology may seem like a threat to machine operators, even sites that utilize automated equipment need heavy equipment operators to supervise, control and work alongside these machines.
In fact, the BLS has projected a 9.6 percent growth in the equipment operator occupation between 2018 and 2028, which is faster than the average rate of all other occupations.
What They Do
When a construction job requires the use of heavy equipment, it's essential to hire someone who has been trained (and sometimes certified) to use that specific equipment. That's where a heavy equipment operator comes in. Heavy equipment operators drive all different types of cranes, excavators, steam rollers and other construction machines that you're likely to see around the worksite.
Average Salary
According to U.S. News, a construction equipment operator is one of the highest paying jobs one can have without a degree. The BLS reports that the median salary for construction equipment operators is $46,990.
The median wage changes, however, depending on the industry that the equipment operator is in. For example, during the construction of buildings or during heavy and civil engineering construction, the average wage was over $50,000, while an equipment operator on a mining project will more likely earn closer to $45,750.
Compensation can also change depending on the type of heavy equipment that's being used. Pile-driver operators will make about $58,000, whereas operators using paving or compaction equipment will make less than $40,000.
Requirements
There isn't a single path to becoming a heavy equipment operator. Many workers learn how to operate equipment on the job. Others learn through an apprenticeship or through vocational schools that have training courses.
The type of equipment can also determine whether or not a certificate or license is needed. For example, OSHA announced that all crane operators need to be trained and certified and each type of crane requires different licensing and training.
Regardless of how they get their start, all heavy equipment operators need a high school diploma or equivalent, the proper amount of training and a Commercial Driver's License (CDL).
There are three types of CDLs, each labeled with the letters A, B or C. Each different CDL allows the holder to operate a different set of vehicles. How much and what training is required to get licensed depends on the state and the type of equipment that is being used.
8. Mason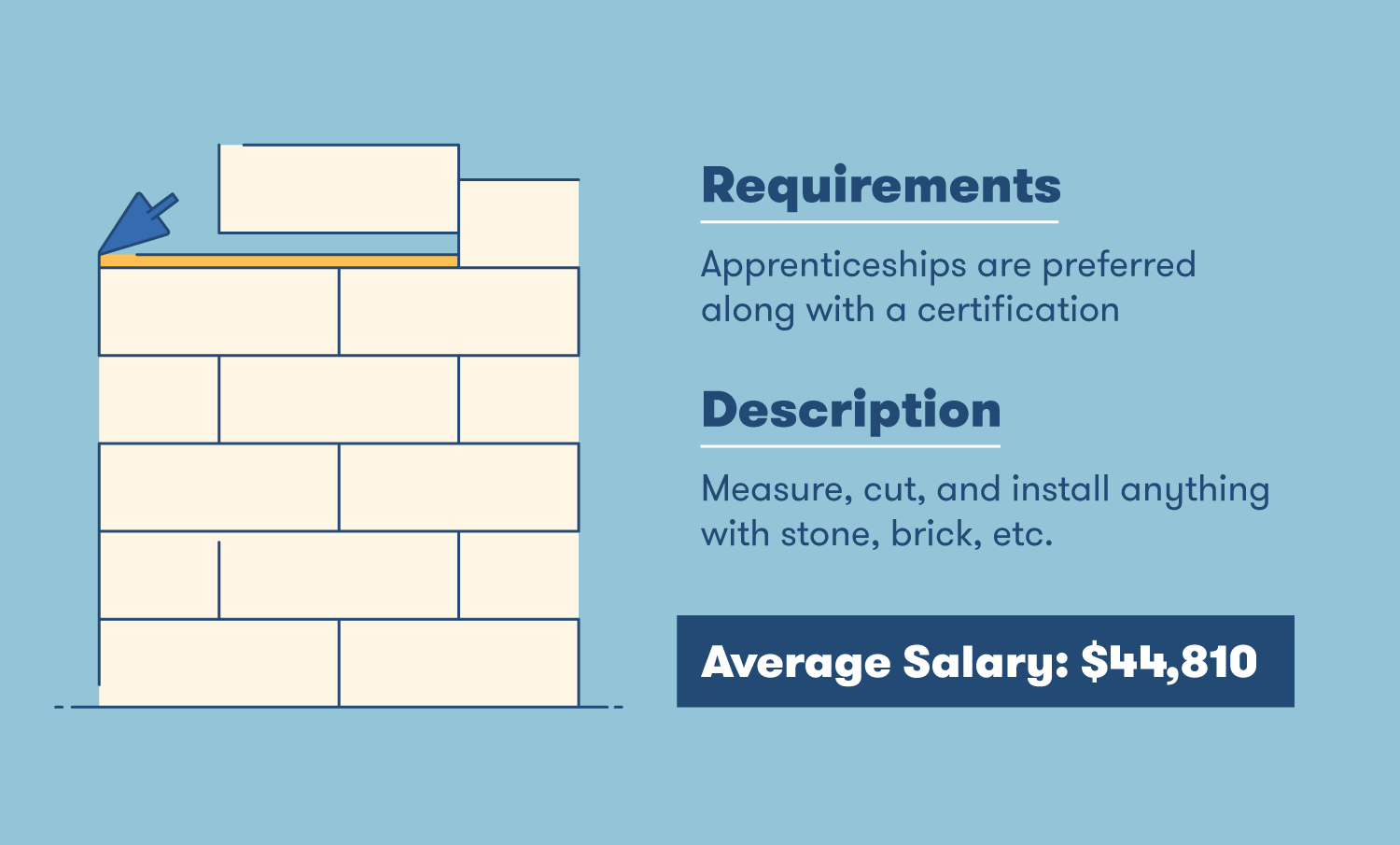 Concrete is the most popular construction material, having been used since the time of the Romans. Looking forward, future building materials will include upgraded concrete that self-heals and is light-generating. Other materials, like brick and stone, are also very popular materials that have withstood the test of time.
All that is to say that, no matter what, masonry work will always be necessary. This is especially true as the population increases, thereby increasing the need for schools, hospitals and other necessary buildings.
What They Do
Although masons do work a lot with concrete, masonry work also includes any durable material, including brick and natural stone, to make anything from pathways to entire support structures. Masons will utilize a variety of equipment from cranes to forklifts in order to move materials and build structures.
Average Salary
Masons earn an average salary of $44,810, although this can vary depending on the type of masonry work. Brick and block masons can earn up to $50,950, cement and concrete masons average around $43,000 and stoneworkers will typically earn around $41,220.
Requirements
Training and education is necessary to become a mason. Entry-level masons can enter the field after high school, but they can also go through an apprenticeship program offered by a technical school, college or through a union.
Earning a certificate from the American Concrete Institute can also help workers develop a specialty and show professionalism as they're one of the best construction certificates you can earn.
9. Glazier
If there is a mirror in the bathroom of a house or safety glass on the top floor of a high-rise, then a glazier was definitely involved. Glaziers are an important position in construction as they specialize in measuring, cutting, handling and installing any product in a construction site that involves glass.
It's a physically demanding job that requires a lot of patience and risk, but the demand for these trade workers is growing along with the growing demand for construction workers. In fact, a glazier is so in demand that glazier employment is expected to grow faster than the average of other occupations.
What They Do
Glazier's install glass windows and other glass fixtures in a variety of buildings. They will measure, cut and install throughout the entire project, ensuring that everything is a perfect fit. For a house, they're the ones that install the windows, mirrors and other fixtures with glass.
For commercial buildings, they'll install security windows, storefronts and other windows for marketing purposes. Glaziers are also responsible for less traditional glass fixtures, like tables or display cases.
Average Salary
The average pay for a glazier is $43,550, with the lowest-paid earning $26,910. Salaries in this industry can vary widely, however, with the highest-paid individuals earning $81,950 or a little under double the industry average.
Requirements
Entering an apprenticeship program is the most common way of becoming a glazier. As it is a physically demanding job with lots of different tools, it's important that workers make safety a priority. Although certification isn't necessary, earning one through an organization like the Auto Glass Safety Council shows professionalism and expertise and can make getting work much easier.
10. Solar Installer
Also known as solar photovoltaic (PV) installation, a solar installer is a relatively newer construction job that is anticipated to grow as climate change continues to drive the switch to renewable energy.
U.S. News describes solar installers as the second-best construction job, the eighth-best construction job without the need for a college degree, the twenty-second highest paying job without a degree and in the top 100 jobs in the U.S.
What They Do
Solar installers assemble, install and maintain solar panels used for energy. Typically, an electrician will be responsible for the work of connecting the panels to the power grid, but in many states, this can also be part of the solar installer's job, too.
Average Salary
In 2017, solar installers earned an average of $42,680, according to the BLS. The top 10 percent of solar installers earned over $63,580 while the lowest 10 percent earned less than $30,180.
Requirements
There are a variety of ways to become a solar installer, but all workers in this field need at least the equivalent of a high school diploma and receive one year of on the job training.
Electrician and roofing installer apprentices can also take training courses on solar panel installation. Credentials are also often required, though the specific requirements differ by state and sometimes by county.
Military veterans can also take advantage of the Solar Ready Vets program that's funded by the U.S. Department of Energy. The program connects veterans and transitioning military service members with the training, credentialing and job opportunities necessary to become a solar installer.
The construction industry is filled with amazing job opportunities for just about everyone. Although there is education and work that goes into the various specialties, anyone with the right skills and dedication can start a career in the field.