If you're looking for a career that is challenging, pays well, and doesn't require years of advanced study and mountains of student loan debt, then a career in the construction industry as a crane operator might be just what you're searching for.
Become a crane operator by graduating from high school, taking trade school courses, completing general operator training, and gaining apprenticeship experience. Depending on the amount of training and level of certification you want, you can launch your career in as little as four months and earn your high-level, professional certification in two to five years.
No matter how far you would like to go in your training, though, the path to becoming a crane operator is fairly straightforward. It begins by earning your high school diploma or GED. From that point, you'll enroll in your trade school courses and complete your general operator training. Once that's done, you'll begin your apprenticeship and officially embark on your exciting new career.
How Long Does It Take To Become a Crane Operator?
There's no set time frame for becoming a crane operator. Much depends on how far you want to go in the field. If you are eager to get started in your new career, then you can complete your basic crane operator training programs and certification in as little as four to eight months.
These fast-tracked training programs can also be a good option if you are not necessarily planning on making this a lifelong career. If you don't want to invest a great deal of time or effort in going for those higher-level certifications, then these basic training courses are all you need to get started.
On the other hand, if you can see yourself making your living as a crane operator, then you have lots of opportunities for advancing your career. For instance, you can earn your professional certifications in two to five years, on average. And, not surprisingly, that can mean higher salaries, more opportunities, and greater job stability.
Job Description
You just might be surprised by all that goes into the job of a crane operator. But what it all boils down to is pretty basic: moving heavy machinery and other materials using a crane specifically designed for that purpose.
There are many different types of cranes and different types of equipment operators, such as mobile crane operators and tower crane operators, and each type involves specialized training. But, regardless of the kind of crane you're operating, you'll be working with a complex system of wheels, pedals, and levers to safely move those heavy materials.
But you'll do more than operate the equipment itself. You'll also be responsible for ensuring the safe operation of the machine and for overseeing equipment maintenance, including keeping safety and maintenance logs.
As a crane operator, you may find yourself working on multiple construction projects, varying from ports to warehouses, or commercial to residential construction sites. The common denominator, though, is that you'll probably spend most, if not all, of your workday in your crane.
Skill Requirements
Being a crane operator requires a wider range of skills than you might think. Not only will you need to be very comfortable working with and around heavy machinery, but you're also going to need strong verbal and written communication skills, good depth perception, and to be highly detail-oriented.
The reason is simple: The work can be hazardous if safety measures aren't precisely followed. That means paying close attention to the safety of the worksite, the effective maintenance and operation of the equipment, and the clear communication and enforcement of safety standards and requirements with your onsite team.
When you're thinking about the skills you'll need to be a good crane operator, you should also think about your work environment. Most of the time, you're going to be alone in your crane. Your working conditions will probably be very noisy, and you'll need to have the focus and the skill to manage this large, powerful, and sophisticated piece of machinery safely and effectively.
It's not easy, but for the right person with the proper training, it can be a lucrative and rewarding career.
Average Salary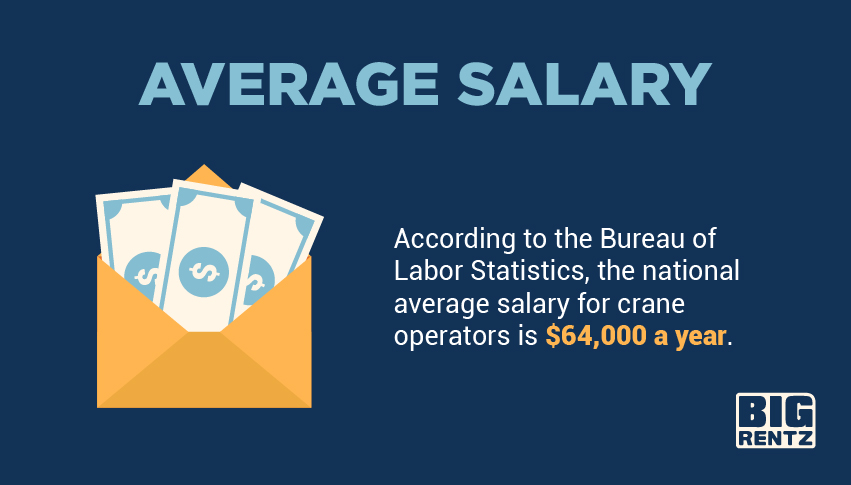 Being a crane operator takes skill, but it's an important and challenging career that offers robust job stability, lots of career opportunities, and a great salary. In fact, according to the Bureau of Labor Statistics, the national average salary for a crane operator is around $64,000.
And if you're working in a top-paying industry, such as electric power generation, the average annual wage rises to more than $80,000.
How To Become a Crane Operator
There are many different paths to becoming a crane operator, depending on how far you want to go in the industry. This can range from taking basic crane operator training courses and beginning an apprenticeship to pursuing more advanced training and certifications that will give you the skills to operate the most sophisticated and specialized equipment, such as boom trucks and mobile cranes.
No matter what your goal or destination, though, it all starts with education.
1. Earn a High School Diploma or GED
To become a crane operator, you will need a high school diploma or GED. Your first exposure to a worksite and your first efforts operating the equipment will immediately show you why. Cranes are advanced, expensive, and powerful machines. You will need the basics of math, reading, science, and technology to operate the equipment safely and to effectively oversee and document its maintenance.
2. Take Trade School Courses
Once you've earned your high school diploma or GED, the next step is to enroll in trade school. Trade schools are a great alternative to traditional — and far more expensive — four-year colleges and universities.
Trade schools will provide you with the training you need to develop the highly specialized skills needed for work in the trades, from construction and electrical to plumbing and, yes, crane operation. Best of all, trade schools are dedicated to helping you find work in your chosen field once you complete the required training, including helping you get established in your apprenticeship as you take your first steps into your new life as a crane operator.
3. Complete Your General Operator Training
In addition to the fundamental skills you'll develop in your trade school courses, you'll also need general operator training, where you will learn to handle these sophisticated machines skillfully and safely. During this job training, you'll also learn the specifics of equipment maintenance and the important safety protocols you'll be expected to adhere to not only when you're operating your equipment but also when you're on the job site.
4. Enroll in an Apprenticeship Program
As you launch your new career path, you might be wondering why you would need to enroll in an apprenticeship program. There are actually lots of benefits to being an apprentice. First, you're going to be learning by doing, and, in the process, you'll be mentored by an experienced crane operator.
Book learning and the work you do in the classroom are, of course, essential to learning. But these only give you the fundamentals. It's when you get onsite and into the real world that you can truly see, feel, and experience what it means to be a crane operator.
As an apprentice, you will automatically be connected with a mentor to guide you along the way and ease your transition from the classroom to the job site. Not only that, but you'll also be building connections that can open up important job opportunities for when your training and apprenticeship are complete.
5. Get Your Crane Operator Certification and Any Required Local Licenses
One of the most exciting aspects of being a crane operator is that you have a lot of options. If you want to build a career as a crane operator, you can pursue a number of different certifications that can help you boost your marketability — not to mention your pay rates.
Among the most valuable certifications are those from the Crane Institute of America Certification (CIC) and the National Commission for the Certification of Crane Operators (NCCCO), also known as the Certification of Crane Operators (CCO). These certification programs authorize you to operate a range of highly specialized equipment, including lattice boom crawler and truck cranes and telescopic boom cranes with both fixed cabs and swing cabs.
You'll usually need to complete both written exams and practical examinations requiring you to demonstrate your ability to operate the crane type you wish to be certified in. The process to become a certified crane operator might seem daunting, but each practical exam you pass and certification you earn can open up exciting new opportunities in the industry.
6. Update Your Resume
If you're applying for a crane operator position, you might feel like the connections you made in trade school or through your apprenticeship will be all you need. That's not exactly true, however. You'll probably still need to submit a resume when applying for a job, and that means that you need to take time, before you start your job hunt, to craft a good one.
At the very least, your resume needs to showcase the skills that make you uniquely qualified to do the job. That means focusing on the specific training you have received, any experience you might have — including apprenticeships — and any certifications you have or are in the process of obtaining. Along with that, you'll want to showcase special skills and particular accomplishments that will be useful in your operator's job.
Most trade schools and apprenticeship programs offer career services. Your program's career services pros will not only help you locate promising job openings but will also help you ensure your resume is on point for the crane operator jobs you want.
7. Apply for Crane Operator Positions
In addition to taking advantage of the networking opportunities available through your trade school and apprenticeship, you can also find a world of promising job prospects online. For instance, you can post your resume and search for openings on sites like LinkedIn, ZipRecruiter, SimplyHired, and Indeed. You can even create job search filters and set alerts for your phone or email so that you'll always know when a pertinent job notice is posted on these sites.
Demand for Crane Operators
One of the best things about working as a crane operator is that you're not likely to have to worry too much about the job market. In fact, the industry is expected to grow by 8.5% between 2016 and 2026. So your prospects look quite promising if you're thinking of entering this exciting field — and that's especially true if you decide to go for those advanced certifications and specialized skills training courses offered by such groups as the CIC and NCCCO.
Work Environment
As you've probably already noticed, working as a crane operator may not be for everyone. You're probably going to spend most of your workday alone in your crane's cab. The environment is noisy and can be chaotic. And, of course, there are hazards when job sites are packed with such large, powerful, and heavy equipment, so you will always have to be vigilant about safety.
But if you don't mind working mostly alone and sitting inside your equipment for the majority of your workday, and if you don't get distracted or annoyed by lots of noise, the work environment might be just right for you. And in exchange for such working conditions, chances are you'll get a good salary, lots of job stability, and great opportunities to grow your career and expand your skills.
Conclusion
If you're looking for a great career that offers good pay, great job security, and the chance to grow your specialized skills, then a job as a crane operator might be just the ticket.
As a crane operator, you won't be required to spend years in school, taking on mountains of debt, before you can even launch your career. Instead, your job can begin in a matter of months, and you will still have time to grow your skills and expand your opportunities if you choose to pursue professional certifications.
Best of all, because this is an industry that is expecting significant growth in the coming years, with the right training and operator's temperament, you can enter a career that will offer excitement, challenge, opportunity, and prosperity for decades to come.